Why You Should Travel Solo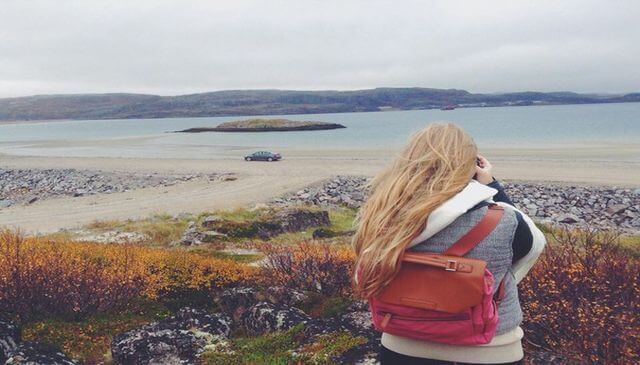 "Travelling alone? That is the worst idea ever!" – These words usually describe feelings of majority about solo travel. So what do they say to excuse their refusal? First of all, it's boring. No one near you to share experiences with. No one to photograph with. No one to discuss locals with. Secondly, it is not safe. Anything could happen on the road, (temperature rising, poisoning, heat stroke) but who will help?
This article will give you an idea that solo travelling is not about inconvenience on the road but about a great opportunity to see more, travel cheaper and change your life drastically.
WHAT ARE THE ADVANTAGES OF SOLO TRAVEL?
Choosing The Route. While travelling with friends, you have to compile certain route to entertain everyone. In the end, it all finishes with visiting top tourist places that are mentioned in your guide book, but might not be interesting to every member of your group. Solo travelling gives you the opportunity to pick the route according to your preferences.
Create Your Own Time Management Schedule. A great advantage of solo travel is that you manage your own time, don't have wait for anybody else. You could wake up and fall asleep at a time of your choice. Visit the Eiffel Tower or stroll along the Charles Bridge as much as you see appropriate. Solo traveller manages his own time.
Still Care The Way You Look? Solo travel has another advantage – you don't have to think about how you look. You can wear the same jeans for a week long time or combine incongruous clothes while no one would judge you (or they just wouldn't inform you about it). The only requirement for the way you look is neatness. Even if you're a lone wanderer, mind staying neat.
Got Something Unusual in Mind? Take a walk along the cemetery, take a dip in the fountain or just ride the subway all day long, someone may consider it as something strange, but it might be someone's ultimate dream as well. Solo travel gives you this freedom to do whatever you want (while keeping within reasonable limits).
Put Yourself On A Priority List. There are three types of people: Extroverts, Introverts and Ambiverts. The first one's primary need is communication, the second ones prefer staying alone with themselves, the third ones are something in between. But all these psychological types however need time for themselves. The best way to plan your future (or analyze the past) and get all these pros and cons is to go solo travelling.
It should be noted that extroverts might be a bit confused. But there is a lifehack: visit your friends or relatives before departure. Communicate as much as you can not to feel social hunger until you return.
Thrilling Moments. It is much easier to enjoy thrilling moments when you are alone. For example, you are admiring Grand Canyon at the transparent Skywalk with friends. You are inspired by these great feelings, and would like to remember this moment forever. But your friends are inspired too, so they start shouting and making photos… That's it! Your memories won't be that much colourful as if you were alone! While solo travelling, try to catch that very moment and enjoy it.
Create Memories You Never Forget. When visiting new places prefer buying clothes or shoes rather than tourist trinkets. These clothes would keep memories much longer than any souvenir. "Oh, it's a jacket I bought in Germany!" and "This is my favourite sneakers from Thailand."
HOW TO ARRANGE SOLO TRIP
Airline Alliances. There are three major airline alliances in the world today – Star Alliance, SkyTeam and Oneworld. About two thirds of all airplanes in the world belong to the companies that are members of these partnerships. So usually some special terms are offered to their regular customers. For example, when you sign up for a bonus program you get extra miles for every purchase made with your card. Within loyalty program passengers could be offered branded lounges while waiting for departure.
Luggage. Is luggage that important for solo traveller? Usually it is not. Some clothes, passport and charger. This simple set could fit almost any backpack and be considered as hand Luggage. Avoid large bags, it would save your time at the airport and reduce luggage weight.
Hotel vs Hostel. Hostels are incredibly popular today. They are cheap and convenient. In addition, hostels are considered as places where you can communicate, meet new people from different countries. But that is true for male traveller generally.
But if you are a female traveller you need to think about your safety first. It is better to think everything through in advance to avoid cruel intentions. For solo female travel it is better to stay in a hotel. Even if it's a cheap hotel, you would feel much more secure than in a hostel. That also means calm sleep and well rest. In addition, you stay unworried about missing your wake-up call, besides, there is always room service to clean up your room.
Local SIM card. The first thing to do after arriving is to buy a local SIM card. Many still believe that by doing that you waste your money, but that is a mistake. By getting rid of roaming charges, you can feel yourself confident while using services online, besides having online smartphone, you can find anything, starting from hotel to hot dog trolley. Affordable mobile connection would help you feel more secure, you can always inform your friends about your location.
WHAT TO DO WHEN YOU TRAVEL SOLO?
City sightseeing. Turn on your favourite music, locate the sights you would like to see and start exploring the city. Walk along main tourist routes and less known places. There is nothing more exciting and rewarding than just wander around an unfamiliar city, breathing fresh air and exploring the sights. Yep – rewarding! Walking is a great workout for your body.
Entertainment. Surely there are things you prefer doing alone. Reading? Shopping? Or maybe visiting movie theater? When you travel alone, you have a great opportunity to organize leisure time as you like. No one would disturb you or complain of being bored. While you travel solo you have that opportunity to set your recreation the way you like. Just use it.
Add some experimentation. Tired of being alone? Would like to find a partner for evening party? That is not a problem for extrovert people. But what about introverts? Well… There is just one answer – go out to the movie, restaurant or park. Locate the person you found attractive and start an ordinary conversation. Choose any topic you like to discuss. After some time you would catch yourself thinking you have a new friend.
With all that above, solo travelling might be risky and dangerous in unfamiliar places. However, this risk can be minimized by using smartphone and the Internet. But when you managed to cope with various difficulties you get the opportunity to find new friends all around the world and visit places some may never heard of. This risk is truly worthy venture.
Do you think solo travel worth starting?