Top 12 Things To See and Do in Ao Nang
Ao Nang is a great place to stay for a sightseeing since you can easily reach all main attractions of Krabi province from there. Ao Nang has abundant accommodation and well-known tourism infrastructure facilities with lots of cozy restaurants to visit in comparison with other places in this region. Here are the top 12 things to see and do in Ao Nang.
The main reasons why tourist come to Ao Nang are the islands and the beaches. The most popular islands are Koh Poda, Ko Hong, and Chicken Island, while the closest beaches with attractions are on the Railay peninsula. You can expect a pleasant longtail boat ride while reaching it. Another option is to ride to the islands of Phi Phi or to Ko Lanta. These are major sites in Krabi, but they are located far away from Ao Nang. These are the major sites in Krabi, but reaching them may take a longer time.
During my trip to Ao Nang, I had enough time for exploring other parts of Krabi mainland as well. While I stayed near Phra Nang Beach I also planned to visit some sites of Krabi Town, Emerald Pool, Blue Lagoon, Saline Hot Spring Khlong Thom, Khao Pra Bang Khram Wildlife Sanctuary and Tiger Cave Temple.
The farthest attractions I listed here are about an hour's drive from Ao Nang. Apart from it, you can enjoy a zip-line ride, rent a kayak, scuba dive or go snorkeling. Krabi offers a lot of activities for every taste and budget.
1. Spend Some Time At The Railay Peninsula
With a lot of things to do on the Railay peninsula, you definitely shouldn't miss Railay West and Phra Nang beaches. They are amazing! Even though I'm not a big fan of rock climbing, there was no way I could skip gazing at this world-famous climbing paradise near Tonsai beach.
These towering cliffs offer an amazing climbing experience. If you are a novice or just want to enhance your climbing skills, consider taking climbing classes in schools nearby. A little disclaimer here! Carry out a research before you go. Since not all of these schools have proper certification, safety violations usually take place.
Apart from the beaches, the caves of Phra Nang Nai and Phra Nang Cave are the main attractions on the Railay peninsula. Phra Nang Cave otherwise known as the Princess cave should not be missed because of carved wooden phallic symbols inside it. There is also a viewpoint that offers outstanding views of the lagoon. I found climbing up to the viewpoint to be even more thrilling than the view itself!
If you are looking for some outdoor adventures head to the Princess Lagoon. A small pond with azure water that can only be reached by climbing the cliffs all way down. Make sure to bring sneakers and avoid going there on rainy days. Kayak rentals are available almost everywhere to explore rocky coastline and passageways.
2. Emerald Pool, Blue Pool and the Hot Springs With a Waterfall
One of the most relaxing activities near Ao Nang is chilling out in Namtok Ron or Hot Spring Waterfall. Located not far from the Emerald pool and Blue Pool, I combined the trip here to enjoy both places. Emerald Pool has many other names, one of which is Crystal Pond or Sa Morakot. Since hot springs with a waterfall and two pools are different attractions, you may take advantage of renting a bike. I did just that for 300 Baht per day. If you travel from Ao Nang, drive around 70 km to the east to get there. Both sites charge an admission fee.
The hot springs are a system of natural man-made pools situated between the cascade waterfalls. Water flows through them from top to bottom, ending with a small waterfall. Emerald pool is quite a popular spot so the entire place might get crowded on a weekend when Thai people come here to relax. A weekday visit is the best option to avoid crowds. From the parking lot and the ticket office with a small market stretching between them, there is a path that leads to the Emerald Pool through the rainforest.
Exploring Blue Pool requires venturing deeper into the forest. Located a few hundred meters from the Emerald pool, tourists aren't allowed to swim in it. I bet this is not a big deal since enjoying its gorgeous water from the boardwalks doesn't require much effort.
3. Soak Up Some Views Near Tiger Cave Temple
Apparently, I couldn't have missed the viewpoint at the top because I heard a lot of the epic views! Wat Tham Sua is a popular place that you can visit without spending much time for transportation from Krabi Town. There are several sites to see here.
A tiger cave is, in fact, a small chamber with a tiger statue in it (why tiger you ask? come here to know the legend!). A temple with tiger statues that somehow remind me of China, a pagoda with a pond and a rainforest. Climbing up the stairs can be a strenuous activity so make sure to bring comfy shoes and water. But it totally worth the effort once you get up there!
4. Head to Koh Poda and Chicken Island
I bet you want to know where the paradise is? I don't know if you would agree with me, but Koh Poda and Koh Kai (Chicken Island) are quite close to being called like that. These two islands are the largest in the archipelago here with epic turquoise water and fantastic nature. When the tide is low you can go for a walk along the sand spit between the Chicken Island and Tub Island. Near the sand spit, I went snorkeling and it was awesome!
You can get to the islands from Ao Nang with a longtail boat. The boats usually wait for passengers until they are filled up with at least 6 people. Expect to pay around 200 Baht fee per person for the national park. The ride from Ao Nang takes about half an hour.
5. Hit The Monkey trail
Monkey trail is a path that starts at the far South West corner of Ao Nang beach and leads through a forest-covered mountain to the Pai Plong Beach. The beach is where you can find an upscale Centara Grand Beach Resort. The trail is not very long. If you start from the river mouth, you'll probably bump into a wooden flooring and rails with the stairs running into the wood.
In addition to exceptional views and nice Pai Plong Bay, I knew the place is home to large monkey colony. There are plenty of monkeys here if you come at the right time. Observing monkeys and taking photos made my day then.
With the signs all around prohibiting feeding them, I have noticed it too late to obey it. Monkeys are used to people, but sometimes they behave quite aggressively if they see food. I heard stories they grab bags and things out of hands! Take it into account in case you gonna feed them.
6. Giant Catfish farm
I loved fishing as a kid and I believe this is the reason why I went to see the catfish farm. You can reach it if you drive from Ao Nang to Klong Muang beach. Apart from catfish, there are lots of interesting things to do here, expect to spend a few hours here.
Since the farm isn't only about breeding fish, there is some kind of petting zoo, thus you can feed some of the animals. I enjoyed the time I spent here because of lovely paths through the jungle, gazebos, wooden bridges and a place for swimming. Going there with kids will offer great opportunities for a picnic. Entrance fee includes a bag of fish food.
7. Spend a Friday Night Watching Muay Thai Fight
Muay Thai is perhaps one of the brightest moments of Thai culture. With a lot of street ads before the fight, all martial arts lovers shouldn't miss a chance to visit the Ao Nang Thai Boxing Stadium.
While some of the boxers are really young, you can also expect free dinner if you get a VIP-ticket. Yes, I know Muay Thai is a peculiar show, and most travelers come here to see the fight at least once in a lifetime. For all Muay Thai fans, there is an option of taking classes right at the stadium.
8. Snake Show and Monkey School
I believe Snake Show and Monkey School may not be among the top things to do in Ao Nang, but totally worth visiting for first-comers.
This traditional entertainment for tourists includes snake show, a tour through the serpentarium and of course visiting a souvenir shop. Apart from an informative excursion, you can also enjoy a monkey performance. Kids will definitely appreciate the show during a visit here.
9. Ziplining
There is nothing more extreme than sliding down a zipline at a speed of 40km/h.
Everything is passing you by so quickly that you barely can understand what is going to pop up next. For all lovers of outdoor activities, there are two excellent spots in Ao Nang. Hollow Mountain and Treetop Adventure Park. Treetop Adventure Park offers several routes of different complexity. All of them are safe.
While doing it you climb a rope, cross suspension bridges and of course slide down ziplines. Trails are marked with different colors, from green to red.
I'm a big fan of such activity since it brings so much fun, no matter whether you come alone or with a group of friends. Expect to ask yourself a bit after: "How the time has gone by so quickly?"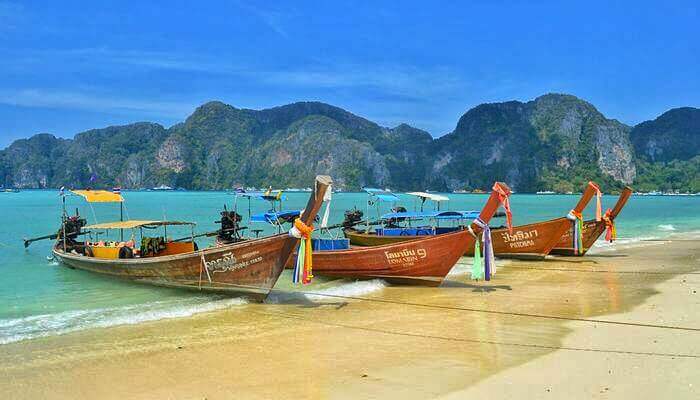 10. One-day Island Tours
The most popular tours from Ao Nang are definitely carried out to the islands of Koh Poda, Koh Hong, and Chicken Island.
However, there are also tours to smaller uninhabited islets of the bay. Leaving in the morning allows you to reach your destination by noon with longtail boat or even faster with a speedboat.
You can choose from a variety of islands with unspoiled tropical nature, crystal clear water and a myriad of sea inhabitants. Island Tours are among the best things to do in Ao Nang.
In addition to small nearby islands, you can also set sail to the larger and more distant islands of Phi Phi or Ko Lanta. Most tours range from 500 to 1700 THB, depending on the island.
11. Water Activities
Kayaking, rafting, snorkeling, scuba diving and fishing tours. All these activities are available in Ao Nang and its surroundings. Kayaks or surfboards can be rented on virtually any Krabi beach, while rafting, scuba diving, and fishing tours are sold at most street travel agencies in Ao Nang. One-day island tours almost always include snorkeling in one-day island tours.
12. Khao Ngon Nak Trekking
If you plan to reach Khao Ngon Nak viewpoint make sure to bring enough water and get proper hiking shoes. The trek can be found to the northwest from Ao Nang and offers great opportunity to escape the civilization for a couple of hours.
The viewpoint is one of the highest elevations here so you can expect to enjoy epic views. With a total length of the trek is about 4 kilometers, it takes about two and a half hours to get it done.