Two Weeks In Thailand: The Perfect 14-Day Itinerary
Planning your stay in Thailand can be a challenging task. When to go? What to eat? Things to do and places to see? The list goes on. I've personally encountered such problems multiple times. Thus, after spending two memorable weeks in Thailand last year, I decided to put together a series of posts that will clear up all these questions. Let's get started. Here is a post on how to spend two weeks in Thailand: The Perfect 14-day itinerary.
I'll be honest, there are way too many breathtaking places to cram into a standard two-week vacation. I've been travelling in Thailand for a month and yet I feel like I've only scratched the surface. It is obvious that not everyone has the time and the money to travel long-term. But 14 days in Thailand is a really good amount of time to get to know a few places in the Land of a Thousand Smiles.
My Thailand itinerary starts in Bangkok, which is where most international flights arrive into. Then it heads up north to Chiang Mai where you can explore Buddhist temples, caves, rivers, and farms. And then even further south to the Thai Islands on the west coast and the Gulf Islands. Sticking to the itinerary will allow you to get a glimpse of Northern Thai culture, do some Thailand island hopping while enjoying mango smoothies and see the vibrant and hectic Thai capital.
Thanks to a number of low-cost airlines, I chose to fly from Chiang Mai to Phuket. This saved me a lot of time given the fact that I only had two weeks in Thailand. The country is relatively small, so you can easily visit three regions during your two weeks.
Two Weeks in Thailand: The Perfect 14-day itinerary
Days 1, 2 & 3: Bangkok (3 days)
Where to stay:
High-End Hotels: W Bangkok, Banyan Tree, Sofitel SO, Westin Grand Sukhumvit, Avani Riverside Bangkok Hotel
Boutique: Siam @ Siam Hotel, Dream Hotel Bangkok
Mid-range: Poshtel, Modena by Fraser Bangkok, Baiyoke Sky Tower, Arte Hotel
Hostels: The Yard Hostel, Good Day Hostel, Smile Society, Bed Station, Lub D Bangkok
You could easily spend your 14 days in Thailand in Bangkok alone. But given the fact that you only have two weeks in Thailand, three days is at least enough time to see the main sights. Arriving into Bangkok's Suvarnabhumi Airport or Don Mueang Airport will usually get you much cheaper tickets than anywhere else in Thailand. After over 14 hours of flying it may take time to get through your jet-lag and acclimatize to the weather. That is why I wouldn't aim to do anything cultural before your body clock gets back into sync.
Hit Up the Famous Wat Phra Kaew, Wat Pho, and the Grand Palace
The Grand Palace and Wat Phra Kaew are only 5 min walk from each other and Thailand's most sacred site. Also known as the Temple of the Emerald Buddha, Wat Phra Kaew boats some truly awe-inspiring architecture in Bangkok and I highly recommend not to miss it. But beware of scam!
Before leaving from Dresden, I had read about a scam when tuk-tuk drivers approach tourists that look lost to inform that the Grand Palace is closed for the day. Instead, they find you a tuk-tuk and convince you to go on a seemingly cheap tour around the city. Trustful tourists end up visiting gem shops and clothes tailors and often getting dropped off far away from where they started. Although I was prepared and ready, no locals approached me so I had to explore the Grand Palace.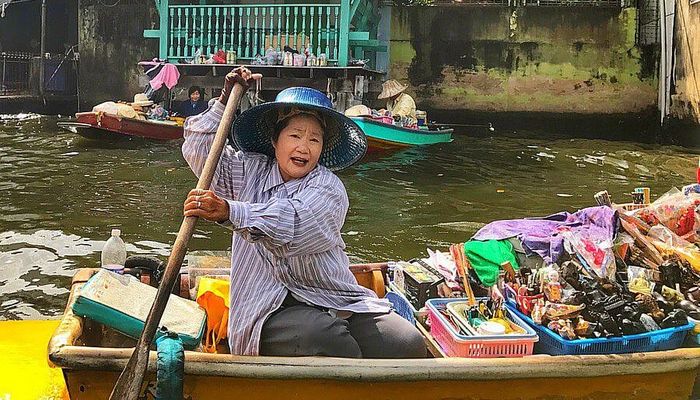 Both temples often see crowds gather to enjoy the former residence of the King of Thailand and groups of Buddhist monks to pay tribute. Wat Phra Kaew is one of the busiest places I have ever visited. That being said, there are some quiet little corners to discover. For the most part, I was battling with crowds for walking room and photo opportunities. Getting an authentic, spiritual experience in Wat Phra Kaew can be a challenging task. But the place is one of the most magnificent displays of architecture and detail, so I can't recommend it highly enough. If you want something a little more tranquil and spiritual, Wat Pho otherwise known as the Temple of the Reclining Buddha is just a stone's throw away from here.
Wat Pho is really impressive, and definitely not to be missed on a trip to Bangkok. Wat Pho is home to a Thai Medicine School, so you can easily get a half or full hour Thai massage here. If you've never had a traditional Thai massage, be sure the School is one of the best places in Bangkok to get one. While prices tend to be higher than at the average Thai massage parlors throughout the city, the therapists have certain skills beyond a degree and work with various body parts to get all your knots out.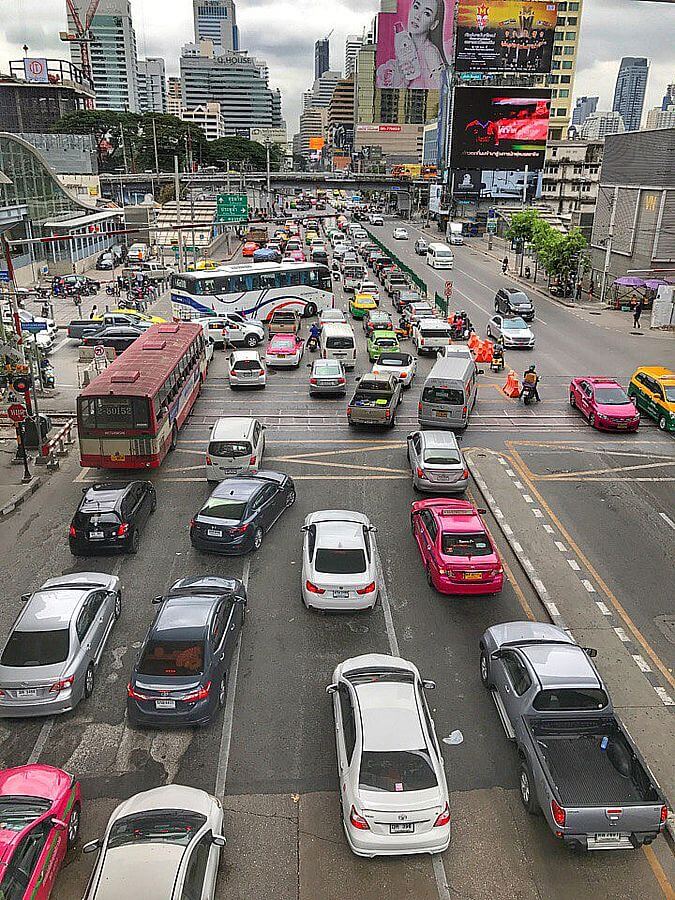 Wat Pho is located on Sanam Chai Road and Maharaj road next to the Grand Palace. Note that the temples (including the one housing the reclining Buddha) are open from 08:00 – 18:30 (8:00 a.m. – 6:30 p.m.) but the Massage School closes around 5:00 p.m. The dress code here is more lenient than at the Grand Palace, and you'll find free sarongs for women to cover their knees and shoulders if needed. 100 baht per person.
Enjoy the Energetic Vibe at Khao San Road
Also known as the Backpackers' Road, Khao San Road never sleeps. It won't be wrong to call it a travel hub of Bangkok with plenty of food stalls, bars, flickering neon signs and massage on the armchairs next door. Situated a block away from Chao Phraya River, KSR is a renowned center of the backpacking universe, and that definitely holds true due to having some of the cheapest accommodation in Bangkok. Some hate KSR, some love it. I tend to fall into the second category. And to be honest, I do understand the arguments of those who hate it too.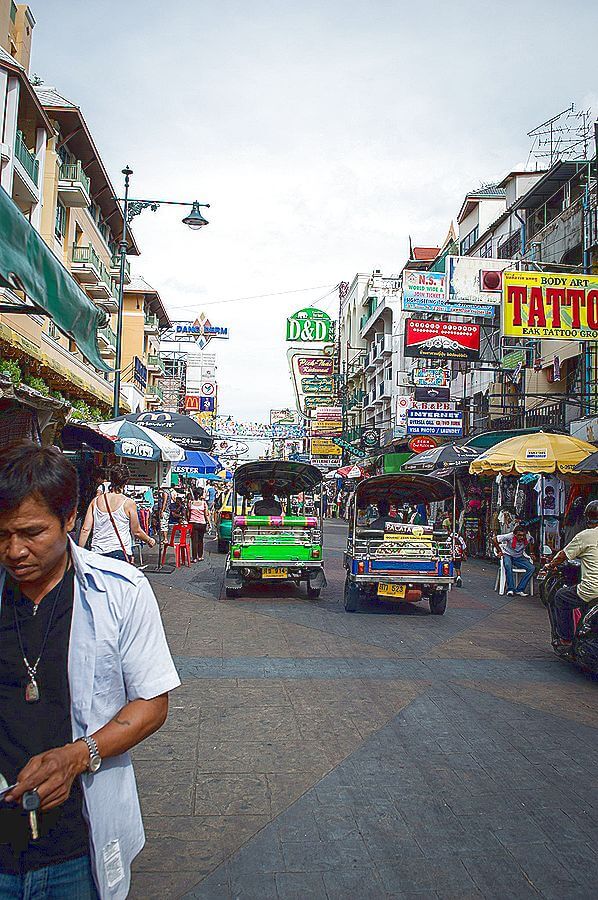 If you're young and on a tight budget, I highly recommend staying in a hostel near Khao San Road so you can take breaks through the night and have an easy return to your hostel once you are tired. Mainly because Khao San Road is an incredible mess. You'll almost certainly find it difficult to navigate at first time since there are countless street food stalls and shops of all kinds encroaching everywhere.
Another thing – you can find everything on Khao San Road except for tech gadgets. From everyday clothes, t-shirts, and swimsuits to fake ID's, this street has got you covered. Any traveler could arrive with an empty backpack and get fully equipped here. During my trip to Bangkok three years ago, I purchased the Thailand travel guides I needed and sold out some travel stuff I didn't need anymore. Note: some hostels (for example, if you're a YHA member) buy and sell used travel guides, but it is hard to be 100% sure whether they have the guide you need or not.
Lumpini Park
It seems like Lumpini park is a place that most travellers miss on their bucket list since it is 'just a park'. In fact, Lumpini Park is one of the few places where Bangkokians practice Tai Chi, enjoy the green spaces having breaks outside of offices. I visited this serene garden on my third trip to Bangkok and I really liked it. It is very neat with open-air gyms, playgrounds, picturesque lakes and huge monitor lizards walking around and chilling in the water. There is something for everyone. Families can rent a swan-boat and paddle around a lake, couples can stroll along the lovely alleys and youngsters can hang out while on a picnic. Lumpini park is open every day from early morning till 9 p.m. every day. The nearest metro station Lumpini and Si Lom. BTS: Saladaeng.
Days 4, 5, 6, 7 & 8: Chiang Mai (5 days)
Where to stay:
High-End Hotels: Anantara Chiang Mai Resort, Shangri La, Veranda High Resort MGallery, The Dhara Dhevi Hotel, Four Seasons Chiang Mai
Mid-range: Thai – Akara Lanna Boutique Hotel, Rimping Village Hotel, zzziesta Chiang Mai, Lamduan Boutique Homestay
Budget: Green Sleep, Hostel By Bed, Bed Addict Hostel, D-Well Hostel
Alternatively, check out Airbnb and rent a room or apartment in Chiang Mai from a local! Here are $30 travel credit for your first Airbnb booking!
On my fourth day, I flew into Chiang Mai, a smaller city where traditional culture meets modern society. Chiang Mai offers tons of activities and outdoor adventures. Since I'm an avid hiker, I couldn't have skipped this leg of my Thailand itinerary.
Chiang Mai is much more relaxed than Bangkok but still, it is pretty well-connected, with direct flights from Taipei, Seoul, and Laos. It is also really close to the capital city, so it took me roughly an hour and a half by plane to get there. I flew into Chiang Mai via Thai Lion Air for 84 USD. I recommend taking an early morning flight out of Bangkok to get extra hours and have plenty of daylight hours for exploring Chiang Mai.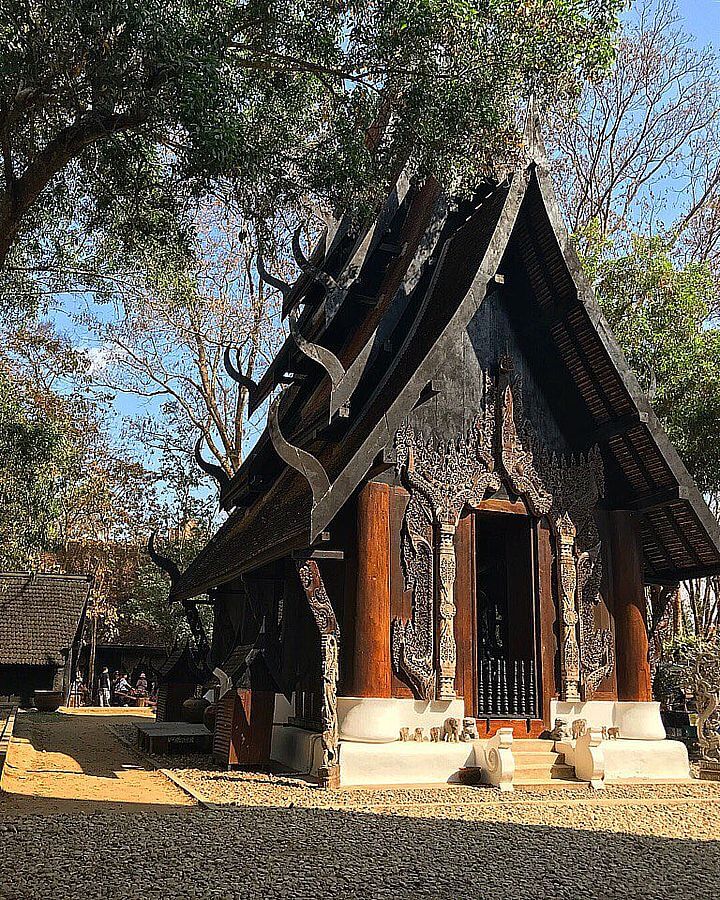 Once I checked into Green Sleep Hostel, I began exploring the neighbourhood. The city is definitely less hectic than Bangkok, make you feel that much more like a local and gives you better value for money.
Hike The Monk's Trail To Wat Pha Lat
I was planning on a hike to Wat Pha Lat for quite a long time, so I finally managed to do it on my recent trip to Chiang Mai. The Monk's Trail is often considered as the part of the trail from the area near Chiang Mai Zoo up to Wat Pha Lat. It is quite a popular trail, thus on certain days of the week, it can get somehow crowded. The Monk's Trail doesn't involve strenuous climbs but depending on your physical condition may require up to 45 minutes from starting point to Wat Pha Lat. It is always a good idea to be prepared. A small daypack, a 1.5L bottle of water and mosquito repellent are a must.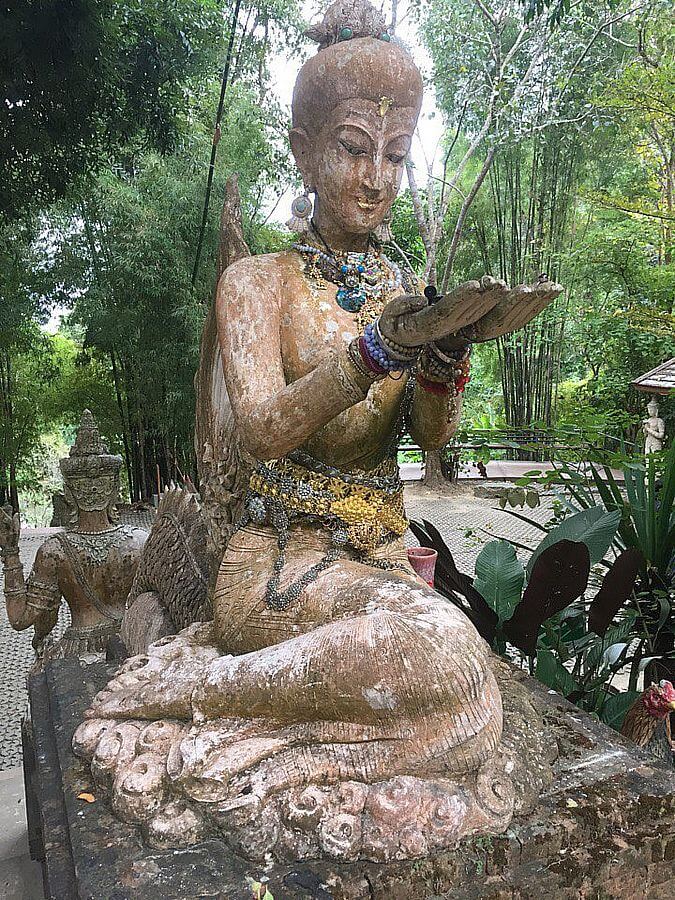 A hike to Wat Pha Lat is very rewarding. Even if you're not into hiking, the peaceful Buddhist temple that is situated in the forest can offer stunning views of Chiang Mai and surrounding scenery. The trees wrapped in the sacred orange cloth around their trunks lined up on the trail, so you just have to follow them.
Chiang Mai's Night Bazaar
Like many other cities, Chiang Mai has its own night market. This night bazaar is really famous for selling cheap clothes, handicrafts, paintings, and souvenirs. While weekend markets are more about food, you can buy anything imaginable here. Fake brands? Check. Bargains? Check. Haggling over price? Double check.
Visit this place in the late afternoon and you'll see numerous street vendors wheeling their stalls out and lining them up side by side on the sidewalks. You don't have to actually be fluent in the Thai language to negotiate prices. The main reason why I love such places is an amazing opportunity to watch buyer and seller haggling over price without speaking a word. They use calculators to communicate by pointing and typing in prices. Situated at Chang Khlang Road, the night bazaar is open daily from 6 p.m. to 11 p.m. and it is a great place to buy some knick-knack even if you're not a shopper.
Visit Elephant Sanctuary
With an ever-growing movement to protect the elephants, Chiang Mai is home to at least three elephant sanctuaries. While Thailand sees millions of travellers every year, a lot of tourists don't think about visiting elephants in a responsible way. These world's biggest land animals are often abused for the amusement of tourists, carrying wooden chairs attached to their backs causing ill-effects. Some elephants spend their days chained to trees with no water or food. Thus, I would strongly discourage you from giving money to people who treat elephants that bad.
Is visiting elephant sanctuaries in Chiang Mai ethical and sustainable? When choosing the best elephant camp (that are plentiful) in Chiang Mai, you'll want to get comprehensive reviews based on their ethical treatment. It makes a difference since some camps were transformed into sanctuaries from yet another elephant riding business. I understand how complicated revealing their actual treatment can be, but if a company allows elephant riding, try to find another one.
I spent just one day at Elephant Sanctuary feeding, brushing and watching these beautiful animals. But I couldn't have imagined that one day with elephants could bring so much joy and intimate experience of a pristine and untouched ecosystem.
Rent a Scooter and Head North to Pai
Getting to Pai from Chiang Mai by riding a scooter was high on my list to do in Thailand. I'm not telling you to do the same since there are regular and cheap buses, not to mention the shuttles. But riding a motorbike will allow you stopping off at waterfalls and hot springs before you reach the relaxed town of Pai, otherwise known as the quiet retreat for expatriates.




You can easily spend a day or two in Pai (or even a month!). And to be perfectly honest I have no clue how to do Pai in just one day. It takes about 3-5 hours to get there from Chiang Mai via the 1095. So it may be wise not to limit yourself by needing to return back on the same day. If you still want to see Pai in just one day, I recommend leaving as early as possible.
Day Trip to Chiang Rai
Where to stay:
Luxury: Katiliya Mountain Resort & Spa, Le Meridien, Four Seasons Tented Camp Golden Triangle
Mid-range: Le Patta Chiang Rai, Eat Sleep Cafe And Bed
Budget: Norn Nung Len Hostel, Chiang Rai Central
Depending on how much time you still got after your first four days in Chiang Mai and Pai, you can consider visiting Chiang Rai. The northernmost province of Thailand is often overlooked by travellers. But Chiang Rai is home to indigenous hill tribes and migrants from nearby Myanmar and Laos resulting in the mixing of different cultures, traditions in somehow new ways.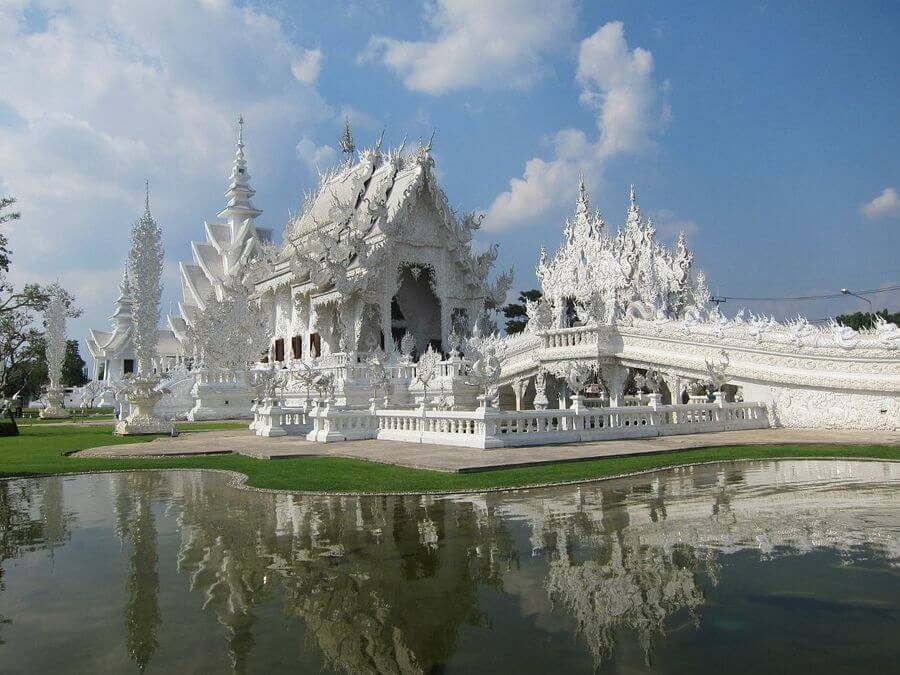 A lot of people go on a day trip to Chiang Rai for the White Temple alone. Nestled in the Golden Triangle, Chiang Rai has far more attractions than an ordinary traveller can cover in one and even two days. But, of course, you can scratch the surface. I was no exception. Having arrived by bus from Chiang Mai early in the morning, my intention was to see Wat Rong Khun, the Clock Tower, the Black House and leave back. I wish I had enough time to explore the Golden Triangle, but doing it will definitely require staying a little longer.
Days 9, 10, 11, 12, 13 & 14: The Southern Thai Islands (6 days)
Once you have finished exploring Chiang Mai, I recommend taking a direct flight to Phuket with Thai Smile or AirAsia where your island-hopping adventure will begin. With so many tropical islands to visit in Thailand, a lot of travellers associate country's white-sand beaches with Phuket. While not my favorite island, they have a very good reason for loving Phuket. A bustling and crowded island with its infamous Patong beach and Bangla Road, Phuket makes a perfect hub for day trips to the surrounding islands. And as soon as you start exploring the outer area and Krabi province you'll find that these islands are in fact way more beautiful than Phuket itself.
Phuket (2 Days)
Where to stay:
Luxury: Sri Panwa Pool Villa, Como Point Yamu, The Racha Hotel
Mid-range: Lub D Patong
Budget: Lupta Hostel Patong, Aspery Hotel
Thailand's biggest destination, Phuket is swarming with package tourists and it has lots of attractions. Of course, Patong is the center of the over-development and nightlife. To experience all the charms of Phuket (not just stuck in hedonist's paradise of Patong), I recommend renting a motorbike. You can ride up the Nakkerd Hill and see the magnificent 45-meters high Big Buddha statue or pay a visit to opulent Wat Chalong temple. Alternatively, you can drive to the old Phuket town to explore Portuguese-style Thalang and Yaowarat Roads.
Koh Phi Phi (2 days)
Where to stay:
Luxury: Zeavola Hotel, Holiday Inn Resort
Mid-range: Phi Phi Cliff Beach Resort, Phi Phi Relax Beach Resort
Budget: Kitty Guesthouse
There is a morning ferry to Phi Phi Island from Phuket, so you can get there in about two hours. In almost every two-week Thailand itinerary Koh Phi Phi will be referred as one of the most popular islands for partying. And I believe Koh Phi Phi isn't that great if you're looking for some peaceful island vibes.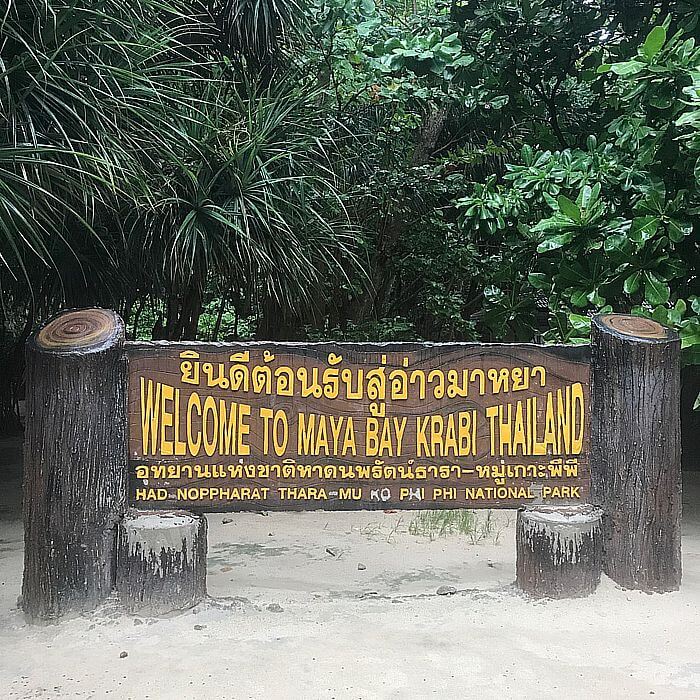 During your stay at the Phi Phi Island, you can hike to the viewpoints, discover its smaller beaches including Ao Tohko, Paknam, Rantee and Lo Bakao, or hit Ko Phi Phi Leh, which became famous by the Leonardo Di Caprio movie. You can also go snorkeling or scuba diving on the nearby coral reefs, rent a long-tail boat to explore the nearby bays yourself. If you're coming from the mainland, I highly recommend bringing local cash and avoid exchanging money on the islands because the exchange rates are quite poor.
Koh Lanta (2 Days)
Where to stay
Luxury: Layana Resort, Pimalai, Rawi Warin
Mid-range: Crown Lanta, Long Beach Chalet, Lanta New Coconut Bungalow
Budget: Journey Hostel, Baan Mook Anda Hostel, Beautiful Guesthouse
Today, I suggest taking a ferry that departs from Ko Phi Phi at 11:30 and 14:00, to reach Koh Lanta island with a one-hour cruise. Koh Lanta consists of many islands but technically Koh Lanta Yai is the most popular so far. Koh Lanta is a fabulous place to visit with plenty of things to do here. From visiting marine national park and boat riding around the island to stopping for snorkeling and visiting Thung Yee Pheng Mangrove Forest.
Koh Lanta is a small island in Thailand that sees fewer tourists and therefore less traffic. If you're into traveling through the island by motorbike, I have discovered that it is a relatively easy and safe place for doing just that. Aside from the area near Kantiang Bay and the national park, Koh Lanta doesn't have unpredictable hairpin turns. This fact makes the island a great place to explore on two wheels.
During my two weeks in Thailand, I had only two days for exploring Koh Lanta. When I was there, I met a guy from Sweden and after a brief chat, we decided to travel through the island by motorbike. Of course, there are various ways to get around Koh Lanta such as taxi or tuk-tuk. But since I love the sense of freedom I opted for renting a scooter. Our starting point was near my hostel on the west coast and we drove around the entire island from there. Driving a motorbike in Koh Lanta was a highlight by itself. Almost anything and everyone you meet on the road looks amazing and really friendly. I believe I was lucky enough to meet Thais that had a smile on their faces without trying to cheat me.
Final Thoughts
I know what you are thinking. There are plenty of places I have missed in my two-week Thailand itinerary. And you're absolutely right. I believe it is quite impossible to see everything of Thailand in just two weeks. Don't bite off more than you can chew. You can always change this itinerary by adding more cultural sights in the north or fun activities and quality beach time in the south. Whatever your plans are, a great travel guide is something I can't recommend highly enough. Be sure to check Lonely Planet Thailand and Fodor's Thailand with Myanmar (Burma), Cambodia & Laos.
Let me know your thoughts about my two-week itinerary in Thailand. Drop me a message in the comments below or tweet me @MindTheTravel!