Food in Thailand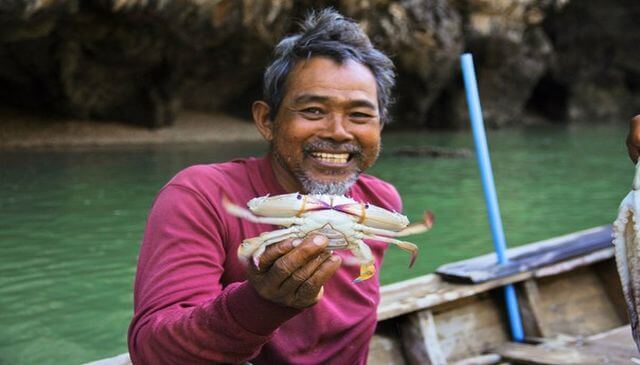 Ethnic cuisine is the flagship of Thailand. The contrast between the products used for cooking and the flavour is its main feature. Thus, there are no exact recipes for cooking. The whole process depends entirely on mastership of the chef. Usually Thai food is quite spicy, but what is even more astonishing for European traveller is that combination of fruits and various spices that add special piquancy to Thai cuisine.
Basis for almost any dish in Thailand is rice. You can find it in any house at any time of the day, but usually as a side dish. There are two types of rice, and accordingly, two ways of cooking. White rice crisp Khao Suay is usually eaten with a spoon in your left hand. Glutinous rice Khao Neo is eaten with the right hand by rolling small balls of it. The most popular rice dishes: fried rice Khao Phat served with fish, crabs, vegetables or eggs. Phat Prick Buy Kraphao is the roast with rice and spices. Prieo Vahan is sweet and sour rice. Nam Man hoy – oyster sauce, rice. Khao Nam Prik Long Ruea – spicy shrimp rice. Khao Phat Khi Mao – spicy rice with basil and seafood. And rice soup Khao Tom, which is served with side dishes.
Noodles and pasta are the second popular food type. Clearly borrowed from Chinese cuisine, traditional at first glance, noodles and pasta while being cooked by Thai chefs have become truly Thailand ethnic dishes. The most popular kind of pasta are Mi Krop – fried noodles with sweet and sour sauce, Naam – boiled noodles in broth, slightly fried rice noodles Phat Tai with meat sauce, eggs, shrimp, bean sprouts and green onions, Khamon Yin – long, thin rice noodles with sauce and salad, as well as Yum woon Sen – a very spicy salad with cold noodles.
Meat is relatively rare to use because of its high price and usually being cooked for pre-order. Duck and fried chicken Gai Yang are really popular as well as sour meat salad Larb Gai. Slices of marinated pork, chicken or duck Khao Moo Daeng. Grilled meat Yum Nua, sausages of minced dried pork – Naem Si Krong Mu. A stew of chicken Khao Man Kai. Gieo dumplings. Pork with soy sauce Kha Moo. Spicy beef with green curry Kaeng khiao Wab Nuea. Not to mention yeast cakes Salapao with various fillings.
There is a huge amount of soup types in Thailand and still each of it has its own unique flavour. Fish and seafood dishes are also popular among locals. The following dishes are considered to be the most delicious: a Laap spicy fish salad, spicy papaya salad with crab Som Tam, boiled mackerel Yum Pla Tu with herbs, spicy rice with Thai basil and seafood – Khao Phat Khi Mao.
But the kings of flavour in Thailand are various sauces. The most popular is considered to be famous Thai burning curry that has a lot of types. Various dressing and seasoning are widely used. Such as Nam Prik Pao, shrimp paste Nam Prik Kapi, fresh coriander leaves Pak Chi, Thai magnolia Takarai, fish sauce Nam Pla that is used while cooking instead of salt.
Vegetables are widely used as a side dish served with meat, poultry or fish and as part of salads. Well-known dishes such as salad of unripe papaya Som Tam, sour salad of minced meat Koy Pa, rice salad with raw vegetables and fermented fish sauce Kao Yum, cold salad with sour and spicy sauce Yum or young soy bean sprouts.
Thailand is a great place to try out exotic fruits. In addition to well-known fruits such as watermelon (Tangmo), bananas (kluay khai), coconuts (maPhra), pineapple, papaya (malako) and mango (Khao Niaow Ma Muang), durian fruit, guava (farang), grapefruit (Som O), there are a high variety of puddings, cakes and ice cream, but they are quite peculiar. Sweet meringue Foi Thong is beloved by locals and travellers.