Thai Cuisine
Last Updated: March 2018
After my 2 months of traveling in Thailand, I tried everything from Khao Man Gai to Pad Kee Mao, or Drunken Noodles. And I have to admit I missed that spicy, zesty and flavorsome Thai cuisine a lot when I left the country.
Food and Thai cuisine are, undoubtedly, can be named among Thailand's biggest draws. Originally introduced by the Chinese, many authentic Thai cuisine eateries exist in Thailand side by side with Chinese restaurants. Thai cuisine has evolved over time and has become widespread throughout many other parts of the world.
With so many herbs and spices used in Thai cuisine, the true secret of Thai food is the balance between five flavors: sweet, salty, sour, bitter, and spicy. Some food has a careful mix of these alluring tastes, while the other is usually paired with side dishes to cool your tongue after eating. Just take a closer look at Thai tom yum goong recipe. This soup alone can light up your taste buds because it has flavors of fresh Thai chilies, lime juice, lemongrass, and galangal.
There are plenty of great food to try in Thailand. Depending on the region you're traveling to, you can expect different flavors and ingredients. When I was exploring Chiang Mai, I ate Nam Prik Num every day and almost fall in love with this thick chili paste. The Thai people usually eat Nam Prik Num with steamed and raw vegetables, and sticky rice. Eating it with sticky rice and fried eggs for breakfast was as an essential part of my trip since it kept me full till lunch.
You just can't explore Thailand without trying the delicious local street food. I still remember myself wandering through the streets of Bangkok scratching my head and trying to figure out what to eat. Choosing what to eat in Thailand can be overwhelming at first glance. That is why I put together this post with some of my favorite Thai food that, I think, you should try at least once.
1. Stir Fried Noodles: Pad Thai
You can find this cheap and tasty dish almost everywhere. I mean not only in Thailand but in the world too. Fried in a huge hot wok, Pad Thai is the common first intro to Thai food. Thin rice noodles are usually stir-fried with egg, bean sprouts, sugar, tofu, fish and soy sauce. Thanks to a yummy balance of its ingredients, Pad Thai is loved by locals and tourists alike. Never miss an opportunity to try authentic Pad Thai in Thailand. Because for less than one dollar you get a chance to experience these famous savory sauce like nowhere else.
2. Tom Yum Goong (savory shrimp soup)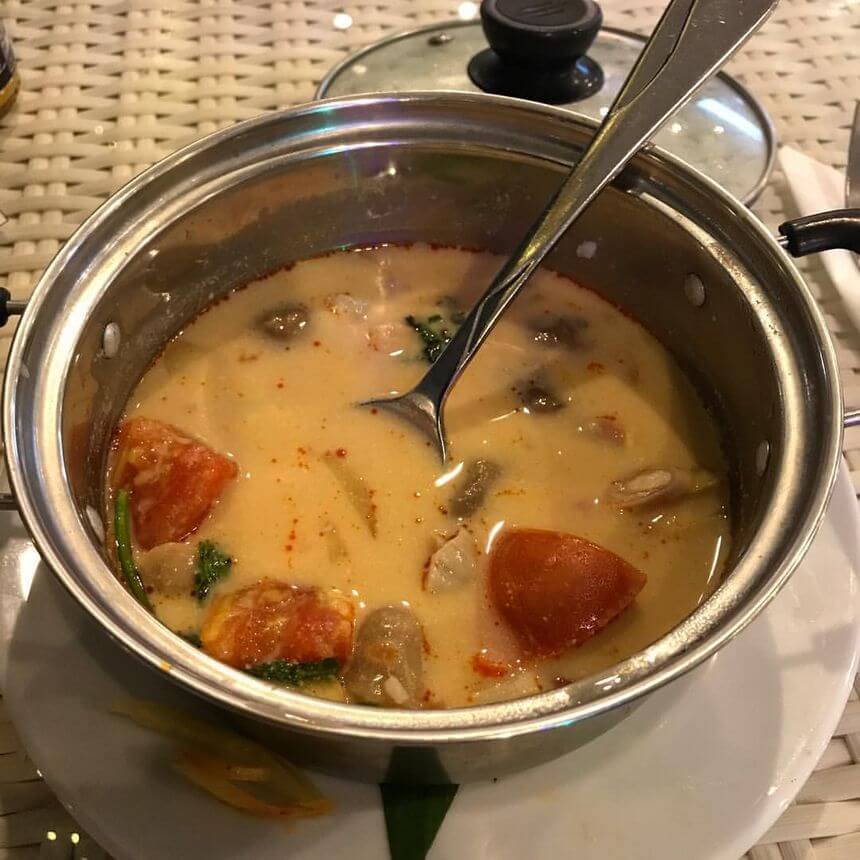 This tangy and very appetizing Thai soup gets heat from chilies, a sour note from kaffir lime leaves and lemongrass. While shrimp is the most common ingredient, Tom Yum also comes in a variety of meat, fish, pork, chicken and even sausage. Because this soup can be easily recognizable by its distinct hot-and-sour flavor, I don't often have it. However, I love its milder version by ordering it "not spicy".
3. Som Tam (Green Papaya Salad)
Another staple food in the Land of Smiles is Som Tam. You can see this green papaya salad on nearly every menu, lots of street stalls, many tables. And I can't imagine a market without Thai women peeling and seeding papaya, crushing garlic with a pestle and making it something much more than just a side dish or appetizer.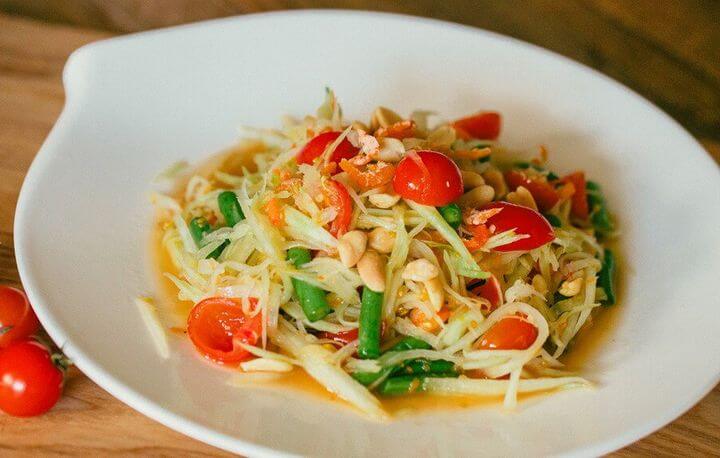 The spicy green papaya salad is a very standard and cheap dish at just about every restaurant in Southeast Asia. That is why so many local folks (and backpackers alike) eat it at any time of the day and is loved for its high flavor and low-calorie count. I recommend also trying its regional variations that use salty shrimp flakes and nutty toasted peanuts.
4. Mango Sticky Rice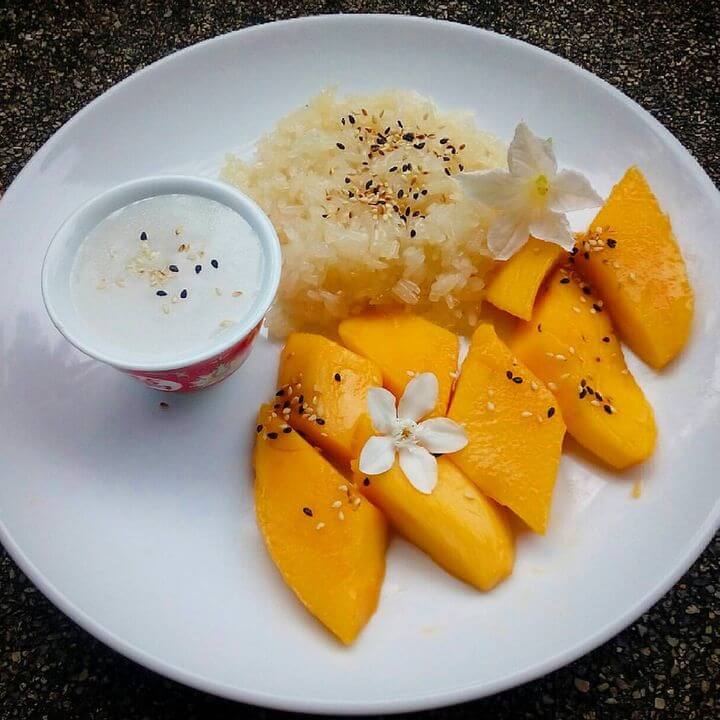 No trip to Thailand is complete without trying mango sticky rice. The dessert is incredibly popular here, thus you can notice Thais enjoying it as small portions throughout the day. Mango sticky rice is a very delicious and simple mix of glutinous rice, fragrant mango, and coconut syrup. I ate it many times but I still prefer to have mine at the Pratunam night market in Bangkok.
5. Pad Kra Pao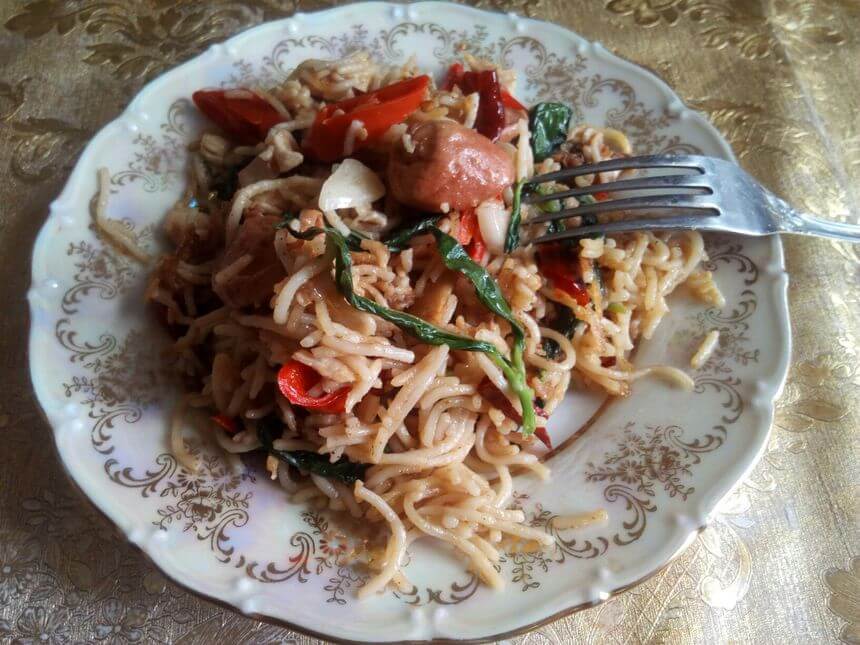 As a big fan of street food, I couldn't have skipped Pad Kra Pao on this list. Fried minced pork with basil leaves served over rice, you can find this classic Thai street food dish nearly everywhere. The main feature of Pad Kra Pao is a spicy basil. Depending on your food preferences, Pad Kra Pao can also come with shrimps, squid, beef or chicken instead of pork. While its "not spicy" variation is also available, it is still quite hot. For most Westerners asking for the "not spicy" ("mai pet") version is the first step towards spicy Thai cuisine.
6. Gai Pad Med Ma Muang
Cashew chicken may not be an original Thai dish, but totally worth being mentioned here. Gai Pad Med Ma Muang originally comes from Chinese cuisine and it was one of the highlights of my trip to Thailand. Who would have thought that nuts and chicken are such a good mix? This dish has a very distinctive flavor combination. Roasted cashew nuts, honey, and sweet soy sauce make Gai Pad Med Ma Muang incredibly delicious. And that is the reason why I ate Gai Pad Med Ma Muang twice a day for a week. I also like to have steamed white rice as a side dish because it quickly fills me up and keep me feeling that way.
7. Geng Kheaw Wan Gai
Chicken meat is very popular in Thailand. Locals cook it countless ways. Green curry chicken is usually cooked with cauliflower, bell peppers, sweet basil and fresh vegetables. But how do they get this saturated green color? Thanks to a combination of green curry paste and sweet coconut milk, chicken not only gets this mouth-watering green but amazing sweetness and blandness!
8. Fuk-Tong Pad Khai
I was brave enough to try Thai stir-fried pumpkin with egg on lovely November day. Yes! I still remember the time when I first tried fuk-tong pad Khai. Why? Because it is not spicy, tastes mild and surprisingly sweet. Egg and pumpkin create an unexpected combination that goes well with almost any side dish. I'm not going to reinvent the wheel and just say rice is a perfect side-dish to make fuk-tong pad Khai taste more exciting.
9. Pad See Ew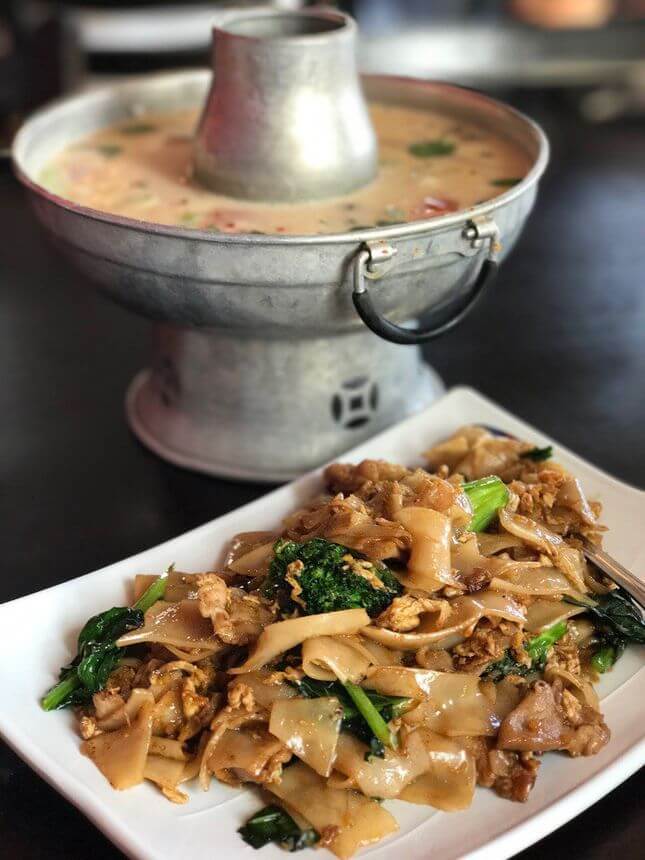 I'll be honest – I had no idea what Pad See Ew was until my last trip to Thailand. So what is what is Pad See Ew? This fried noodle dish is similar to Pad Thai, but because of soy and oyster sauce, Pad See Ew is a little sweeter. Like many other noodles, Pad See Ew is traditionally cooked with pork and Chinese broccoli. But once you find yourself in Thailand, you will discover Pad See Ew rice noodles cooked with beef, pork, shrimp and even tofu for vegetarian.
10. Khao Kai Jeow
When it comes to breakfast, Khao Kai Jeow can be found everywhere as an inexpensive morning meal. Kai Jeow is usually served on top of steamed rice (instead of folding it over) with fish or soy sauce instead of salt. In addition to the savory fishy flavor, Kai Jeow can be accompanied with a slight bitterness because Thais love to add green onion and coriander in it. While the ingredients needed to make this omelet are simple, they also might seem incompatible. In fact, all of them work superbly together and will make your taste buds sing.
Thai cuisine is mainly about striking a balance between sweet, salty, sour, bitter, and spicy flavors. Enjoying Thai food in Thailand was definitely high on my list of things to do before my first trip there. Since many restaurants outside Thailand adjust the original recipes in some ways, eating out at the markets have brought me the whole new experience. I think I will never get enough of this diverse Thai food.
Pin It For Later