My Top Tips For Travel in Phuket
Every time I'm planning a trip to Phuket I imagine awesome white sand beaches, beautiful sunsets, and strikingly beautiful palm trees. Yes, usually people go there to spend time relaxing on a sunlounger and unwind in bars and shops. Aside from these awesome things, Phuket has a number of cultural highlights. Head to Phuket Town to discover Chinese and Hindu shrines, find Buddhist temples and a Mosque. With a long history as a waypoint and a port, Phuket has seen a lot of people passing through it over the centuries. The island contains a melting pot of nationalities including Thais, Chinese, Malays, Indians and recently an influx of wealthy Western expatriates who have taken advantage of affordable properties to settle there. Several International Schools are prospering on the island. Here are my top tips for travel in Phuket.

My Top Tips For Travel in Phuket
Phuket is famous for its beaches. You can find the busiest ones along the West Coast of the island. However, some of them have become victims of their own popularity and have lost some of their charms. Patong Beach is the largest and busiest of the beach towns, but in my opinion, it has become overdeveloped. It is now full of fast food restaurants and over-priced shopping malls. The central bar area has become quite notorious as a red light district. If you visit Patong at night take only what you are prepared to spend and be wary of pickpockets.
Phuket Island nestles in the Andaman Sea off the south-east coast of Thailand. It is connected to the Thai mainland by a 500-metre bridge in the island's north. It is part of Phuket Province, the most prosperous of all the Thai provinces and derives its income largely from tourism. Those looking for quieter, more charming beach areas should look for them away from the West Coast. Or do a careful research on the options still available near Karon and Kata beaches. Many very luxurious holiday developments and branches of the famous hotel chains can be found on Phuket Island. Tourists visit Phuket from all over the world, and it is busy throughout the year.
How to Reach Phuket
Most overseas visitors will arrive at Phuket International Airport in the north of the island, which is about 45 minutes by taxi to many popular areas. Metered taxis are readily available but you do have to pay an additional 100 baht airport surcharge. Alternatively, you can catch an air-conditioned shuttle bus from the airport to Patong Beach, stopping at several of the coastal resorts on the way.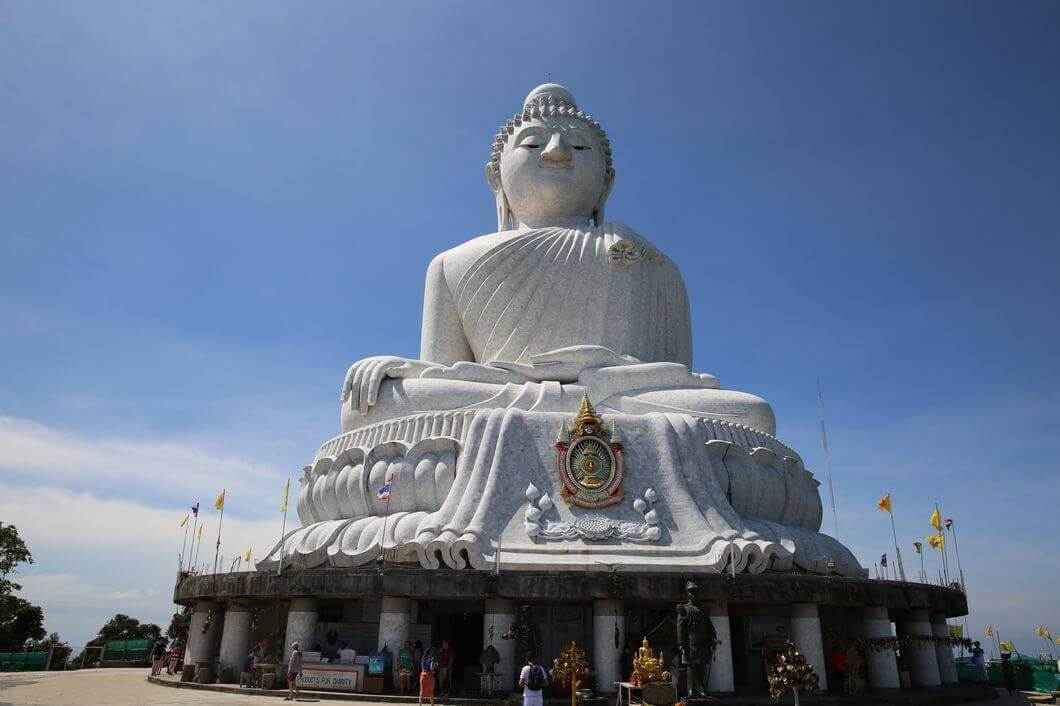 Getting Around Phuket
There are no trains on Phuket Island but there are some air-conditioned scheduled bus services. Many locals use songthaews which are small converted pick-up trucks with bench seats. These shuttles run regular routes, stopping to pick up and drop off passengers at convenient points. There is a bell to signal the driver on the ceiling. They are quite cheap but can get uncomfortably crowded, with some passengers having to stand on rear platforms.
As in other parts of Thailand, metered taxi drivers do not necessarily turn on their meters. I have become wise to this and always check that the driver will operate his meter before getting into the taxi. Three-wheeled tuk-tuks are invariably more expensive. They are fun but you should always agree on a price before setting off. For short journeys, if you are alone, motorcycle taxis operate from busy street corners. Riders have to be licensed and they wear a numbered colored jerkin. Small motorcycles can be hired cheaply, but beware of inland Phuket's hilly and windy roads.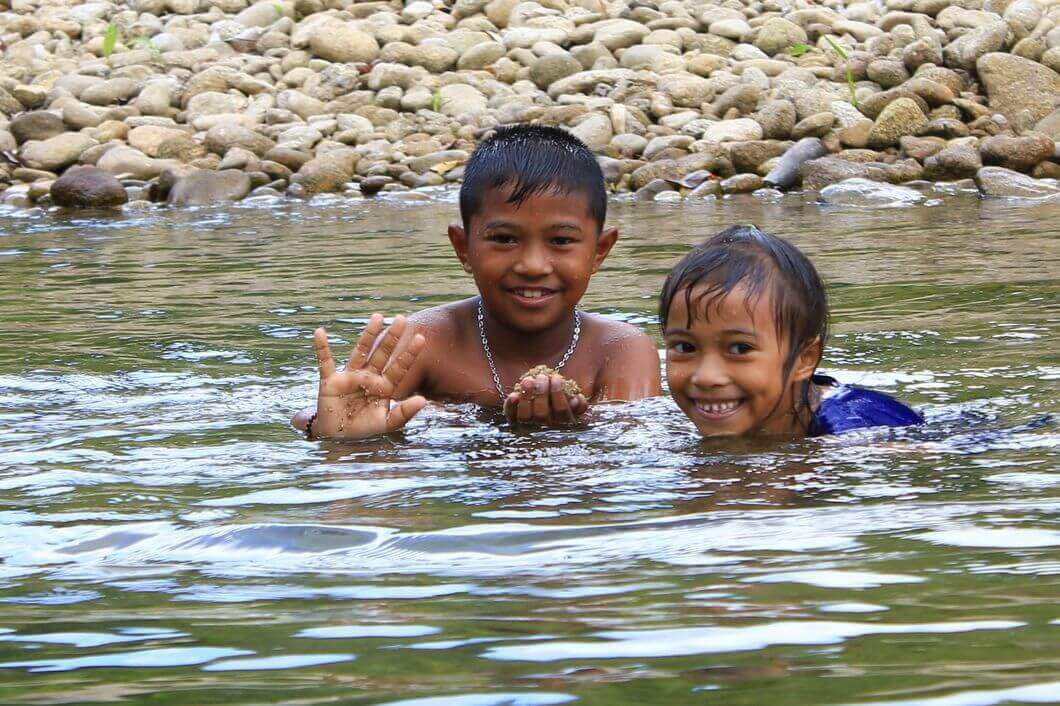 Language and Currency
As a major tourist destination, with inhabitants from many ethnic groups, English has become widely spoken in many parts of Phuket Island. In some shops and restaurants, Russian is also spoken.  If you learn a few greetings and pleasantries in Thai, you will get lots of smiles. I found it pleasant to return the 'wai' – the common Thai greeting where the palms are pressed together with a gentle bow.
The currency of Phuket is the Thai baht and at the time of writing 100 baht is the equivalent of US$3.02. Exchange booths run by the major Thai banks operate in all the tourist areas, and rates are clearly displayed. You often need your passport to exchange cash.
Phuket Weather. What to Expect
Phuket is hot and humid throughout the year with temperatures usually in the early thirties Celsius. The hottest month is March, and in December it is slightly cooler. Intense rain is likely between May and October. It often rains heavily for an hour or two but rarely for much longer. The landscape on the island is lush and green.
Shopping in Phuket
Although goods in Phuket are a little more expensive than in Bangkok, there are many street markets and a great number of things for sale. Usually, to get the best price you have to haggle. Sarongs, printed t-shirts, inlaid jewelry boxes, embroidered pictures and wooden carvings are readily available and can come for a better price.
If you want a more Westernized shopping experience, visit the Central Festival Mall on the outskirts of Phuket Town. Very similar to the European Malls it has a number of restaurants, electronics stores, and high-end shops. I found it to be a convenient place to go shopping in Phuket where you can still negotiate a price while buying from the stalls.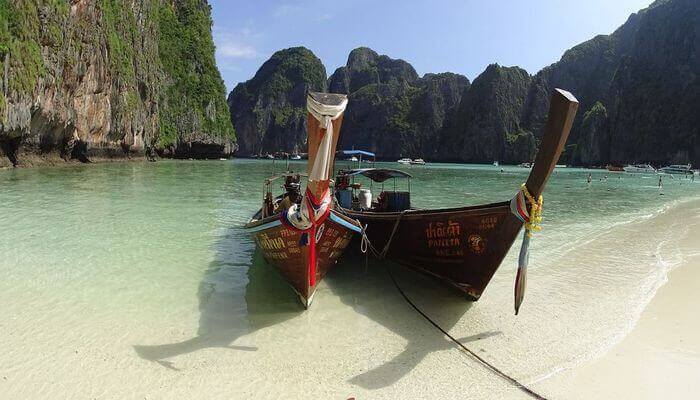 Top Places to Visit in Phuket
Most people visit Phuket Island for the beaches and water sports and there is an abundance of both. Some of the smaller offshore islands, such as Phi Phi, have the clearest water for snorkeling and scuba diving. You can arrange trips from any of the resorts or roadside agents.
If you want to explore the cultural life of Phuket, I recommend the Big Buddha. It sits serenely on a hilltop near Chalong and can be seen from miles around. The statue is well worth climbing the hill on which it majestically sits for a close-up look. Take your camera to capture stunning coastline views – especially at sunset.
As I was planning my trip to Big Buddha, I discovered that most agents charge a way too high price (around 800 Baht per round trip) for getting there. Since I was living near Kata Beach, I found songthaew that runs from Kata to Phuket Town. However, the songthaew won't bring you directly to Big Buddha, its route lies in the vicinity so I decided to give a try.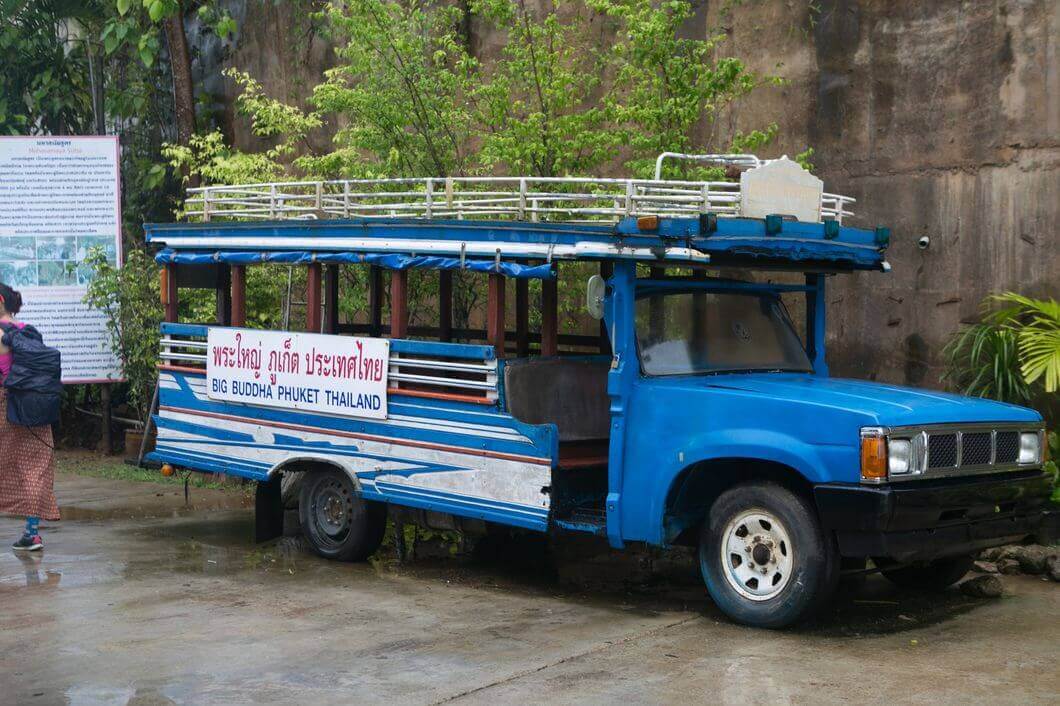 After reaching the Soi Yot Sane 1 road, I found that there were four more miles to go! This is where my haggling skills came in handy. I negotiated the price of 400 Baht with the local songthaew, which broke down as we started ascending. After waiting for 40 minutes as he was desperately trying to fix the car, we finally reached Big Buddha. The vista was totally worth the mishaps on the way there!
Another worthwhile destination, especially for animal lovers, is the Gibbon Rehabilitation Sanctuary in Thalang district. The sanctuary's aim is to reintroduce captured gibbons into the wild, and it has had some success at this. There are several gibbons on view, in spacious enclosures, who are either waiting for re-introduction, or whose injuries or mental state make rehabilitation impossible. I enjoyed talking to the very knowledgeable volunteer but was disturbed to learn how some of these agile small apes had been exploited and mistreated on the island.
Adjacent to the Sanctuary is the Khao Phra Thaeo National Park and it is a pleasant walk through virgin rainforest up to the Nam Tok Ton Sai waterfall.
Food in Phuket
In my view, one of the most enjoyable aspects of eating while in Phuket is to find a quiet beachfront restaurant (of which there are many). You can enjoy an ice-cold Singha or Chang beer as the sun goes down, and follow this up with some freshly cooked Thai dishes. The Thais pride themselves on their cooking skills and if you eat the local food, you will rarely be disappointed. My personal favorites are Pad Thai noodles, pomelo salad and mixed vegetables lightly cooked in coconut milk.
Although I think some parts of Phuket Island have been spoiled by over-development, there are still many pleasant parts where you can go for a calm and fulfilling vacation.