Travel Itinerary for One Week in Beijing
Beijing is the city I couldn't have missed during my trip to China (you shouldn't too). In addition to being one of the oldest capitals in the world, Beijing is the cultural hub of China filled with hutongs, ancient temples, and fast-growing tech industries. If you're planning a trip to Beijing, you have probably noticed that it has so much to offer. This post covers travel itinerary for one week in Beijing with travel tips from my own experience.
In fact, I have only scratched the surface while visiting these sites. By following this one-week travel itinerary you'll make the most of the time in Beijing. Especially if you're a first comer.
Travel Itinerary for One Week in Beijing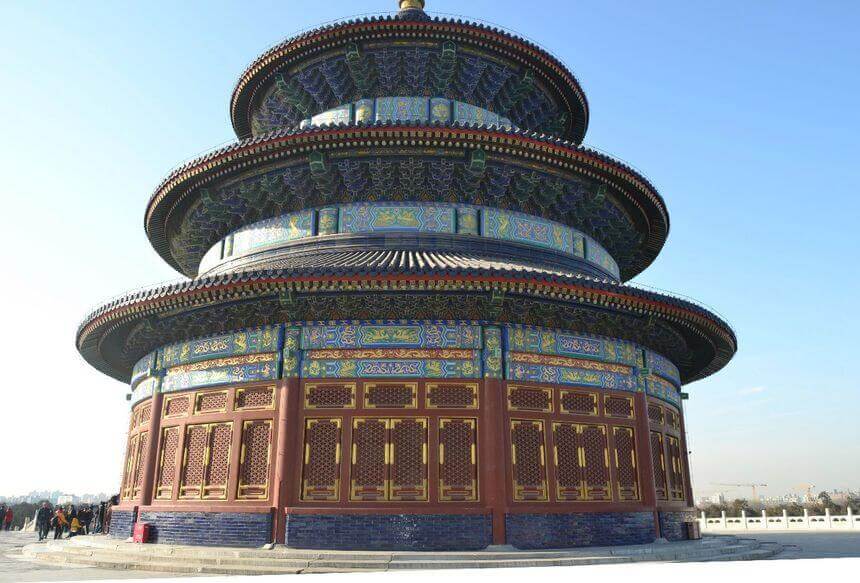 5 Reasons to Start Your China Trip in Beijing
1. Beijing is a great starting point for any China trip. It has a great transport infrastructure – you can reach any part of the city by metro, bus, taxi, train or even pedicab (don't get scammed, though!).
2. China's capital city is the place to explore the culture and traditions of the entire country. I would totally recommend visiting the Yonghe Lamasery (that is half-Chinese and Tibetan architecture) and Beijing Botanical Garden, a place to escape the crowds.
3. Beijing is a fast-developing city. It is home to several renowned universities and Zhongguancun technology hub. At the same time, there are few remaining hutong neighborhoods where I got a glimpse of ancient China.
4. If you're not into staying for a week, Beijing has 72-hour visa-free policy. It allows citizens of 50+ countries to explore Beijing for three days without obtaining a visa. This is a decent option if you're passing through Beijing Capital International Airport. And here is how you can get a 72-hour visa to China.
5. Beijing is a safe city for most foreigners. Although some places can be complicated to navigate, locals are usually willing to help. Traveling around by subway is easy since announcements are generally in English. Hitting shops and markets is something worth doing if you need goods ranging from silk clothes to high-tech gadgets.
How to Reach Downtown From Beijing Airport
Most visitors will arrive at BCIA (Beijing Capital International Airport). There are several ways to get to the city:
Taxis will set you back around 90-110 RMB depending on your destination. I recommend using a taxi if you have the name and address of your hotel printed in Chinese. What is even more important, make sure the driver, in fact, uses the meter since cheating foreigners isn't rare. I have noticed that some taxi drivers may ask for double price. Never use taxi without a meter.
Probably the most convenient way to reach downtown (as well as getting around Beijing) is via the Airport Express line. I definitely prefer train when I have my backpack light and hotel near a subway station. It takes around 20 minutes to get from T2 and T3 stations to Sanyuanqiao (interchange with Line 10) and Dongzhimen (interchange with Line 2 and Line 13). Expect to pay 25 RMB for a one-way ticket.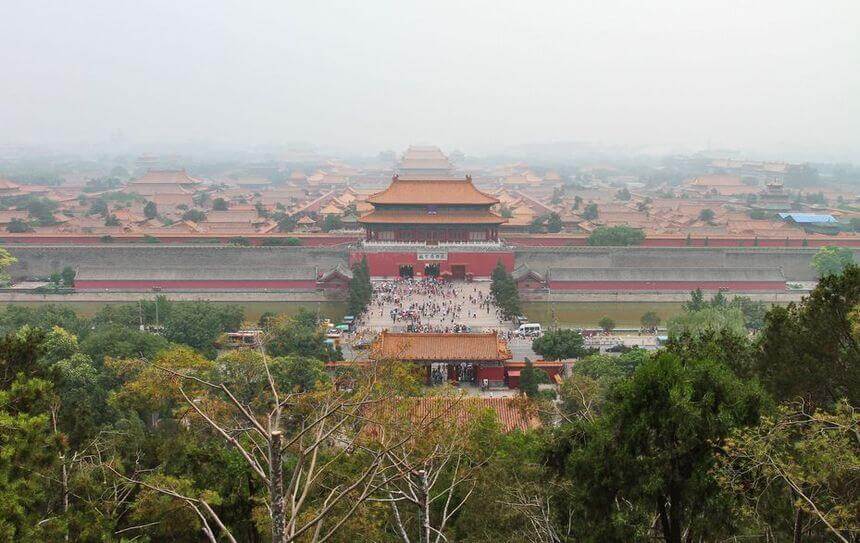 Day 1: Tiananmen Square, Forbidden City, Oceanarium
On my first day in Beijing, I woke up early and went for breakfast. Before setting off I asked staff to write down the Chinese names of the places I was about to visit. I left the hotel willing to take a taxi. I definitely wasn't lucky that day since all taxis drove by without stopping. After spending 30 minutes in the street, I decided to get back to the hotel to hail a cab at the reception. 5 minutes later I was in a cab on my way to Beijing's attractions.
It took me around 25 minutes to reach the Tiananmen Square. It was indeed a very impressive square that can accommodate up to 1 million people at the same time. I recommend visiting it early in the morning to see the flag-raising ceremony and get the idea of how the square is mind-bogglingly big. I wasn't early enough, however, so I only enjoyed the flag-lowering ceremony. As I was on my way to Tiananmen square I saw large groups of Chinese (usually elderly) people doing Tai Chi. That is what I learned a bit later – you're never too old to do tai chi.
After wandering around the square, and taking snapshots against the backdrop of Mausoleum of Mao Zedong, I was ready to start exploring the Forbidden City. Before going there I also visited Beihai Park – a relaxing place with 10 RMB admission fee.
The Forbidden City (Gu Gong) is the largest existing palace complex in the world. For hundreds of years, the Gu Gong was a taboo place and the mere mortals were not allowed to get in without permission. Gu Gong consists of 9999 rooms, but even now half of the rooms are closed for visitors.
As you buy a ticket there is also an option of getting an audio guide for extra money. On my first time in the Forbidden City I got one and frankly, I wasn't much satisfied with it. It cost 40 RMB for English language but I still wonder whether it is good value for money. I found the information that was given not that much valuable. Besides, you have to leave a deposit of 100 RMB. As a historian, I definitely prefer to research on this subject the next time I'm there. If you still want to rent an audio guide, make sure to bring your own earphones if you don't want to use one that was previously used by someone else.
Where to Find: 4 Jingshan Front St, Dongcheng, Beijing.
I love the Forbidden City. It fascinates me with its size, at the same time visiting it feels like touching ancient and mysterious history. After leaving it I hailed a taxi to Beijing Aquarium.
Quick Tip on Taxis in Beijing: Don't repeat my mistake of standing on the highway frantically trying to hail a taxi. Look for a smaller side street instead. Chances are you will find one pretty quickly. The best way to catch a taxi is through the hotel reception, however. Always check the taxi driver's license on the dashboard. If you can't find his photo and registration number avoid taking this taxi.
In fact, there are three public aquariums in Beijing. But the one I'm going to mention here is to be found in the Beijing Zoo. The aquarium layout is made up of several small tanks designed to show the variety of species of a particular ecosystem and two large tanks with a wide range of sea species. I was lucky enough to see the oyster with a pearl inside it. It was opening its shell every two minutes, thus seeing a pearl was a pleasure.
The main reef tank has several huge windows and viewing tunnels. The thing I love most about this aquarium is that it looks very organic. Unlike many other aquariums, I have seen this one is home to a large number of turtles, reef fish, and stingrays. The downside of it is price – 10 times the cost of the entry to the zoo. I think it totally worth a visit but make sure to avoid doing it on weekends.
I spent that evening wandering the streets, watching people and exploring the neighborhoods.
Quick Tip: Most people in China don't speak English (or speak very poor English). That is the reason why it is wise to always carry a business card of a hotel/hostel you're staying in. Before my trip to China, I also purchased a mini-phrasebook and got all the names of the places (e.g subway stations, How should I get to…) written down on paper.
Day 2: Yíhéyuán Summer Palace and Yuanmingyuan
The Summer Palace is a very popular destination in Beijing. Despite this fact, I totally recommend not to miss it. This UNESCO World Heritage Site dates back to the 12th century and suffered twice in the recent past. The original Summer Palace was burned down by Anglo-French forces in 1860 and looted in 1900 by the forces of the Eight-Nation Alliance in the end of the Boxer Rebellion. It gained its current look by then and was turned into a beautiful public park in 1924.
If you can be flexible with your dates, it is better to visit The Summer Palace in Autumn when the Garden turns yellow and red while temperatures are a cooler. I'd recommend setting aside enough time for exploring since the sites are spread out over the territory. It may take an entire day to see them all. I spent six hours doing the circle around the park, admiring the Boat of Purity and Ease and taking pictures from the Longevity Hill. If you want to visit the Tower of Buddhist Incense it requires obtaining an additional ticket. General admission is 30 RMB as of 2017.
Quick Tip: Visit the Summer Palace as early as you can to escape the crowds.
Where to Find: Beigongmen, Line 4, Exit D.
Yuanmingyuan (the Garden of Perfection and Light) Ruins
This place is less packed with tourists and can easily be combined with visiting Yíhéyuán Summer Palace. Located a stone's throw away from the Summer Palace I went to Yuanmingyuan early on a September morning and guess what? It was completely empty! Don't expect too much if you're into architecture though.
The Gardens and the ruins are the only things that have left from the original main imperial residence of Qianlong Emperor and his successors. Exploring the ruins was like admiring the palaces in Europe. The buildings have undergone heavy influence of architectural ideas from Europe and this fact has surprised me.
Exploring the grounds can give an idea of how splendid the Palaces and the Gardens were. Today, in places that once were a restricted area for mere people, thousands of their descendants now take snapshots, fly kites and go on picnics. A bright example of how the things change over time.
Where to Find: Subway Line 4, Yuanmingyuan, Exit B, 28 Qinghua Xilu Haidian District
Admission: 15 RMB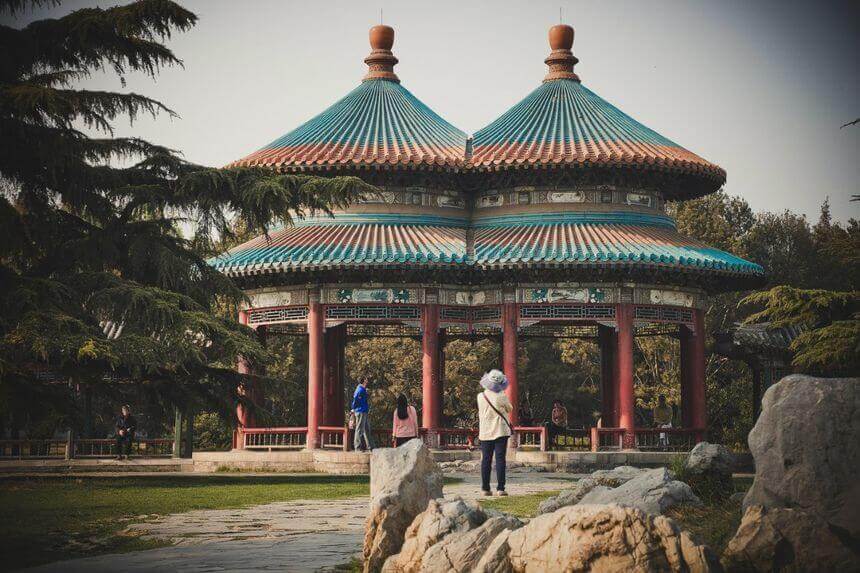 Day 3: The Temple of Heaven, Beihai Park, Prince Gong's Mansion, Houhai
As I was planning my travel itinerary for one week in Beijing, the Temple of Heaven was high on my list of things to do. Situated in southern Dongcheng district it is just a 20-minute drive from the Forbidden City and can be best accessed from Tiantan East Gate station. I have combined visiting the Temple of Heaven and the Beihai Park (that are quite far apart). That is because I wanted to roam around Beijing and explore its central neighborhoods.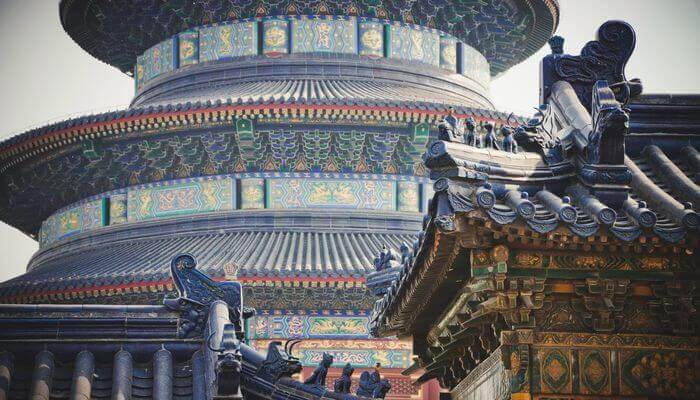 The Temple of Heaven was built in 1420 and was really important in terms of its religious significance. Today the entire ensemble is divided into two sections. The outer section is home to neat gardens, the inner section is made up of several smaller sections: The Imperial Vault of Heaven, Prayer for Good Harvests and the Circular Mound Alter. Tourists flock here for a good reason. The triple-gabled circular Taoist temple looks very unusual. This place where the Emperor prayed for good harvests, now turned into an extensive park.
Where to Find: I approached the park from the East Gate. Subway Line 5, Tiantan Dongmen Station, Exit A.
This UNESCO site is open daily from 6.30 am to 10 pm. The gated temple sites open from 8 am until 5.30 pm, or until 6 pm from April-October.
Beihai Park
These old imperial gardens exist near the Forbidden City in some form or other since the 12th century. Because it is one of the best classical gardens in Beijing, on weekends the entire place is filled with elderly people practicing their tai chi, parents and their kids.
On my trip there I took some photos of the White Pagoda and Yongan Temple. There was also a chance of taking a boat ride across the pond but I just couldn't stand the paddling after the recent promenade.
Where to Find: Xicheng Qu, Wen Jin Jie, 1
Prince Gong's Mansion
While Prince Qing was, in fact, only the third owner of the Mansion, the site is worth a visit. This traditional Chinese dwelling was built in the late 18th century during the Qing dynasty for a wealthy court official. Because of the vicissitudes of life, the mansion was given to Prince Qing.
I can't recommend this piece of architecture highly enough for everyone into the Chinese history. Because of the Benedictine Order that invested a lot of resources into restoring, Prince Gong's Mansion is one of the most well-preserved imperial buildings in Beijing. Located across the Di'anmen Waida Street from Beihai Park, you can also find the Peking opera house inside the mansion.
Quick Tip: Most of the exhibitions aren't friendly to non-Mandarin speaking travelers. The easiest way to deal with it is to do a research before you go. It worked just fine for me.
The entire site is quite extensive with gardens in the north and buildings in the south. I spent 3 hours enjoying the pavilions, city's most spectacular garden, and artificial hills. The combination of courtyards, ponds and bamboo park make it all seem larger than it really is. Admission is 40 RMB.
Where to Find: 17 Qianhai Xijie, Shichahai, Xicheng District
Houhai
I started my exploration of the area around the Houhai lake after hitting the Prince Gong's Mansion. While Houhai is definitely not an off-track-destination, I think it is worth a visit. Especially if you're a first timer in Beijing. When I was organizing my travel itinerary for one week in Beijing, I hadn't the slightest idea this place exists. Filled with hutongs, coffee shops, and restaurants, Houhai is the area I have discovered by chance.
Houhai literally means the "Rear Lake" and really popular with locals and travelers alike. Although I haven't noticed many foreigners during my visit day. Houhai seemed to me a beloved go-to place for locals as they were rambling around, cycling and just hanging around. The little lake creates a picturesque scenery.
With a great number of street vendors, you can grab a bite to eat and then take a leisurely stroll along the banks. Or you can take a seat in one of the outdoor restaurants facing the lake. When the evening comes the cobbled streets of Houhai are lit up with beautiful lanterns.
How to Get There: Bus routes 5, 60, 90, 107 and 204 stop at the Drum Tower, just east of Houhai.
Day 4: National Grand Theatre, Beijing Hutongs, The Beijing Ancient Observatory, Subway Line 8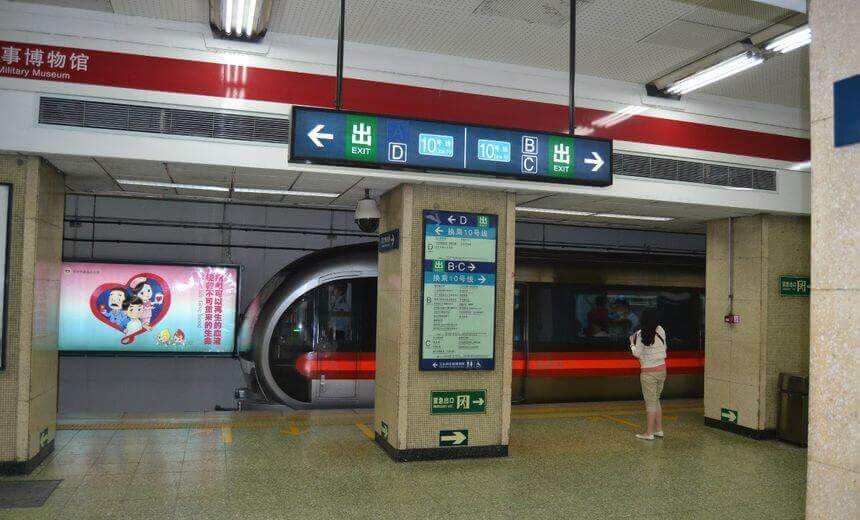 National Grand Theatre
You don't have to be a theatre lover to visit The Giant Egg (that is how the National Grand Theatre colloquially known). While it more looks like a spacecraft, it was designed by the same person who has created some of the world's astonishing airports in Dubai, Manila and Orly airport in Paris. It took a long six years for Paul Andreu to finish the Grand Theatre in 2007.
Of course, the reason why I went there is its futuristic shape. Made of titanium and glass and surrounded by an artificial lake, the theatre is a venue for many cultural events like ballet, opera, Peking Opera, and drama. If you're not into the cultural side of Beijing, you can hang out in any of its numerous shops or restaurants. Admission is 30 RMB.
Where to Find: 2, West Chang'an Avenue, Xicheng District, Beijing.
Beijing Hutongs
Exploring hutongs in Beijing is like stepping into history. Beijing is the city that still retains its main cultural identity – hutongs. I was well-aware of these traditional neighborhoods and included them on my travel itinerary for one week in Beijing long before I hit the road. Hutongs are popular among locals and expatriates and usually, they are easily accessible by subway.
While you can find hutongs in many of Beijing's districts, I decided to visit the cluster of hutongs near Nanlouguxiang subway station. The area is filled with souvenir shops, eateries, and bars, as well as you can find some hostels here. During the day the entire neighborhood is buzzing with life. Loud din, people playing games and scurring along the streets leave an indelible impression.
Although many of the hutongs have been demolished to make way for multi-storey buildings, the remaining hutongs are still home to urban working class. That is the reason why I usually had to settle for exploring the narrow residential passageways than entering the traditional courtyards. Allow yourself to get lost here. Since the streets have a straightforward layout you can easily get back on track.

Beijing Ancient Observatory
History isn't the only science I'm fond of. When I was a kid I remember myself gazing at the stars, trying to identify the constellations. Because of this fact I couldn't have missed the Beijing Ancient Observatory.
Located only 3 subway stations away from Tiananmen Square, this is the oldest observatory in the world. Established during the Ming Dynasty, the observatory sits on top of a 15-meter high brick tower with some of its ancient antiques seen from the street. Yes, I know astronomy isn't the topic that my readers are usually into. But I think it can be a place of your interest.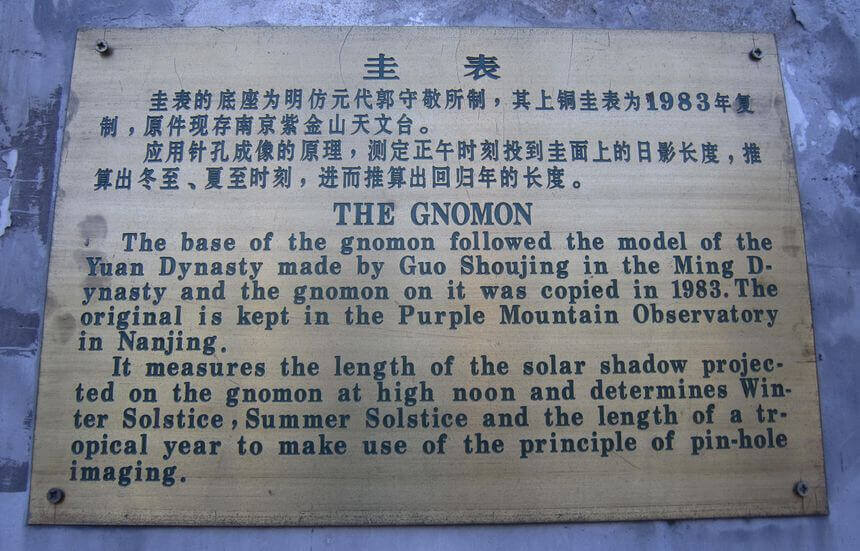 Apart from ancient astronomical equipment and being the longest operating astronomical observatories in the world, the site is surrounded by a tranquil garden. The thing that differs the park from a lot of others is that not many people are in fact interested in astronomy. Thus, you won't find the site swarming with tourists even in peak season.
Where to Find: Lines 1 and 2 of the Subway to Jianguomen (Exit C). Admission is 20 RMB.
Beijing Subway Line 8
I spent the rest of the day riding the subway line 8. It was constructed for the 2008 Beijing Olympics and I find it to be the most unusual of all. Line 8 was initially opened with a small stretch between Beitucheng and South Gate of Forest Park to help spectators reach the Olympic Stadium. Line 8 is connected with to Line 13 at Huoying, Line 10 at Beitucheng, Line 2 at Guloudajie and Line 6 at Nanlouguxiang. It makes the line a convenient means of transport for reaching any of the Olympic venues.
Day 5: 798 Art Zone, Liulichang Street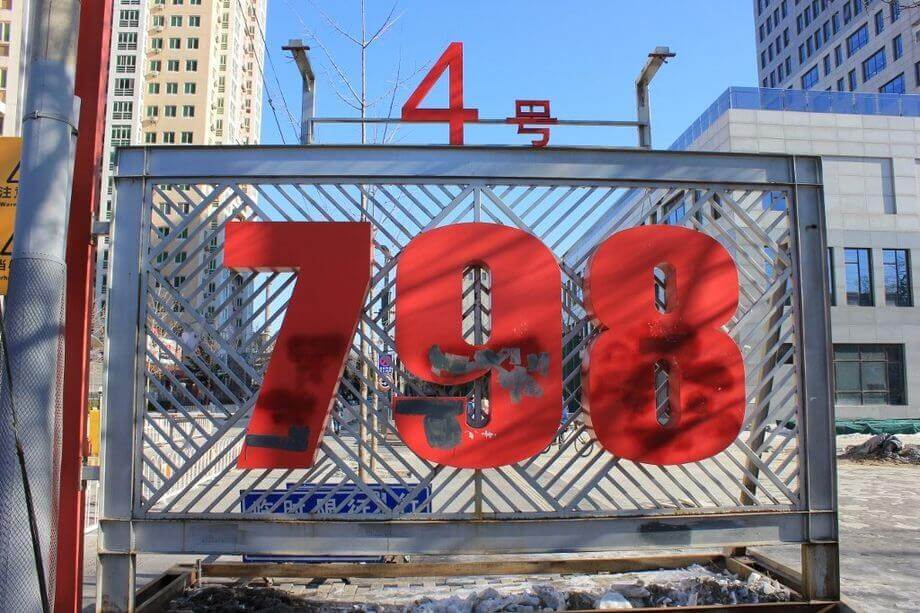 798 Art Zone
The 798 Art Zone wasn't high on my bucket list. But I think this is a place that every traveler should visit at least once. Originally a massive area where foreign engineers and local workers were doing their best to create military and industrial might of China now is being turned into the vanguard of the Chinese art scene with graffiti murals, workshops, bookstores and street vendors.
However, with all these art exhibits and museums, the Art Zone still retains its industrial spirit. It is a great location for steampunk photography because of the abundance of pipelines and red-brick buildings. The entire place looks very different compared to the traditional Beijing architecture.
While in 798 Art Zone you can call original factory plants, steel structures and rust-covered machinery an art pieces. Brutal-looking urban landscape is complemented by open-air galleries and socialist-realist sculptures. The neighboring districts are usually transformed into a creative environment, turning old factory spaces into lofts and design bureaus.
How to Get There: Take Subway Line 14 and alight at Wangjing Nan Station. Get out from Exit B1. Then take bus 403 and get off at Dashanzi Lukou Dong Station or take a 20-minute northeast walk to the destination.
Where to Find: No.4, Jiuxianqiao Road, Chaoyang District. Use the city bus line 401, 402, 403, 418, 420, 405, 909, 955, 991, 988 or 445 to get there.
Liulichang Street
Located just a 15-minute walk from the Tiananmen square, Liulichang street is known by scholars and travelers alike for its workshops, including those selling the 'four treasures of study': Xuan paper, ink stick, ink stone and brush. Liulichang means Colored Glaze Factory, which has been situated here during the Yuan and the Ming Dynasties. The colored glazed tiles were used as a roofing material while building traditional palaces, temples, and residences.
Some shops here are like a magnet for photographers. Filled not only with calligraphy but with a wide array of folk handcrafts, you can also find rare books, paintings, and souvenirs to bring home. In fact, I wasn't into spending tons of money on antiques or arts and crafts, I just love the idea of culture streets that, in addition, survived the Cultural Revolution. I find it worth going to have a look at the street itself.
Where to Find: Line 2, Hepingmen Station, Exit D1 or D2 (southwest exit). Bus no. 7, 14, 15, 66 or 70 and get off at Liulichang Station.
Day 6: The Great Wall, Thirteen Tombs of Ming Dynasty
The next stop on my travel itinerary for one week in Beijing was the Great Wall. This is a place like no other. It is very impressive. Visiting its broken up sections can be a reason for going to China itself.
This mighty structure stretches for thousands of kilometers along the southern border of Inner Mongolia and used as a separator between China and northern nomadic tribes. While the Wall is a series of fortifications that required selfless labor, today many sections have fallen into despair because of their age and disintegration. As I was exploring the Wall, I found out that only staggering 30 percent of the Wall is remaining.
The Great Wall dates back to the Qin Dynasty but almost all follow-up dynasties added some new sections to already existing. However, made of brick, stone, wood (and maybe from the bones of the deceased workers), the Wall proved to be an unsuccessful project. The invaders used gaps in the Wall to bypass it. And eventually, its further existence became pointless.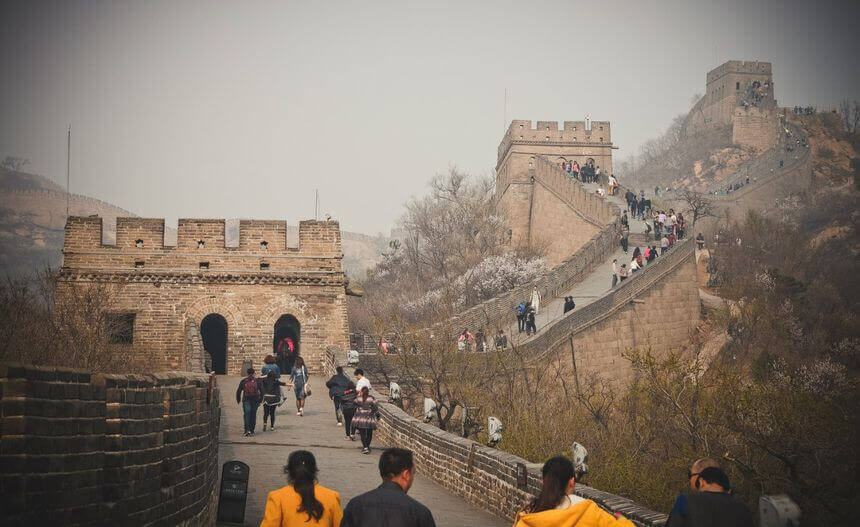 Quick Tip: If you go to Great Wall with a tour, you may consider visiting Mutianyu, because reaching Badaling can be difficult due to traffic jams. Bring your own snacks since food at the Wall is quite expensive.
With several sections available for the public, Badaling and Mutianyu are probably the most popular. Both these sections were restored to its original condition. Mutianyu is definitely less packed with tourists, while Badaling is usually swarming with tourists on the weekends and national holidays.
If you go to Badaling, you may also want to visit the Ming Tombs that are about an hour's drive from this section. The mausoleums were built by Ming emperors (1368–1644) to become the last refuge for the remains of 13 emperors, queens, and their most trusted advisors.
When I visited the Dingling tomb it was the only tomb available to the public. It suffered greatly during the Cultural Revolution and most of the relics were destroyed. With twelve more tombs around the site that haven't been yet excavated (not available for the public as well) and beautiful Spirit Path leading to the mausoleums, the site is definitely not to be missed.
How to Get There: Bus 879 from Badaling Great Wall to the tomb. Bus 877 from Deshengmen Bus Terminal to Badaling. Bus 916 Express from Dongzhimen Transport Hub to Mutianyu.
Day 7: Shopping
Whatever you do in Beijing chances are you will want to buy something, either for fun or as a necessity. Beijing has a plethora of options for shopping. From foreign brands (that is usually fake) to domestic labels and handmade crafts, you will be spoilt for choice.
Pearl Market
When you visit the Pearl Market haggling the prices down is essential. The market offers everything – from pearl necklaces to fake sunglasses and clothing. Depending on the way you look (I usually avoid showing off gadgets and cell phone), you can get dramatically different prices. If you don't want end up overpaying check at least three or four vendors to get the idea of price range. Most vendors don't speak English, thus knowing a few phrases in Mandarin would come in handy.
Where to Find: 9 Tiantan Rd, Beijing.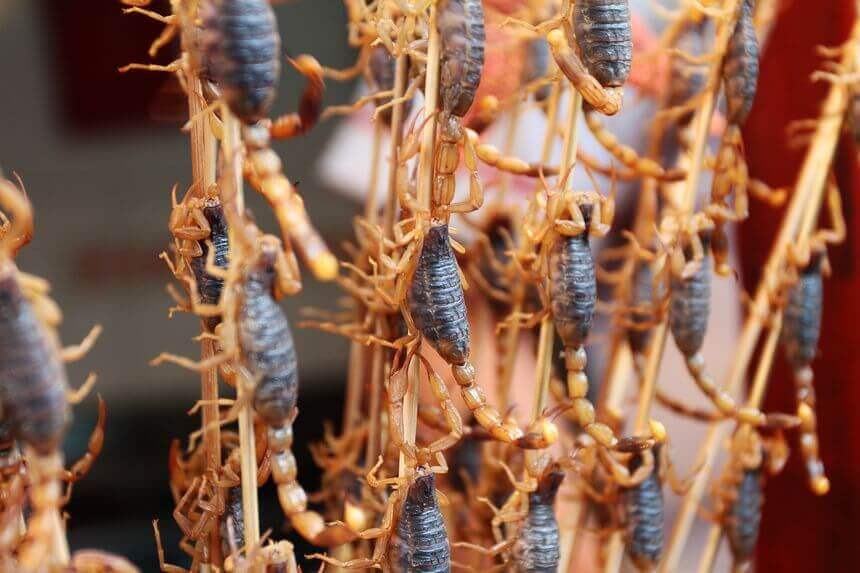 Silk Market
This multi-floored market is pretty much the same as Pearl Market. Don't be fooled, prices are much higher than everywhere else in Beijing but I love haggling. I was also well aware of the fact that some sellers can be aggressive since you don't buy their goods. That is not always true. Being respectful to others is key to lower prices. Don't miss the food court, it definitely worth trying.
Where to Find: No.8 Xiushui East Street, Chaoyang District
Wangfujing Shopping Street
While this street is filled with restaurants and brand shops along both of its sides, I think it has become too touristy. There are plenty of other spots in China to get a great deal. The only reason I mentioned it here is the ambience. Hit the Wangfujing street if you want to gaze at exotic snacks like fried beetles, squirming grasshoppers, wiggling centipedes or cockroaches. I wasn't into spending money here, but these crispy snacks totally made my day (I didn't eat them, lol 🙂 )
Would you like something to add? Let me know what you think about this travel itinerary for one week in Beijing in comments.
Pin It For Later