Why Do We Travel
Many years ago, when I was a kid, I had a large wall map in my room. My parents pinned it on the wall, hoping to instill the love of studying geography in me. I have to admit, they have succeeded in their attempts, the love has visited me, but it was of another nature. It was a passion for traveling. Every time I looked at this map I imagined myself traveling across distant countries and continents. Once appeared, this passion hid for a while in order to arise a bit later when I'm grown enough to travel on my own and ask myself why do we travel.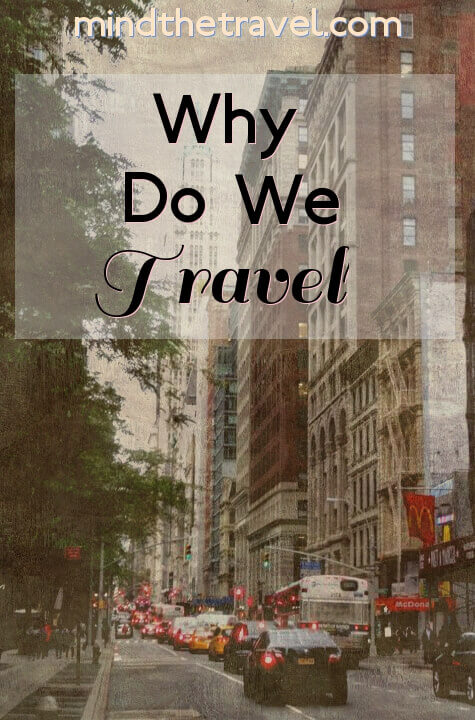 As I was waiting to get my boarding pass in Suvarnabhumi Airport, I caught myself thinking about my second backpacking adventure. The plane is about to get me back home, I'm tired … but it's a good tired. I have been backpacking across Thailand for a month and this trip has opened a whole new world for me. Firstly, I had several reasons for going to Thailand for that long. My friend was getting married and he was up to have a beach wedding. For the rest of the time, I was planning to catch up with another friend who got a software engineer job in Bangkok and then hit the hiking trail in Khao Yai National Park.

After the four weeks of events, socializing and backpacking I feel a bit exhausting. But at the same time, if anyone were to ask me would I skip that trip if I could, I would say – definitely, not. That trip worth every sleepless night, every hour to get there and every Euro spent! I'm very happy to be able to travel. Happy with choosing my destination, picking accommodation and making connecting flights. This is a true romance of travel. I have ticked many places off my bucket list during that trip. I had a great fun and it was a solemn marriage. And while these are not my usual travel purposes, I had an amazing time. Check the reasons why we should travel and let them inspire you.

Reasons Why You Should Travel
There is always something we can learn from the world. By traveling its distant corners you get a unique opportunity of immersing yourself in different cultures and get a chance to appreciate the diversity that surrounds us. Traveling encourages us to become a better person than we are, makes us more sensitive to everything around, broadens our perspective. Any trip brings something new to us, something that will keep your travel memories alive forever. Not to mention the chance of meeting new friends or getting bright prospects outside the home country.
Travel will reveal your best qualities, even those we never knew existed. No matter what kind of activities you're into. Whether it is hiking, diving or strolling, take a close look at yourself, and you will reveal your dominant personality traits. At the same time, traveling the world help in bringing a family closer together as well as provide an opportunity for every member to learn geography in a practical way.
When we travel, we get a unique chance to learn foreign languages. There is no better environment for improving language skills than everyday life abroad. Isn't it wonderful being able to say "thank you" and "hello" in the Thai language or learn several phrases in Greek for your next trip?
Traveling gives a wide variety of everything. Thanks to globalization, it seems that we know a lot about the world but still there are plenty of places and things that are unknown out there.
Get a map and plan your own itinerary through the Peruvian jungle or roam the streets of Marrakech. Always remember that not all those who wander are lost. Any travel experience is worth obtaining. Thus, traveling the world is a great way to quench the thirst for adventures.

How Will Travel Change Life For The Better?
When we travel, we are not just covering distance, we get saturated with knowledge and experience. Soon you will notice that the only things we actually need are clothing, food, and sleep. Speaking with even more people that I haven't spoken to in years made me an effective communicator, and believe it or not, helped in overcoming shyness. Traveling abroad has taught me to adapt to changing environment and circumstances. I love making myself at home wherever I am. I find that frequent moves from place to place and changing circumstances not only develop flexibility and creativity but make my life more interesting.
5 Skills I Learned From Travel
Time is Your Most Valuable Asset
The greatest opportunity of being on the road is the chance of getting as much experience as you can. Thus, the more you travel, the more you realize the importance of meeting new people and learning something new. Travel teaches us that money is not the only measure of success in life, the experience is far more important.
According to recent research, new experiences will most likely bring you the feeling of long-term happiness rather than buy new things. To succeed it is important to spend less money on something that is not likely to be useful and to spend more time learning new skills, meeting new people, spending time with friends and family. All that combined, eventually, will allow to experience the fullness of life.
Appreciate Every Little Thing
One day, I was able to save 10 Euro when traveling from Vienna Airport to the city center. On the other day I got a window seat on the plane, although I didn't book it in advance. There is nothing better than these little things that make up every trip. The more of them will happen, the more likely you will say: "Wow, that was a cool trip!", when the puzzles come together.
I spent two weeks exploring Delhi and it was one of the most memorable experiences in my life. Since Delhi is a sprawling city, it takes a lot of time to visit every of its sights. When you find yourself in cities like Delhi, I bet one will experience the joy of just knowing where he is and knowing the way your way out. Travel teaches us to enjoy the best moments of our life. And not to forget them back at home. Trust me, overcoming your travel fears and and anxiety is mandatory when you're on you way to enjoy the beauty of the world around us.

Slow Down
One of the advantages of long-term travel (unlike short vacation) is that you get a chance to immerse yourself in local life. Feel yourself free from tour packages, visit any destination you like, meet new people that can be easily missed when you only ticking things off your bucket list. It is too often we rush through life and there is nothing else but a constant hurry. We rush to work, eat junk food in order to be quicker, do everything at once, even on family vacation. To a certain extent, it gives a feeling of greater intensity, but it doesn't make us happier. It is essential to enjoy the minutiae and live life at your own pace.
Don't Over Complicate Things
When I travel, I tend to create a natural lifestyle that encourages me to only use things that fit in my backpack. Packing light is the key. I'm not talking about living a minimalist lifestyle (that I still find very attractive), I talk about using less things in order to concentrate on major things. After 8 years on the road, this approach allowed me to accumulate new experiences and make plenty of meaningful connections. That way, travel can significantly change your life. 
Spending money on new experience rather than things is something that genuinely makes me happy. Do you remember the excitement of that new car or new cell phone? Do you feel the same for two weeks later? The thing is we adapt to new things, and the excitement will  quickly fade. Traveling the world brings you something more important – deeper satisfaction. Yes, your material stuff is important but remember that it will always remain separate from you. Сontrariwise, your experiences will always be with you. So in order to succeed, spend money on experiences, not things and it will make your life happier. Living a less materialistic lifestyle can help you save money on your next trip as well.
Don't Limit Yourself
It is not about binge eating or drugs; travel encourages you to view things differently. It is like working in a cubicle – nothing can penetrate the shell, while the same day to day activities can eventually narrow your creative vision. Things change quickly and even the latest travel information can be unreliable. Go and check it out yourself. When you return home, your previous travel experience is something that helps you in staying broad-minded. Not only you manage your schedule more efficiently, but chances are you will abandon old habits, meet our hidden fears and reveal repressed aspects of personality.
While some organized tours are cool, independent travel can teach you the skills that can be used in every day life back at home. The same reasons that stop you from traveling, prevent you from trying new things and meeting new people where we live. If you can cope with these fears you can completely change your life. If you can think it you can do it. Open-mindedness and confidence are essential things for the trip. But they are also indispensable for work-related purposes and while maintaining good relationship with other people. If you can break the boundaries a whole new world of possibilities will open up.


How To Travel Around The World
With so many ways how you can travel the world (even for free), you should first choose the destination and the things you are going to do there. Pick travel credit card and the right time to go. If you afraid to travel alone, invite your friends or somebody else to go with you. Get vaccinated if you go to tropical countries.
In fact, you don't have to spend tons of money to get yourself any further than your own back yard. Here is how I can afford to travel.
Plan everything. Making a travel budget is the first step, obtaining a cheap airfare is the second step, finding budget accommodation is the third step. After completing these steps, think of the sights you would like to visit, looking for available free options that would allow you to reduce the final cost.
If you did find the article useful, please share it so that others can know why we travel. Thanks for reading!