Was Socotra A Mistake?
After spending my first day in Socotra wandering around Hadibo, I began to think that I may have made a mistake by adding Socotra into my Middle East itinerary. Don't get me wrong, Socotra is a mind-boggling island – but by the end of my first day there, I felt as though I had explored the entire tiny Hadibo on foot. Gosh, I was wrong! Apart from Socotra's principal town, there are a lot of things to explore.
If you're unfamiliar with Socotra, it's a small island nestled south of Yemen in the Arabian Sea. It has a complicated history and because of the ongoing civil war in Yemen getting there is a challenging task. I'll be honest, I visited Socotra in 2013 and reaching it was way much easier than today.
Because of its location between Somalia, Yemen, India and Oman, Soqotri people, history, traditions, and the food is a melting pot of these cultures. With approximately 50,000 inhabitants, many of them live a simple and peaceful life and never make it off the island. Socotra is dotted with small villages and pretty much all tourists who visit the island end up living in a tent and using an outdoor shower because of the limited infrastructure.
Socotra really is a place like no other. With its Dragon's Blood Trees that look like gigantic mushrooms, white sand dunes, and amazing wildlife, it might take up to two days just to get there by boat. That's why my expectations for this island were high.
Was Socotra A Mistake?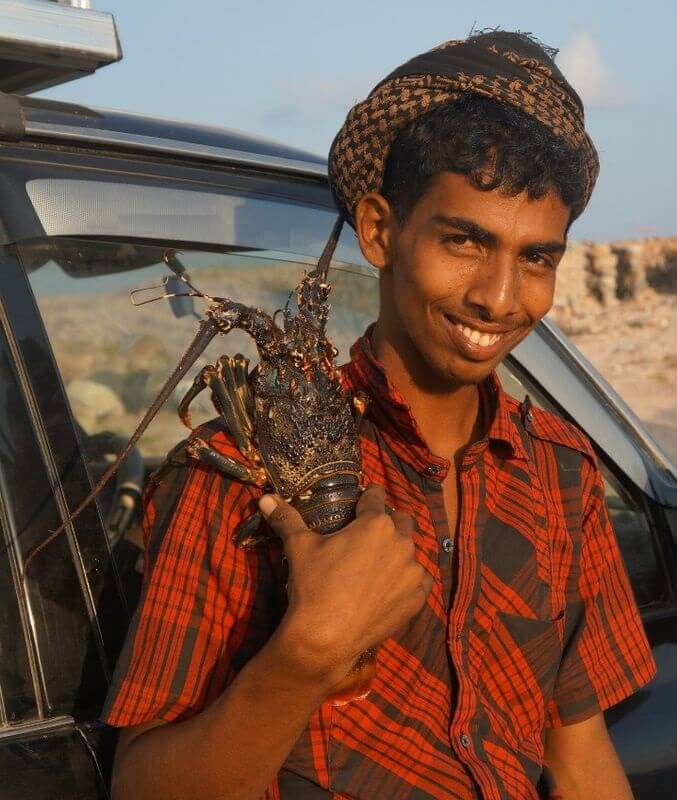 As I have mentioned before, after my first day in Socotra, I couldn't help but wonder if I should have chosen a less overlooked destination. But, gradually, Socotra grew on me. Each day I spent on the island brought me something new, I meet amazing people, and when it came time for me to board my chartered boat to Salalah, I wasn't quite ready to leave.
In all seriousness, because I mostly live in bustling and cosmopolitan cities, I sometimes need to tune everything out. Socotra gave me that chance. The island is a super special place that allowed me to become hyper-aware of all the sights, smells and sounds around me. I love my first day in Socotra when I just wandered around and took it all in.
Day 1 – Hadibo
The Friday morning flight that brought me to Socotra experienced moderate turbulence several times. And while I'm usually as calm as a cucumber, I was eager to reach my destination. After having a brief review of the island in Socotra Ecotourism Society our guide took us to Hadibo. The town of Hadibo is the biggest settlement on the island and often considered a capital city.
With only a few paved roads, inconsistent power supply, and just one Internet-cafe (as of 2013), Hadibo is a town falling into a state of disrepair. The streets are often littered. Once I approached the seaside, it made me want to howl like a wounded animal because it has become a dumping ground for garbage.
Definitely, pollution is the result of a state of mind. While I may sound like I'm singing praises to Yemeni people on the mainland, because they are often emotionally warm, generous and friendly, folks in Hadibo are a bit different. Shop owners are often using the dual-pricing system imposed on tourists. When our car got stuck in the sand, they asked for 2500 YER (10 USD) just to dig it out. Of course, these are the minor things, and I bet there are decent folks who wouldn't benefit from the interaction financially, but my first day in Hadibo made me think I picked the wrong destination to satisfy my wanderlust.
Day 2 – Walking Among the Dragon's Blood Trees
After returning to Qalansiyah and having a quick breakfast it was time to make my way to Dixsam plateau. This was perhaps the moment I started to realize how Socotra is actually beautiful. Enjoying the odd-looking Socotra's native Dragon's Trees was a highlight of my trip. The trees that often remind of mushrooms can only be found here. Dragon's trees grow close together to ensure their roots and seedlings get enough shade. Since there is very little organic matter, getting enough shade becomes essential for the seedlings to grow.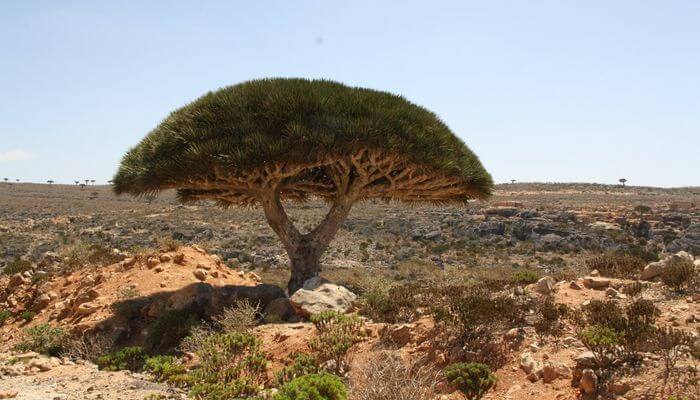 Our guide gave us enough time to enjoy the trees, so shortly after a lunch, we started to descend down to Wadi Dirhur Canyon. As we traveled by car, we only did half the way down here. As we found several large boulders blocking a road, we had to leave the car to make our way on foot. It was definitely one hell of a hike! As we approached the pond of turquoise fresh water I couldn't help but have a nice refreshing dip. The water is clean and it's a nice change from the salty one of the sea. Sometimes you can see herds of grazing camels on the slopes, but they are not very used to people and as soon as I tried to take a photo they shied away. We spent a night in a tent, this time between the walls of the canyon.
Day 3 – Dunes of Steroh
I love to sled down the sand hills that is why I was quite happy to visit the dunes of Steroh. Located near the Southern Coast of Socotra, these dunes of pure white sand is a great place for hiking. Aside from the dunes, you'll find picnicking, hiking and camping opportunities, the challenging four-wheel scenic drive on Amek beach.
Day 4 – Dunes of Arher
While breathtaking beach of Arher is less secluded and private, locals just love this place to have a picnic and play beach football. The beach can easily be reached from Hadibo, so the entire beach gets especially crowded on weekends. But apart from it, Arher is home to mind-boggling snow-white sand dunes with spectacular views from the top.
The beach is where fresh water spring running from the mountains meet the turquoise sea. Arher vertical dunes are pushed up against the cliffs and are very popular for sand-boarding. Apart from it, I saw some paragliding enthusiasts who were trying to tame the wind coming from the Arabian Sea. This striking mountainous landscape, as well as the cliffs, picturesquely spread all over the beach providing amazing photo opportunities.
Day 5 – Shuab Bay
Depending on your guide the trip to Shuab Bay might start from Qalansiyah village. I often hear praises to the Bay because it is considered by many to be the most beautiful and pristine beach in Socotra. While on the boat to the Bay look around for groups of dolphins, as they surround the boat and leap out of the water. If you want fish for dinner just ask your guide whether it is possible to line fish.
Day 6 – Dihamri Marine Protected Area
Located in the northeast edge of Socotra, Dihamri is one of the best places in Socotra for diving and snorkeling. The waters along the pebbled beach are filled with brightly colored coral, angel fish, clown fish, and even the occasional octopus. At the same time, calm, clear and shallow water provides tons of opportunities for exploring the underwater. Even if you're not into professional diving, I'd recommend bringing your own snorkel mask and flippers because the cheap stuff available for rental in Dihamri leaves a lot to be desired.
Day 7 – Detwah lagoon
On my last day in Socotra, I head northwest to finally explore the protected area of Detwah lagoon. Located a stone's throw away from Qalansiyah, it comprises traditional Socotri houses, narrow alleyways and a long beach full of fishing boats. Detwah is the most picturesque spot on the island with perfect turquoise waters and gorgeous white sand lining the shore. Swim in the shallow sea, climb the dunes, watch birds and take aerial photos from the observation deck nearby.
Does it sound like an awesome travel itinerary to Socotra?
So, was Socotra a mistake?
Absolutely not! Given the fact that the ongoing civil war reduced the accessibility of the island, I'm glad I visited it. I had a lovely time exploring Socotra and am certain I'll be back when political tensions stop impact tourism industry of the island.