How I Planned My Trip to Vietnam
The first thing I noticed when I landed in Vietnam is that there were people wherever I look! They were gathering at the airport jostling for taxi passengers, working in the fields as I leave and riding their bicycles to and from work as I passed them. Vietnam is the country I couldn't have missed. As a historian, I felt obliged to visit it and explore at least a small part of it. Here is the post that reveals tips I have learned and how I planned my trip to Vietnam.
Vietnam is a busy, densely populated country and the people are industrious and anxious to get on with their lives and forget their tragic past. Whether you arrive in Hanoi in the north, Ho Chi Minh City in the south or Da Nang in the center of this long, thin country, you will find friendly and busy Vietnamese going about their business.
It is a fertile land with endless paddy fields and workers in their conical straw hats, often knee deep in mud, working their non-complaining water buffaloes. It is not a rich country by any means. In spite of that, I saw only a few beggars and the standard of living in Vietnam is higher than many of its neighbors.
Before the terrible events of the Vietnamese war, the county was part of French Indo-China. And thus the wide boulevards and some of the architecture is the reflection of the French influence. This, as well as the availability of delicious freshly cooked baguettes in the morning!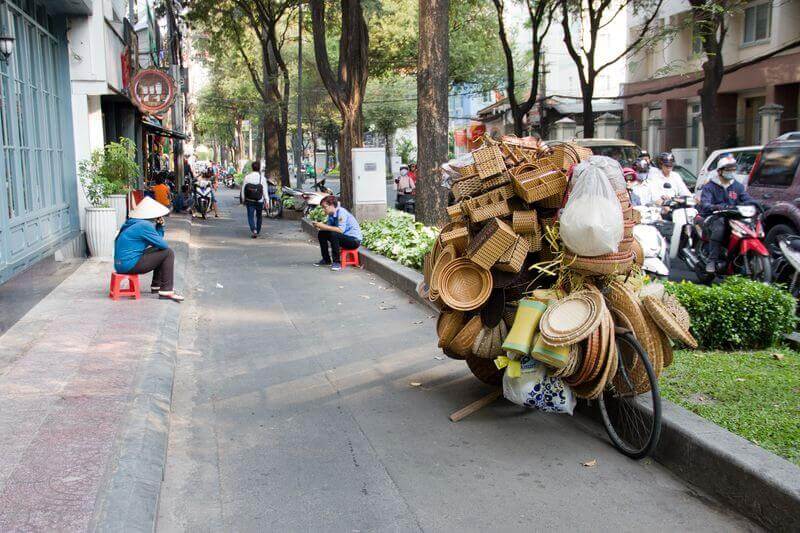 Quick Facts about Vietnam
Most visitors will fly either to the capital Hanoi, or the even larger Ho Chi Minh City (formerly Saigon). The two major cities are 700 miles (1137 km) apart and are in different climate zones. It is worth remembering that although a lot of free enterprise and development is occurring, Vietnam remains a Communist, one party country. You are sure to see hammer and sickle emblems displayed alongside the national flag and hear political broadcasts from roving loudspeaker vans. Expect to see endless portraits of the revolutionary leader of the sixties, Ho Chi Minh (affectionately known as 'Uncle Ho').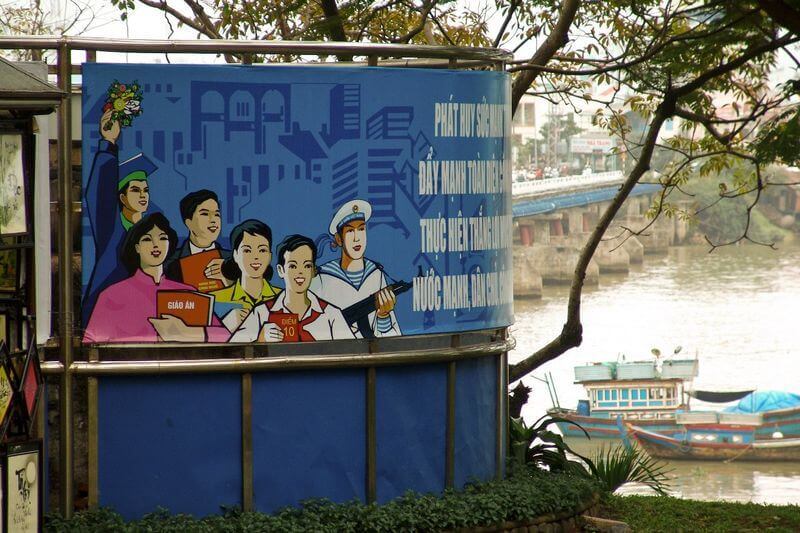 The country has embraced change, however, and welcomes visitors with open arms. It is a land of small businesses and numerous small lock-up shops and stalls where everyone is trying to make a living. The urban streets are fascinating places for people watchers. You will see street barbers operating on the roadside, babies being bathed, washing being hung out and people going about their business in an open and unself-conscious way. Old Buddhists rituals, while not actively encouraged by the government, are still an important part of daily life.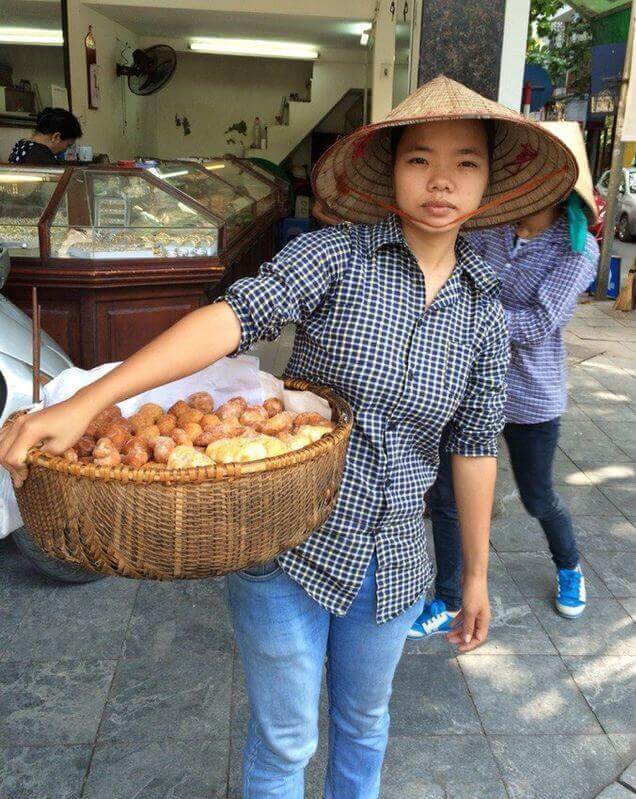 Getting Around Vietnam
There are efficient long distance buses and trains throughout Vietnam. Local taxis are inexpensive, reliable and use clear meters. Many of the local people get around by bicycle or small motorcycle. Much of the land is flat and both of these are relatively inexpensive to hire.
Traveling by train in Vietnam can be an option if you want conveniently cover long distances. I took advantage of Vietnam Railways to get from Hanoi to Da Nang. I wish I continued my trip further to Ho Chi Minh City, so that is the reason why I want to return to Vietnam now.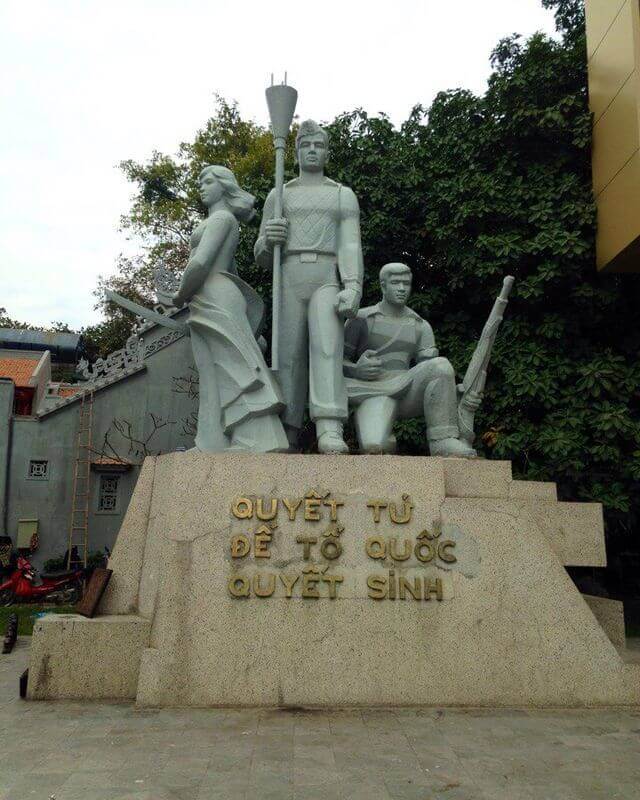 In the city centers, I usually hired a 'cyclo'. These remnants of the French Colonial days are a three-wheeled vehicle where the passenger sits on a bench seat at the front while the driver pedals from behind. It is an interesting way of getting around the city centers. However, the traffic in Ho Chi Minh City and Hanoi is such that it can be a little nerve-wracking, even though the peddlers are very skillful at maneuvering the cumbersome vehicles. Look out for elegant women dressed in their ao dai costumes and wearing their conical hats. The romance of the land is well depicted in Graham Greene's famous novel "The Quiet American".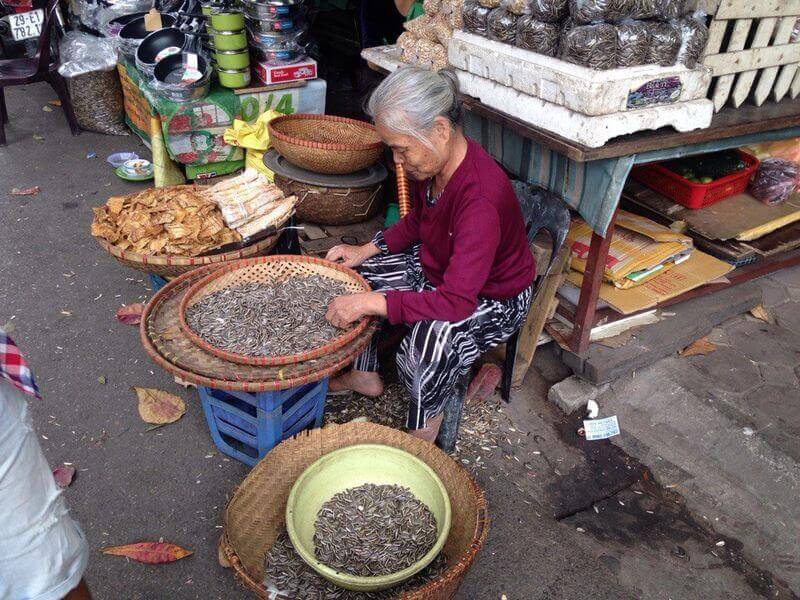 Language and Currency
Although Vietnamese uses a Romanized alphabet there are so many accents and cedillas on the letters that it is hard to fathom. Some of the older city dwellers speak French, but English is gradually being taught to young Vietnamese. In the countryside, I usually had to rely on smiles and gestures.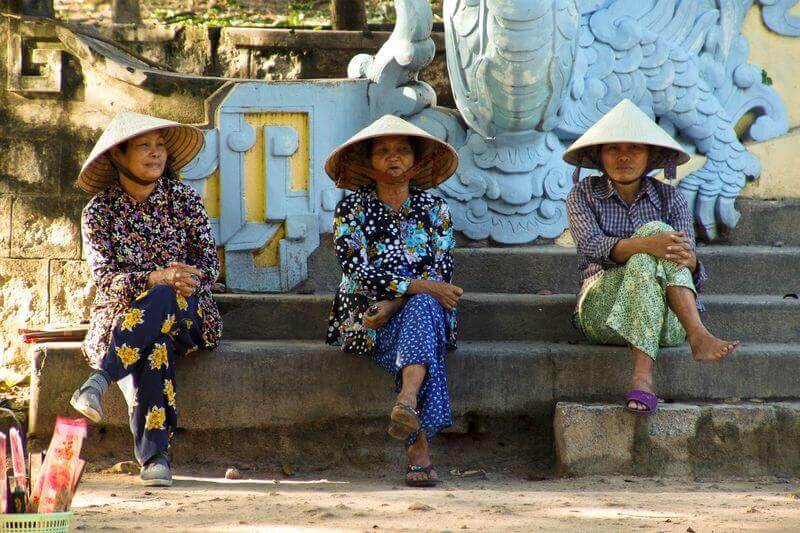 Vietnamese currency is confusing. The dong notes with Uncle Ho's portrait on each comes in denominations from 100 to 500,000. During my trip to Vietnam, I discovered that coins are hardly used nowadays. At the same time dealing with the number of zeroes can be quite confusing. Currently, one $US is worth about 23,000 dongs. US dollars are widely accepted in the cities and are indeed sometimes preferable.
Weather in Vietnam. What to Expect.
The south of the country has a tropical climate and can be very hot and humid. The north is more temperate and while having hot summers, the winter can be mild, although rarely cold. The country receives a good amount of rainfall.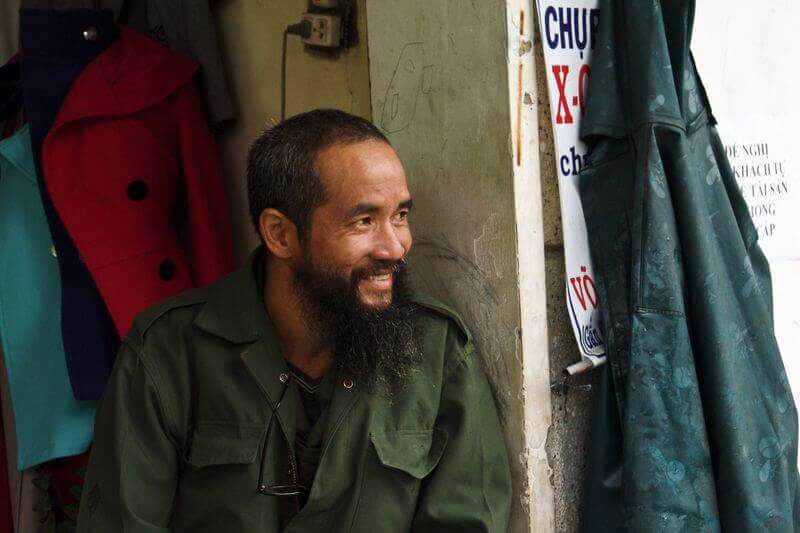 Is It Safe in Vietnam?
Don't be afraid of going to Vietnam. While I heard and read many stories of people being scammed or conned there, I was well prepared for this during the entire Vietnam trip. To my greatest surprise, the only time I got hit with scam was when a street vendor tried to overcharge me and steal the change. The two major tips here is to do a proper research on common scams before you go and not to let annoyances spoil your mood. It is not a matter of luck I believe, it is more of a degree of preparedness.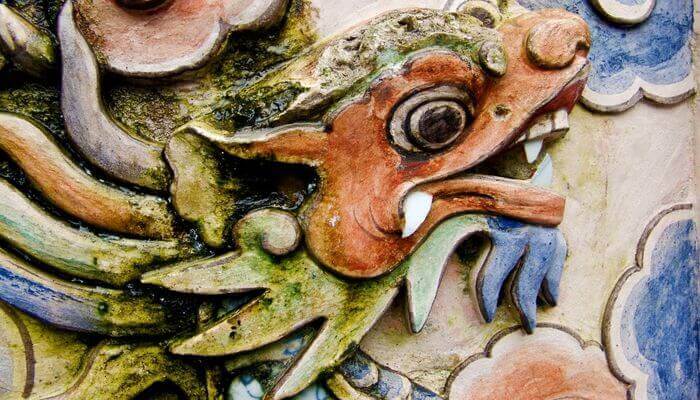 Top Places to Visit in Vietnam
Being one of the most bustling cities in Southeast Asia, I started exploring Vietnam from Hanoi. It is still an amazing city. You may think it is chaotic (well, sometimes, it really is). In fact, its residents know exactly where they are going and use the shortest way to get there. Spend at least two or three days discovering Hanoi Old Quarter and watch people as they eat, drive, play and get their haircut. The most splendid photos I took in Hanoi.
Some of the most popular tourist sites are those connected with the Vietnamese War. In Hanoi don't miss the ironically named 'Hanoi Hilton' which was a prison used to house American soldiers. There is a pleasant lake in the center of the city, which is a landmark and will help you navigate the streets on foot.  After exploring Hanoi, I found it extremely pleasant hiring a pedal boat on the lake.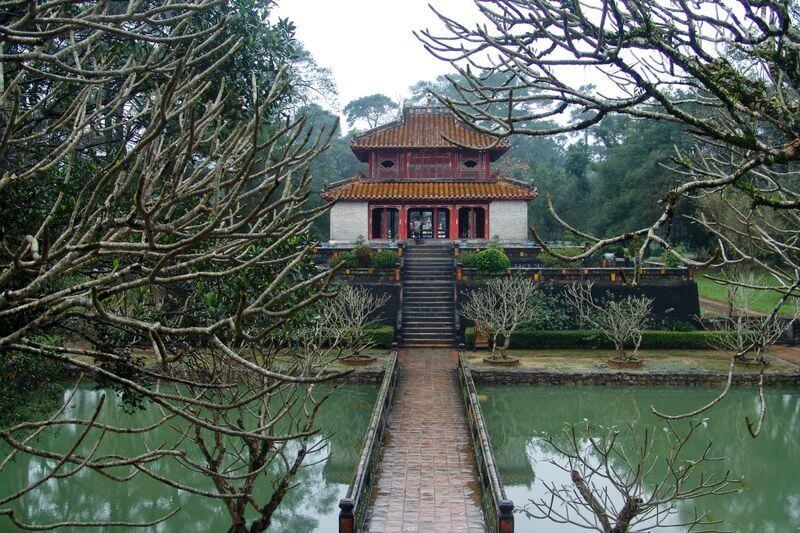 In Ho Chi Minh City, a popular but may be a bit shocking site as you reach it is the War Remnants Museum. Although gruesome in parts, it does leave you with a lasting sense of the futility of war. Ho Chi Minh is a very large and spread out city, and it is easy to lose your bearings. A central point is the Rex Hotel, near the Old French Post Office, which has not changed much since colonial times. On the sixth floor is a bar where you can watch the bustling city below you. You can also take a boat ride along the Saigon River.
An hour's drive north of Ho Chi Minh City, there are the unique Cu Chi tunnels which is an immense labyrinth of interconnecting tunnels. They were built by the Viet Cong as a base for operations in the late sixties. Without a guide, it is impossible to find the entrance. Do not go here if you are claustrophobic!
No trip to Vietnam would be complete without visiting Hue. Located in the middle of Vietnam this former seat of the Nguyen emperors is filled with history. Pay a visit to Imperial Citadel, which, unfortunately, suffered greatly during the notorious war. Tombs of the Emperors are an amazing piece of Vietnamese Buddhist architecture. You can also explore Hue by taking a boat trip along the Perfume River. You will be offered not only great views of this ancient city but some sites that are only available from the river. Strolling its banks is kind of budget way to get acquainted with the city (which I like even more than boat trips).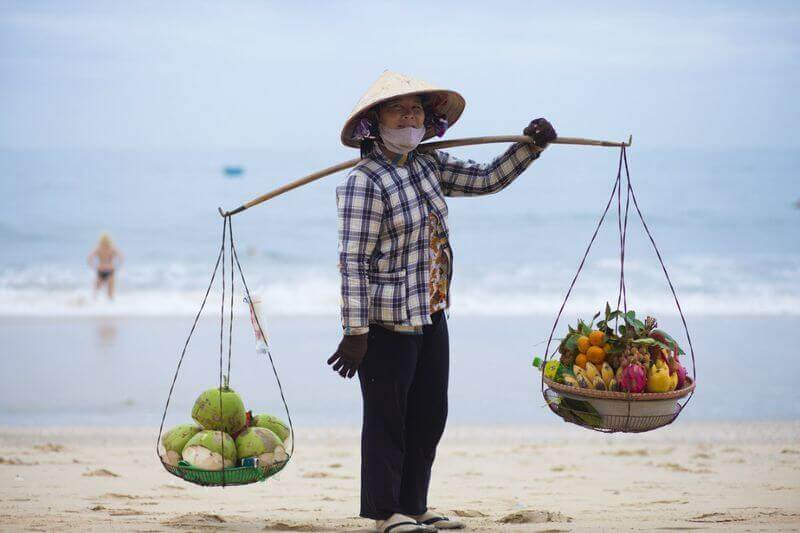 Food in Vietnam
Vietnamese food is wholesome, varied and inexpensive. Many of the restaurants in the tourist areas have English menus and noodle dishes are especially satisfying. While there are usually some items on the menu that Europeans are unused to, I never felt hungry in Vietnam. Spring rolls packed with greens, bun cha hamburgers and banh xeo pancakes are my favorite Vietnamese meals. These are cheap and you can easily find them anywhere.
Watching the locals and going to the places they eat is always an adventure. When I was looking for cheap eats in Hanoi, I usually headed to Hoan Kiem District. Also known as the Old Quarter, the entire place is filled with local shops and small restaurants. Most of them won't break the bank. Hoan Kiem is also a right place to try traditional Vietnamese coffee while people watching.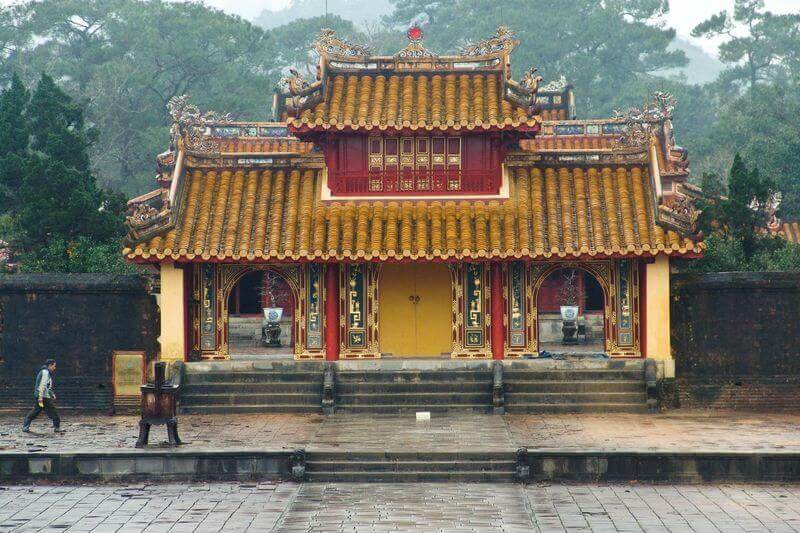 During my stay in Hanoi, I spent most my evenings in Café Duy Tri. You can find this family-run and low-ceilinged café near Long Bien Railway. Expect to get a glimpse of genuine, no-frills Vietnamese coffee culture, try homemade frozen yogurt and smell this seducing coffee smell from those who serve coffee since 1936.
Hitting local markets was yet another great option for me to get lower prices. If you find yourself in Hanoi, Cho Hom market and Hanoi Weekend Night Market. Both markets offer a wide array of goods, souvenirs, and handicrafts. Use your negotiation skills to get the best price. These can be lower up to 50%
Vietnam is a fascinating place where the smiling people will make you truly feel welcome. After one visit, you will be anxious to return.