6 Bali Travel Tips Every First-Time Visitor Should Know
The Indonesian island of Bali has a plethora of treats. It has excellent weather, a beautiful green landscape, pristine beaches and a culture that is fascinating and unique. Its highest point, Mount Agung is an amazing smouldering volcano which has the potential to erupt at any point in time – the last occasion being a relatively minor eruption in the year 2000.
It is far from being undiscovered, however, and it is a very popular tourist destination. As such, Bali has its frustrations. The International airport at Denpasar is often working at capacity, and hotels in the popular areas can be expensive.  The golden sanded beach resorts of Kuta and Sanur for example, are very crowded. I was continually pestered to buy postcards, a sarong or batik picture even when sitting quietly. The hawkers do not seem to understand the meaning of "no thank you" and in my opinion are amongst the most persistent you will find anywhere in the world. If you only visit the overcrowded tourist areas, you will miss a lot of what is on offer in Bali.
6 Bali Travel Tips Every First-Time Visitor Should Know
Bali is the most prosperous and most expensive island of the highly populated archipelago of Indonesia. Eighty percent of its economy is derived from tourism. Unlike the majority of Indonesians, most of the inhabitants of the island follow Balinese Hinduism as opposed to Islam. Their customs are well established and the culture of the island has been well preserved. You will find temples all over the island and offerings to the various gods along the side of the road. Few motorists will set out without their garland of lucky flowers strung around their interior mirror – unfailingly changed daily.
The cultural capital of Bali is without doubt Ubud, near the center of the island. I think you will be entranced if you take in a Kecak (or monkey) dance. Here athletic male dancers, bare-chested and clad in black and white checked sarongs, will entertain you with dances that have changed little in centuries. The dance reaches such a crescendo that the dancers almost enter a trance-like state.  Conversely, the women's dances are slow and elegant with elaborate and beautiful hand movements. The dancers are accompanied by the exotic sounds made by gamelan musicians with their gongs and bamboo xylophones. You will hear this haunting music all over the island.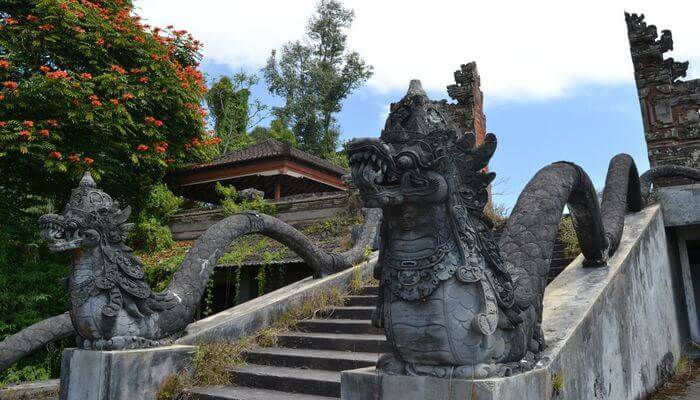 On the outskirts of Ubud, you will find verdant and picturesque terraced rice paddies, still tilled by water buffaloes. Here you are also likely to meet friendly locals who are not trying to sell you anything.
I found the North of the island to be less visually stunning. If you have the inclination however you can get up before dawn and hire a local long boat and go dolphin watching from one of the black sand beaches there.
How to Reach Bali
Most visitors arrive at Ngurah Rai International Airport, 13 kilometers from the capital Denpasar.  The airport does get very busy and is often stretched to capacity and queues for security and immigration are often slow. Taxies are regulated from the airport and the fares to various resorts are clearly shown. You pay the attendant at the taxi counter and take the receipt to the driver. Denpasar town itself is an unremarkable, overcrowded and bustling city.
Getting Around Bali
Taxies on the island are quite plentiful, reasonably priced and, I think, your best option for getting around the island. It is wise to double check that the driver turns on the meter for you, however. Minibuses and full-size buses also travel along popular routes. There are no trains on the island but it is possible to hire a car or motorcycle. In all parts of Indonesia, vehicles travel on the left. To the west of the island is a vehicle and passenger ferry which shuttles to and from the larger island of Java.
Language and Currency
Bahasa Indonesian is spoken throughout the island. It uses the Roman alphabet so it is possible for the visitor to learn a few phrases. There is a local Balinese dialect which is used in rural areas. English is widely spoken in tourist destinations. The unit of currency used throughout Indonesia is the rupiah. Coins exist but are relatively worthless. Notes come in denominations of 1000, 2000, 5000, 10000, 20000, 50000 and 100000. At the time of writing 100000 IDR is worth US$7.60.
Climate
Bali lies very close to the equator and it has a humid tropical climate. The average temperature is about 30 degrees Celsius throughout the year. The wettest months are between November and March, but short bursts of rain can appear at any time.
Top Things to Do in Bali
Bali is a major tourist destination and there is a wealth of activities for all tastes. Both Sanur and Kuta have a number of vibrant night clubs, but there are many family activities also. The Bali Safari and Marine Park covers nearly 100 acres and has a large selection of animals, including endangered Indonesian orangutans. There are many old Hindu shrines and temples including the famous Tanah Lot where the temple rests on a small unusual island structure – a favorite for sunset photographers.  Water sports opportunities are abundant on the island and they include scuba diving, snorkeling, paddle boarding and jet skiing. Surfing is popular around the Bukit peninsula.
I found it very much worth the effort to drive or take a taxi to the lower reaches of the volcano at Mount Agung. For obvious reasons, you will not be able to get too close but you can trek to the outer crater and marvel at the barrenness of the landscape, which is in stark contrast to the lush green of most of the Balinese interior.
Food
Bali is an international tourist destination and as such you are able to eat food from around the world. Indonesian food is very nutritious and popular dishes include satays served with spicy sauce, Babi Guling (roast pork) and my personal favorite, Nasi Goreng – which is a rice dish on most menus but varies depending upon the chef's personal slant.
Bali is a destination like no other. It still retains much of its charm but I am becoming increasingly concerned about over commercialism in parts of the island. This said there are lots to enjoy and make you wish to return.