Top 8 Things to Do With Kids in Prague
Any trip abroad with kids usually cause some certain troubles since kids are not interested in classic sightseeing. They can easily get bored. If you are planning a trip to the Czech Republic then chances are you won't want to miss Prague. Here are top 8 things to do with kids in Prague.
Adult travelers will be fascinated by the Medieval architecture as well as find numerous places to entertain kids. But all these charming buildings with spires, cobbled streets and bridges can be hard to visit with kids in tow. Moreover, families should certainly be aware that there is a lot of walking involved in Prague and most kids will soon get tired. So baby carriage or stroller will come in handy.
The Old Town is a landmark that is best visited on foot as taxis might be expensive and aren't always convenient because city center is for pedestrians mostly. Underground can be an option in Prague as it allows you to reach any point within the city.
You can start your Prague trip with the Old Town Square (Staromestske Namesti). The centerpiece of the Old Town is the square and the Old Town Hall (Radnice), with the famous Prague astronomical clock. The clock's moving figures put on an amazing performance at the top of each hour, so the kids are really excited to see it. When the performance is over, you may take a ride around the Old Town in a carriage drawn by cute horses.
You can also start exploring the city from Prague Castle (Prazsky Hrad) and find a toy museum that is popular among kids of any age. It is located on Jirska Street, which starts near The Cathedral of Saints Vitus. After climbing an old Medieval tower, you will find yourself in a world of toys. Every toy type has its own corner here. Tiny railways, airplanes, cars, and ships are all over the place. What is amazing – all toys with incorporated mechanisms are functioning regardless of age. There are a lot of teddy bears. A toy army of tin soldiers among which you can find historical figures like Churchill or Charles de Gaulle.
All these toys belong to a middle-aged man Ivan Steiger, who has started collecting them in the 60s. Having emigrated from Czechoslovakia to Germany, Staiger filmed stunt documentaries. Once for filming, he needed an old metal toy he liked so much that it inspired him starting his own collection. In order to have his collection growing, he searched for rarities in the attics of old buildings, flea markets, put an ad in the newspapers. He gathered such a huge collection that even his large apartment couldn't accommodate all the toys.
After the velvet revolution in the Czech Republic, he managed to establish a private museum in Prague where Steiger moved his exhibits. The rarest and oldest toys in the Prague Toy Museum handcrafted of bread by Indians for their kids. There are puppets made of stone and wood, originally in ancient Egypt and Greece. One puppet is more than two thousand years old.
Naturally, you can see a Barbie doll collection as well. These Barbie dolls belong to Johanna Steiger, daughter of the founder of the museum. Some Barbie dolls are really rare, so their outfits made by world-famous designers. The recent collection, which Steiger started with his grandson consists of puppets that look like celebrities and movie stars. The museum is open daily from 9.30 am to 5.30 p.m. Ticket price is around 3 USD.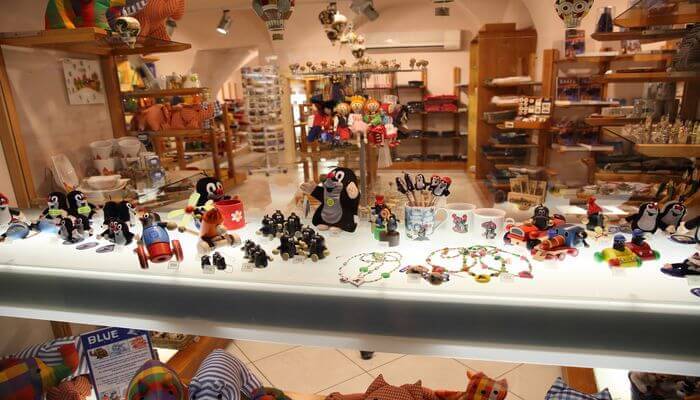 Inquisitive kids would find interesting to visit the National Technical Museum (Narodni Technicke Museum). The exhibits placed here have something to say about the development of transport in the Czech Republic, mechanisms, and machines. In the hall of curiosities, you can find antique bicycles, sewing machines, and drawbridge model.
There is also a permanent exhibition that tells about the invention and history of home appliances as well as the history of television. In a nearby television center, everyone can try one's hand at TV hosting or operating the camera. Open daily except Mondays from 9.00 a.m. to 5.30 p.m. Ticket price is 8 USD. The closest underground station is Hradcanska on line A or Vltavska on line C.
For kids fond of creeping creatures and their parents, Museum of spiders and scorpions (Mostecka, 21) is surely a right place to visit. A wide variety of spiders, tarantulas, and scorpions from South America presented there. Open daily from 10.00 a.m. to 8.00 p.m. Ticket price is 4 USD.
Prague has its traditional amusement park (Zabavni park), which kids of any age usually like so much. Ferris wheel, race track (autodraha), roller coaster (horska draha) and a classic cave of fear (strasidelny hrad) await you there. The park is open from 14.00 to 20.00 on weekdays, from 10.00 on weekends. The price per one ride from 1 to 3 USD.
The Prague Zoo is one of the largest in Europe. It starts with an alley with the footprints of its most famous inhabitants. Once at the zoo, you will find a map of the entire park that will help you with navigating its vast territory.
The main feature of the Prague zoo is that animals aren't kept in cages, instead, you can enjoy viewing them through the glass. It creates the feeling of watching the wildlife. There are both types of the pavilions: enclosed and open-air. The enclosed pavilions are inhabited by panthers, tigers, and other predatory animals, as well as by monkeys, giraffes, birds, and insects. "Indonesian jungle" pavilion recreates the environment of tropical jungle.
In the southern part of the Prague zoo, you will find a children's zoo and a rustic farmhouse. Kids can visit the yard, feed the domestic animals and ride them. A tiny children's railway is located nearby. Free performances and educational lessons are held mostly in summer. Throughout the entire territory, kids can play on playgrounds made of natural materials. Several small restaurants, souvenir shops as well as cable car and children's tram are available.
The zoo is located next to the Troja Chateau (Trojsky Zamek) and city botanical garden, so you can get there quite easily by using bus route 112 from underground station Nadrazi Holesovice (red line). The stop you need is Zoologicka zahrada. The zoo is open daily. July, August from 9.00 a.m. to 9.00 p.m. From 9.00 to 4.00 p.m. in winter. The ticket price is 8 USD for adults, 6 USD for kids.
The Czech Republic has long been known for its puppet theater tradition. Visit The National Marionette Theatre (Narodni Divadlo marionette, Karlova, 12) to watch a play or listen to an opera. Tickets can be purchased at the theater box office from 10.00 a.m. to 8.00 p.m.
Nice weather conditions encourage not only to stroll around the city, but also attend a Vltava boat cruise. Boats usually depart from the Palacky Bridge (Palackeho most). The cruise takes about 75 minutes. The ticket price is 6 USD for adults, 4 USD for kids (3-12 years).
Chocolate lovers (kids usually are) may consider visiting the Museum of Chocolate (muzeum cokolady, Celetna, 10). Here, you can explore the history of making chocolate starting from the moment when the first cocoa beans were brought to Europe; see the chocolate making machines, observe the process of producing confections from cocoa powder. Open daily from 9.30 a.m. to 7.00 p.m. Ticket price is 11 USD for adults, 8 USD for kids (6-15 y/o).