How to Travel the World When You Have No Money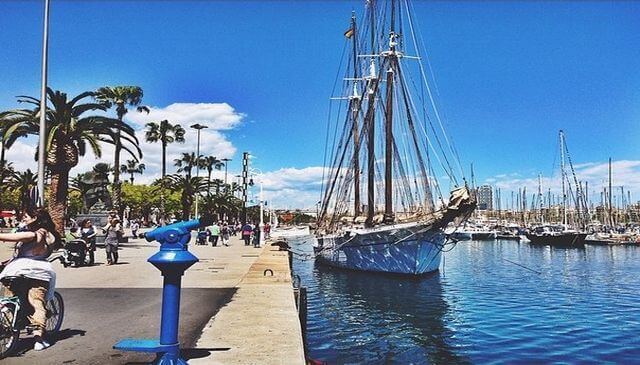 Lack of money is one of the most common reasons why people skip traveling abroad. Yes, I know how hard it can be to save for a trip. But the thing is you can travel the world with no or very little money. Almost 10 years ago I was looking for ways that would allow me to travel the world for free. And you know what? Not only I found out the ways how to achieve my travel goals but also the fact that everyone can do it. Being persistent enough is very important and in this post, I'm going to show you how to travel the world when you have no money.
As I said before you need to be persistent about pursuing your dreams. Let's assume you have already made travel a big priority. And now you're looking for ways how to start your first trip on a tight budget. That is exactly how I was starting. The next step is to change the mindset. Complicated? If you can think it, you can do it.
Since I believe that everyone can travel the world without spending much money, it is very important to know what travel goals you are pursuing. Into luxury hotels and dolce vita? Close this page! As a frugal traveler, I know that every Euro you save now allows you see a lot later. I advocate the idea that there are only two necessary large expenses on the road. Air tickets and accommodation. But even these travel expenses can be reduced greatly. I often travel the world with only my backpack, camera, and toothbrush, and I definitely love this minimalist travel. The truth is traveling the world totally worth the efforts: it's always about meeting new people, new experience, and creating new memories. All these things I value more than money. If you do too, let's get started.
How to Travel the World For Free: A Step by Step Guide
1. Free Transportation
Starting from free flights to exploring new cities on foot – there are plenty of ways to reach your destination for free. Sign up for travel credit cards like Lufthansa Miles & More to collect miles and redeem them for free flights. Go shopping and pay with a credit (debit) card that is the partner of the bonus program. You can also earn miles and points by writing honest reviews of attractions and hotels around the world. Familiarize yourself with frequent flyer and award programs since it one of the best ways to get a great deal!
Not only you can fly for free but explore your destination on foot without paying a dime. As an avid hiker, I usually do a research on free hiking trails and attractions that won't require using taxis or public transportation. I love when the city is compact (i.e. most small towns in Eastern Europe) so it only takes a few hours to crisscross it. Don't skip walking around as you never know where your best picture awaits you. When you're out taking photos, the right camera angle is everything. Of course, it doesn't take hours to find it, but walking is the best way so far.
If you're venturing into a sprawling city then cycling can be your cheap option. Most cities in Europe are expensive and buying a monthly pass isn't always a convenient option, that is why renting a bike is something I can't recommend enough. In addition, in Amsterdam and Copenhagen biking culture is at it highest, so you can expect plenty of bicycle rental stations and kilometers of designated bike lanes.
Need to cover a space between two cities? Hitchhiking and car sharing like Bla Bla Car is just here to help. I know, there are still plenty of misconceptions about hitchhiking and surely there will always be a risk of getting into a stranger's car. Not to mention a risk of not finding a car to ride. However, I have done it in a number of countries and always felt safe. Car sharing services offer a more secure way of traveling. Join Facebook groups, read reviews of the drivers and stick to authorized ones. If you're lucky enough you can catch a great deal while traveling to another city with two or three travelers just like you.
2. Free Accommodation
Now that you know how to earn points for getting free flights and explore cities without spending a dime, the next thing I usually want to get is free accommodation. In fact, there are zillions of ways how you can save on accommodation when you're short of money, so I'm going to reveal my favorite ones.
Look After Someone's House.
When, for various reasons, people leave homes, they need someone to take care of their dwellings and pets. With a large number of websites around the Web that introduce house sitters and house owners to each other, you can take advantage of these services to look after someone's house while living there. It is a win-win for both parties since you get a place to live for free, while house owners have someone helping with keeping their house clean and pets fed.
How to Become a House Sitter?
House-sitting isn't just about getting a free place to stay, it is about responsibility as well. In exchange for a free accommodation, you're being asked to take care of cats, dogs or even lizards. That is why this job is to be taken seriously. If you're feeling enthusiastic about taking care of our smaller brothers then check these websites: – Trusted House Sitters; – House Carers; – Nomador. These are three major services that introduce house sitters and house owners. Surely there are a lot of others that even allow you find house sitting jobs without paying a membership fee, but in my experience, it's worth paying a $6 per month fee to get a house-sitting sit through a reputable site.
3. Hostels
If you're flexible with your dates and don't have a fixed itinerary, then work-to-stay at hostels could be your best bet. Have you ever noticed this little sign at the check-in desk saying "We're hiring"? I saw it a number of times and consider this opportunity a great way to explore off-the-beaten-track places. Hostels have this work-to-stay arrangement that allows you to stay for free in exchange for some bartending or reception work. While I have personally never had a job working at hostels, I think that it is wise to have enough money to get home. On the other hand, if you're into making real money while working at hostels, I wouldn't recommend doing it without a proper work permit.
4. CouchSurfing
While this is one of the largest guest communities in the world, Couchsurfing is way more than just a free place to stay. Couchsurfing is still a popular way to find your free couch to crash on and introduce like-minded travelers and locals to connect with each other. In fact, you never know what you will get. Whether it will be a room, couch or a camping cot, the only thing is for sure – it will be free. Thousands of people use this service worldwide, helping each other to travel without paying for accommodation.
5. WWOOFing
Have you ever wanted to live on a farm for free, be fed by your hosts in exchange for helping out on smallholdings? WWOOFing is the way to do just that. With more than 60 countries to choose from, each of them offers different opportunities. The only things you pay for are airline tickets and insurance. You can always negotiate what you're getting into before applying for a job, as well as farm location and length of your stay. In most countries hosts expect you to work for 4-6 hours, but the terms vary from host to host.
6. Camping
Nothing is cheaper than camping for free. As an avid hiker, I've spent most of my time camping around Europe with a lightweight tent. When it comes to pitching a tent you should definitely know the laws and regulations of the country you're visiting. While some countries require paying a fee before sleeping in a tent, there are plenty of liberal countries, where you can pitch your tent on a beach and enjoy that gorgeous sunset absolutely for free. While in Southeast Asia, I've met backpackers who travel with only a hammock and a mosquito net. I think minimalism is cool, but safety should always come first.
7. Work Abroad
After spending my first year on the road, I realized that long-term trip is sustainable only when you earn enough money. In this post, I have revealed the way I earn money on the road. I'm still not a rich man and that is why every penny counts. If you consider traveling the world when you have no money only a first step to making your life more meaningful, check the list below for job opportunities that can help you to make more money on the road.
Have you ever thought about exploring the world by a cruise ship? Or maybe by the private yacht or cargo ship. Get your expenses covered and gain enough of free time when you get off the ship to explore the new countries;
Being a hotel entertainer doesn't require any special skills. They organize different evening programs and beach shows and it can be fun to work and communicate with so many people during the day. The main thing is that hotel has all your expenses covered.
Waiter/Waitress
One of the best ways to make money for travel is to teach English abroad. Depending on the region and the country you work in. The main requirement is to be able to speak English fluently and sometimes a TEFL degree. There is a strong lack of teachers and this is most in-demand job – many companies in Asia will even pay for your flight over. For example, Sudan Volunteer Program gives an opportunity for everyone above 22 to teach English in Sudan;
With zillions of nightclubs, bars, and restaurants around the world, bartending can be a gold mine if you know the local language or have previous experience. Bartending may seem easy at first glance, but in fact, it is not just about mixing drinks. Bartender is the one who makes customers feel welcome, secure, and relaxed, that is why this job can be very rewarding;
Think about revealing the coolest bars to hang out, best restaurants to eat and off-the-beaten-track places to visit by becoming a local tour guide or tour assistant. Take it seriously if you are multilingual and ready to offer other people outstanding service;
Casino worker

8. Free Food
Yes, free food is possible. It may not be as delicious as your tuna casserole but at least it will keep you full. If you find yourself in India, places like Sikh temples and Ashrams offer free food for worshippers. In fact, it won't be free, but at least you don't have to pay for it. They will only ask your attendance and service in exchange for a free meal.
Work-to-stay at hostels is another option. Not only you get a free place to stay, you also get free food.
Of course, there are many other ways to find free food abroad like waiting for remaining baked goods at bakeries and even dumpster diving. But I still prefer cooking my own meals. Yes, it some requires money, but by sticking to self-cooking I can easily keep my expenses under control. Besides, I love to know what I'm going to eat in next several hours. Another great thing about cooking your own meals is that you can store leftovers in plastic containers and eat it anytime.
9. Free Stuff
Food samples, local festivals and walking tours usually come for free. They are a great asset when you want to know how to travel the world when you have no money, learn about other cultures and other nations. When I set off on a trip to a new city I always check if there are any walking tours available. You can find them in almost all European cities, and most major cities in the Commonwealth. Do a research on a Web which topics are covered to pick the most interesting.