3 Days In Shanghai: The Perfect Itinerary
Shanghai is a sprawling cosmopolitan city. From the famous high rise office buildings in Pudong to the villa-lined neighborhood of the former French Concession, it is impossible for the city to leave you untouched. Do you only have 3 days in Shanghai? Are you overwhelmed by the choice and the size of the city? Don't worry, this post will help you decide what to do in Shanghai in three days as I wrote it after my own Shanghai itinerary so it has been tried and tested. With so much on offer, it is important to plan your time well. I've done the groundwork for you. So check my itinerary to discover Shanghai in 3 days with suggestions on what to include and what to leave out.
For those with limited time, rest assured that three days in Shanghai is enough to explore the neighborhoods of the French Concession, gaze up at the skyscrapers and get a generous dose of compelling history and heritage intertwining with modern Chinese society. If you prefer a much longer, slower and more affordable travel, check this travel itinerary for one week in Beijing. But be sure to be prepared for the cultural shock with my post about tips to remember when traveling to Shenzhen.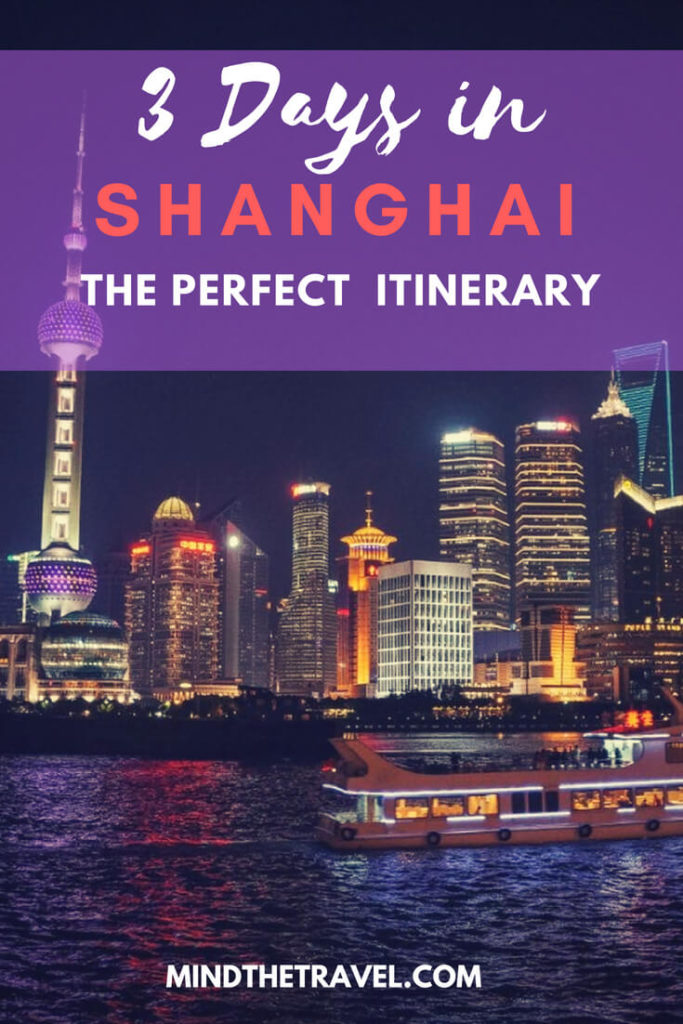 3 Days In Shanghai -The Perfect Itinerary
Day 1 – From Bund to Jing'an Temple
If you asked anybody who has been there what to do in Shanghai in 3 days one of the first things they would suggest is strolling along the Bund promenade. Famous for its striking skyline, the Bund Wai Tan waterfront along the Huangpu river is home to a number of impressive old buildings and historical establishments that remain standing to this day.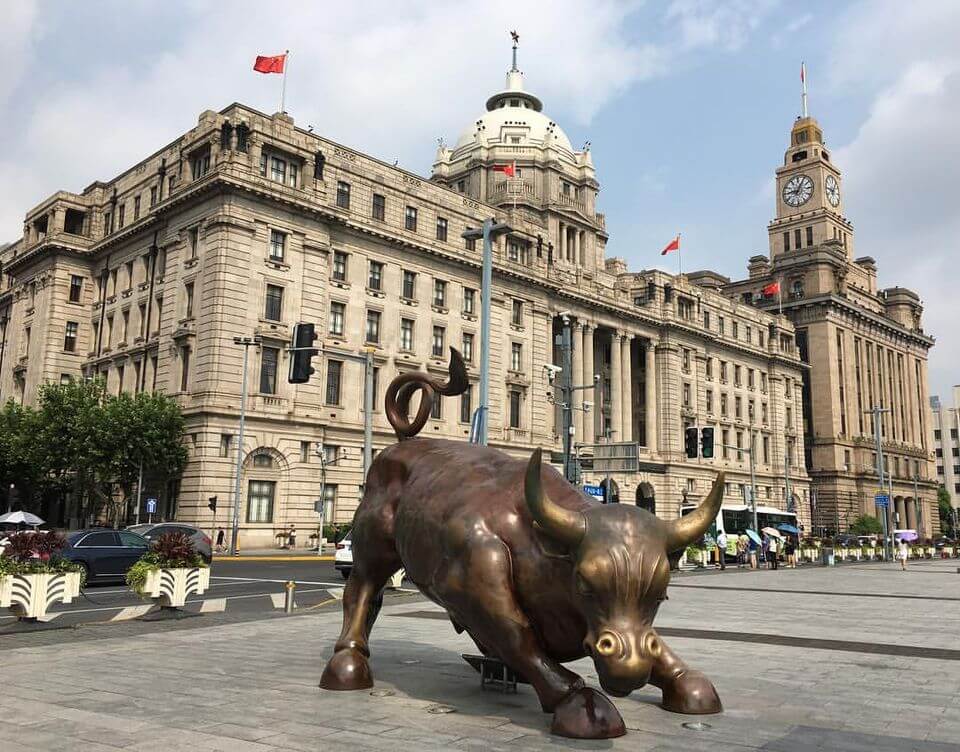 Take your time exploring the area during the day because chances are there will be very few people around. Take a cruise at night to capture images from a totally different perspective.






Explore the Pudong and the Lujiazui
While the views from across Huangpu river are awe-inspiring, there's nothing like getting up close and personal with them. Take a taxi or hop on a metro or ferry to get to the other side. Find yourself in the area dense with the skyscrapers, entertainment centers, and restaurants. Lujiazui makes you feel like you've teleported into the future while ascending to the observation deck of the Shanghai World Financial Center and admiring some exceptional panoramic views.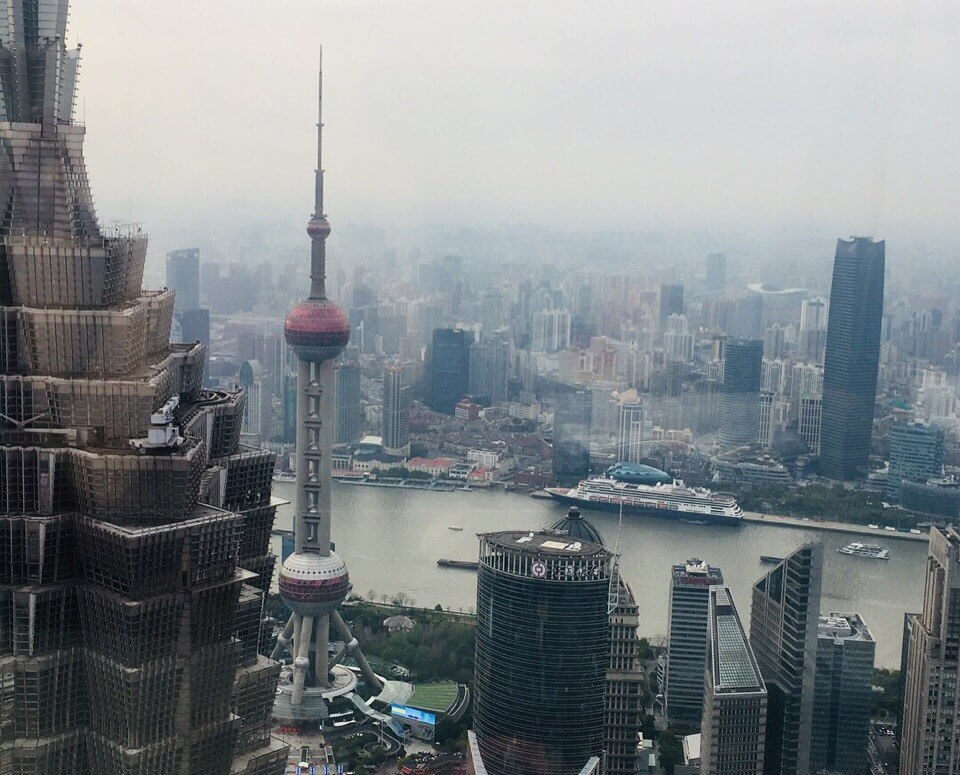 The Pearl Tower is an attraction in itself. Having a unique architectural design, each sphere house different entertainment facilities and a revolving restaurant at the top sphere. It wasn't my first trip to Shanghai when I actually enjoyed spectacular views. So I decided not to climb the Oriental Pearl Tower. Instead, it was indeed very impressive just to roam around the base of the skyscrapers imagining the how small I appear from up there.
But there's a catch.
Aside from gorgeous views, top-notch restaurants and some of the best drinks in Shanghai, Lujiazui, not to mention Pudong, doesn't have considerable things to explore. If you have only 3 days in Shanghai, I'd recommend spending there two or three hours if you're not really into climbing up the towers and end your day by sipping a cocktail at one the rooftop bars.
Pay Jing'an Temple a Visit
The Jing'an Temple is one of the three most famous and significant Buddhist temples in Shanghai. While the Jade Buddha Temple and the Longhua Temple are more popular with travellers, the Jing'an Temple is definitely not to be missed! I believe I was lucky enough to visit Jing'an Temple otherwise known as the temple of Peace and Tranquility on a day when no entrance fee is charged. That was probably also the reason why the entire place was so busy.
While tranquility and peace weren't the case during my visit there on a lovely Saturday in early December, I loved this place with loads of incense sticks, local worshippers and quirky-looking pagoda-shaped shrine in a court area.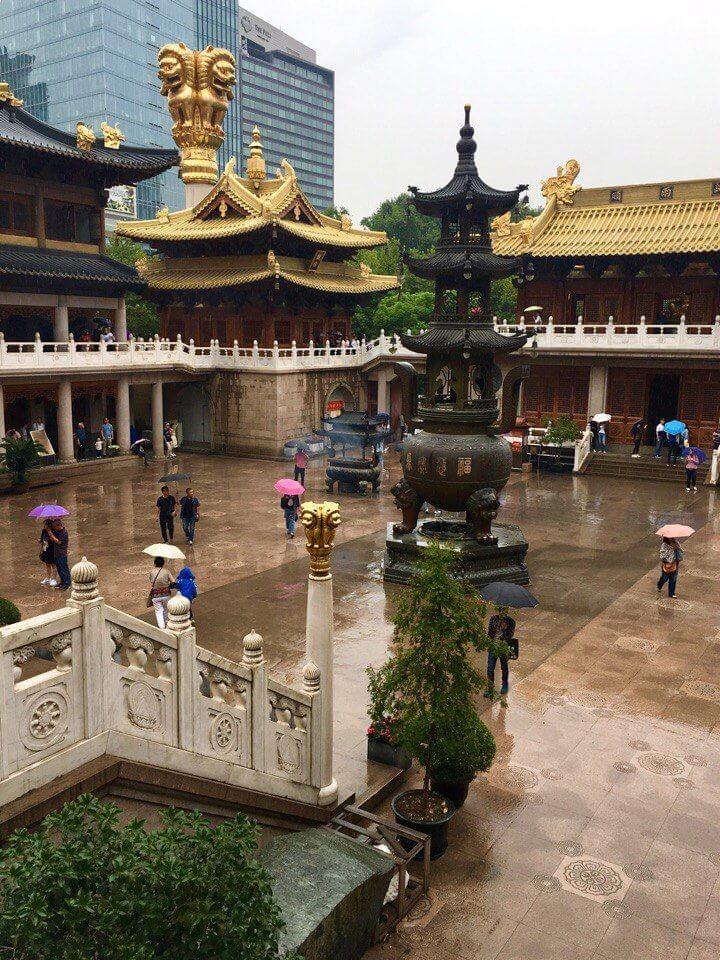 Jing'an Temple is a remarkable complex to explore. Its history dates back to the early 13th century when the temple was relocated to its current site. With three main halls from the 1880s: the Hall of Heavenly Kings, the Hall of the Three Saints and the Hall of Virtuous Works, there is enough room to escape the crowds of tourists and it may feel like a contrast to the modern skyscrapers nearby.
The highlight of the Temple is the Mahavira Hall. A steep staircase leads up to the sanctum, where the largest Buddha statue from Myanmar Jade is shown. The statue of the seated Shakyamuni is almost 4 meters high. That's quite amazing since I had thought that the Jade Buddha Temple had the most impressive statue in the city.






You can walk around the hall and discover all sorts of amazing things in the rooms on the side and in the back: some are dedicated to special sacrificial and commemorative rituals. Here you can commemorate those who have passed and have them blessed by the monks. You can reach the Temple from the Jing'an temple station.
3 Days In Shanghai: The Perfect Itinerary
Day Two – Explore The Rest of Puxi
Yuyuan Gardens and Bazaar
Located in the very heart of Puxi district, Yuyuan Gardens and Bazaar are my favorite spots to get a glimpse of medieval China. When it comes to things do in Shanghai in 3 days both attractions are near the top of the list. Yuyuan is the most famous garden in the city. Not only because it is surrounded by a pedestrian area full of little alleyways where vendors selling their products and food stuff, but because this tranquil and traditional courtyard setting has an abundance of history.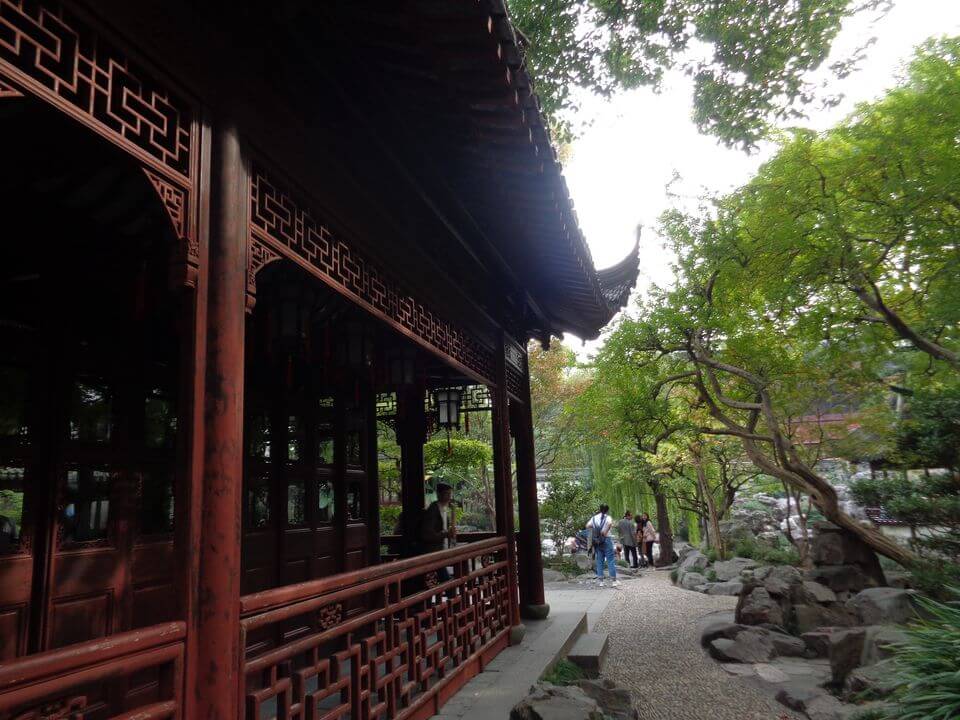 Yuyuan Garden dates back to the 16th century when it was first founded as a private garden by Pan Yunduan. The garden was declared a national monument in 1982 so it is no wonder that so the entire place can get very crowded on weekends. If you're not particularly into mingling with the locals and want to avoid the crowds, I'd recommend visiting Zuibaichi Park, which is only a few steps out of exit 3, Zuibaichi metro station and a few blocks away from the Songjiang mosque and Xilin temple.
Nanjing Road
Of course, it's all about shopping when strolling the Nanjing Road. While I'm not an avid shopper and never have been, the pedestrian Nanjing Road for me is generally about people watching and absorbing the vibrant character of Shanghai. Bustling city's central scene with crowds of people, I could spend hours walking up and down even if I have no real purpose for being there.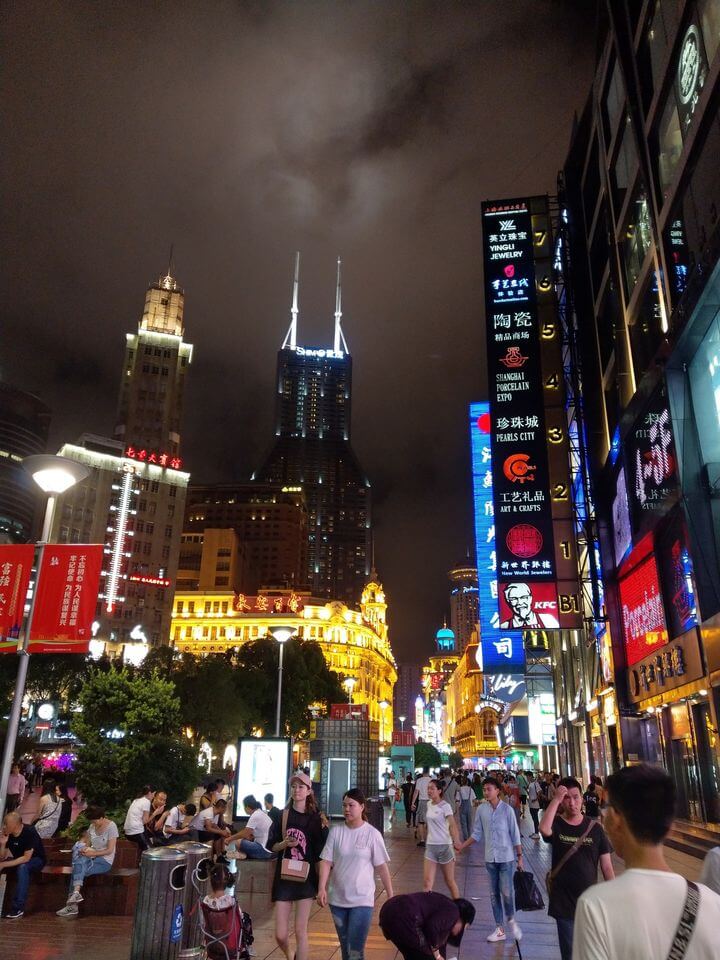 Nanjing Road starts at the Bund and runs westward until it reaches the People Square. It is a common place to visit for Chinese and foreign tourists alike. Stroll the Nanjing Road in the evening when a variety of neon lights up with different colors, they make the buildings even more magnificent.
Explore Former French Concession: Xintiandi and Tianzifang
The French Concession of Shanghai was a foreign concession for almost one hundred years until 1946. The entire area is in stark contrast with the rest of Shanghai. It boasts European style avenues, cafes and leafy green gardens. You could get lost here. And this is probably the best way to explore certain streets of the neighborhood. Even if you're pressed for time and only have 3 days in Shanghai.
Don't bother trying to use a map or follow signs. The winding tiny alleyways are packed with bizarre things and each tells their unique story. Once a premier residential and retail district of Shanghai, now it is a popular tourist destination so you could pretty much get off at any stop in the area and just stroll around the shops, boutiques, and restaurants.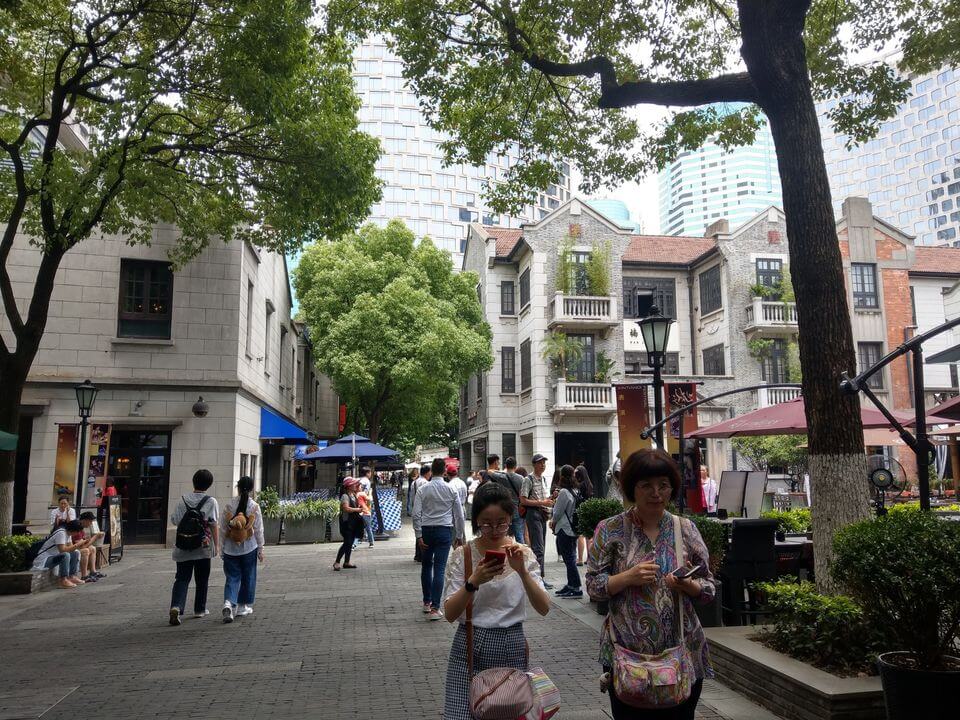 While Shanghai is a futuristic and forward-thinking city, there is still a chance that you find some low-rise, traditional neighborhoods. Both Xintiandi and Tianzifang feature shikumen, the traditional Chinese courtyard dwellings, with gates and courtyards.






The alleyways and the shikumen houses give a fascinating glimpse into local life centuries ago. The buildings are mostly in their original condition but you should know that Xintiandi has undergone a massive reconstruction. At the samt time the authorities have put less efforts into renovating Tianzifang. If you don't have time to visit both neighborhoods and compare them, I'd recommend hitting Tianzifang. It is where original buildings are still intact and locals mostly live in the apartments above the shop units. To get to Tianzifang take a taxi or use the subway line 9 to reach Dapuqiao station.
Day Three – Take a Day Trip to Zhujiajiao Water Town
There are loads of water villages around Shanghai. But when it comes to escaping the hustle and bustle of the big city I can't recommend taking a day tour to Zhujiajiao highly enough. Zhujiajiao water town is about an hour and twenty minutes by Metro Line 17 from downtown Shanghai.
Obviously not the easiest name to pronounce. Zhujiajio is located in the Qingpu District that is filled with man-made canals, rivers, and boats propelled by gondoliers. The history of Zhujiajiao definitely adds to the charm factor. With sights like Fangsheng Bridge, Kezhi Garden, and the Yuanjin Buddhist Temple, I particularly loved wandering through the narrow laneways and soak in the Qing dynasty atmosphere.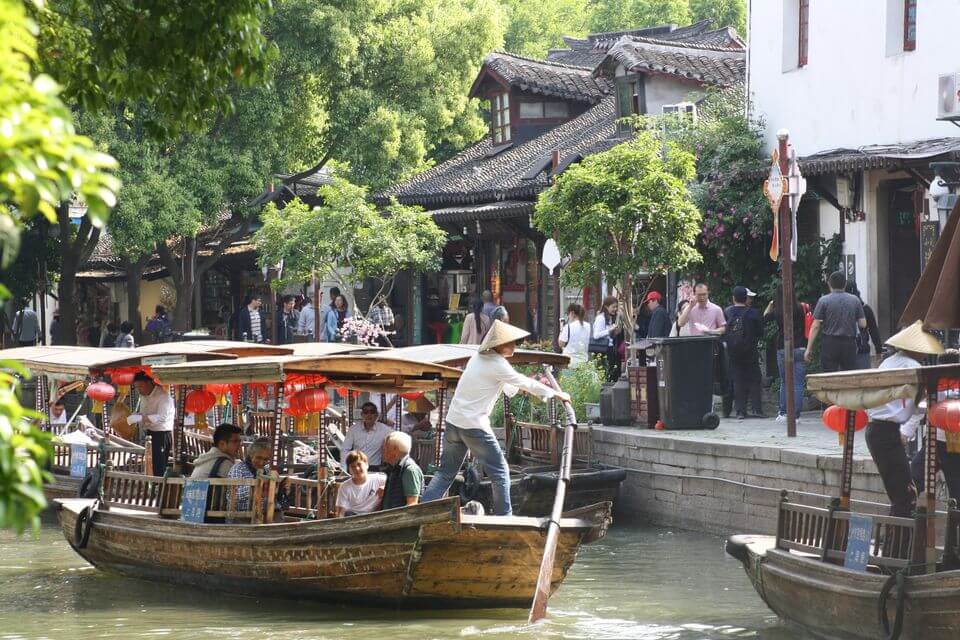 Dianpu river acts as the vein of this typical Jiangnan water town. It is also lined with historic buildings dating back to the Ming and Qing dynasties. Thirty-six beautiful ancient bridges link the streets and provide charming vistas down the waterways where balconies and laundry hung out over the water. Street vendors sell knick-knacks and food almost everywhere. You'll find the Chinese tofu, dried fish and weird meats that proved popular with the visiting locals.
My entry ticket (30 CNY) gave me access to four scenic spots including Tongtianhe Medicine Shop, Qing Dynasty Post Office, Y-Art Gallery, and Ke Zhi Garden. There are also tickets for 60 and 80 CNY that would allow you to visit the sights like City God Temple, Yuanjin Meditation Room as well as take a traditional canal tour boat.
And this is where your awesome 3 days in Shanghai must come to an end.
I know it was short, but I'm sure you saw the best of the best of Shanghai. If you've found some extra time, or find your way back to Shanghai again, be sure to explore the many other great things to do in Shanghai that you're sure to be glad you added to your Shanghai itinerary. Now it's your turn! Have you ever been? What was your favorite part? Any must-sees I missed or questions about the places I listed? Let me know in the comments below!