The First Timer's Guide To Seville
I usually ask myself which sites should I explore in the first place while visiting new cities. I do this even more frequently when I'm short on time. Even if you only have a couple of days for sightseeing in the capital of Andalusia, use the first timer's guide to Seville to make the most of your time and not miss anything.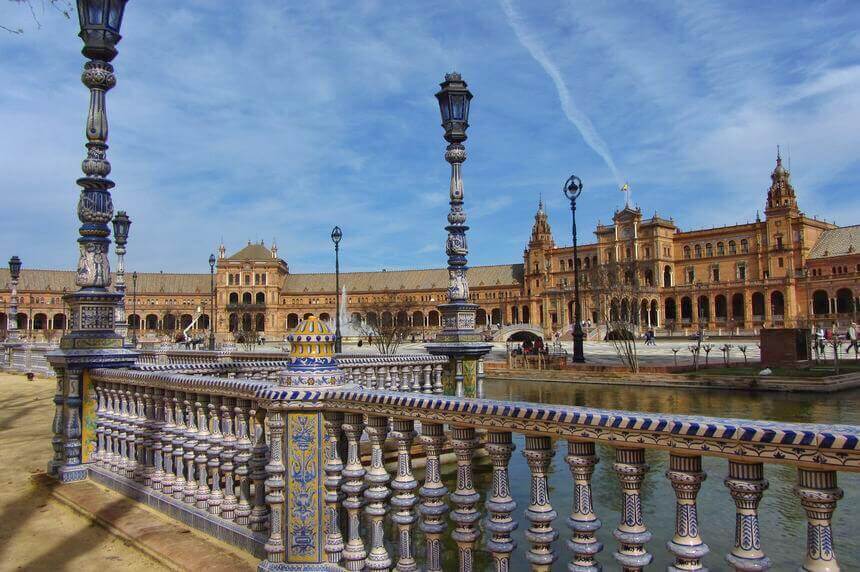 The First Timer's Guide To Seville
How to Reach Seville
If you're a first time visitor and come from overseas, chances are you will arrive at Madrid or Barcelona airports. This means you have to book a connecting flight or stick to Spain's Alta Velocidad Española high-speed trains. It takes around 3 hours for the AVE train to get to Seville from Madrid and around 6 hours from Barcelona. Be sure to book as early as possible to get the best deals, as Renfe can offer discounted tickets for as low as 50 EUR. Promotional tickets can also be of a great value when traveling to Seville. A year ago I purchased a half-price ticket from Cordoba to Seville, so it is better to keep them in mind.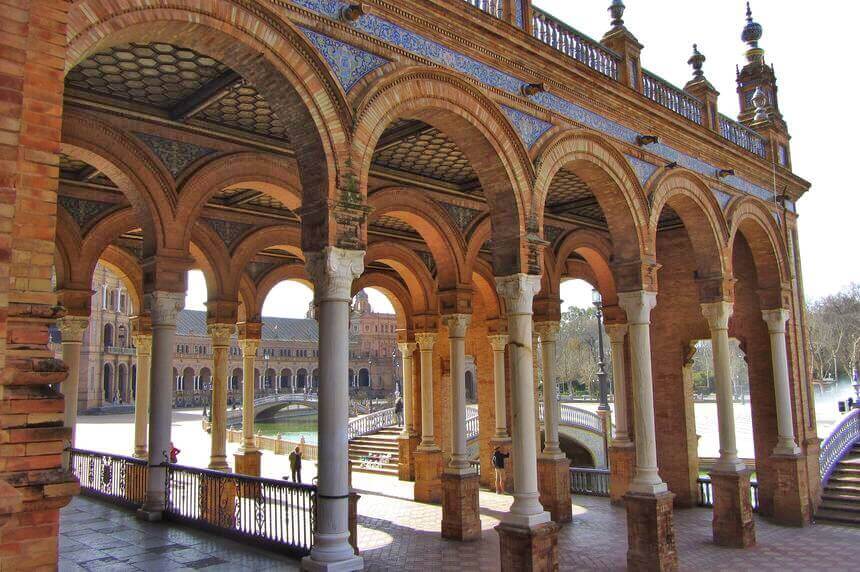 Weather in Seville. What to Expect.
Seville has the inland climate, with mild winters and boiling summers. The winter months between December and February can get humid and chilly if you find yourself near Guadalquivir river. The benefits of visiting Seville in early spring are that you can enjoy the days that are not insanely hot. I visited Seville in April and found it a perfect time. The summer months between June and August can be exceedingly hot and temperatures can be higher than 40 or even 45 Celsius. July is the time when the city dies out. You can either skip visiting Seville at this time or take an advantage of almost no tourists in sight. I found the light during the early fall to be especially clear. It is a great time for taking awesome photos in Seville when the city comes back to life after a summer break.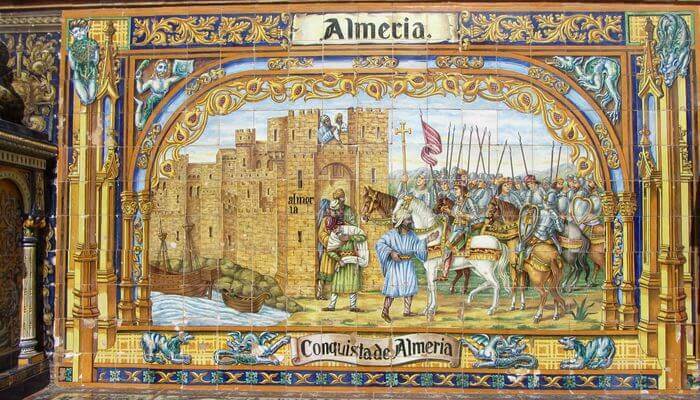 Top Things to Do in Seville
Explore Barrio Santa Cruz neighborhood
Narrow cobbled streets, white house facades and patios drowning in flowers may reminisce about Medieval tales. As I was walking down the streets I regularly caught myself thinking about novella of Carmen by Prosper Mérimée. The Barrio Santa Cruz neighborhood set the scene for the Figaro plays by Pierre-Augustin Caron de Beaumarchais and Don Juan by Tirso de Molina. Plaza de Doña Elvira has its own charm. This is a romantic spot in Seville. Planted with orange trees, I spent hours in the square enjoying the tranquil summer evenings while sitting on a bench decorated with traditional ornaments!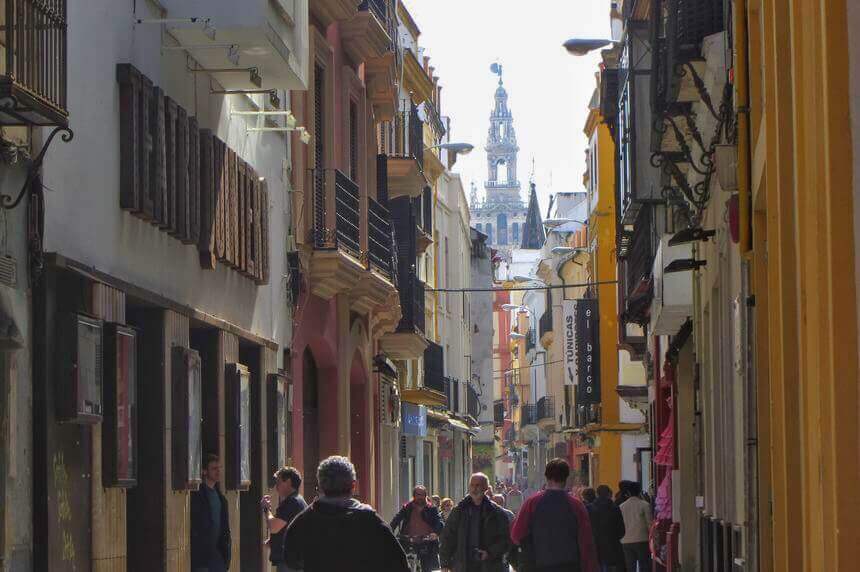 Wander Around Seville Cathedral and Climb La Giralda Tower
Being a history buff I couldn't have missed La Catedral de Seville and it is totally worth a visit. The cathedral is huge. I was trying to take a photo from down below but found it difficult to implement. As you enter the cathedral you will find an intricate mix of chapels, naves, and bas-relief. I have dedicated two hours tp exploring the inner space of the cathedral. If you're into taking photos, you can practice long exposure photography there since it is very dark inside.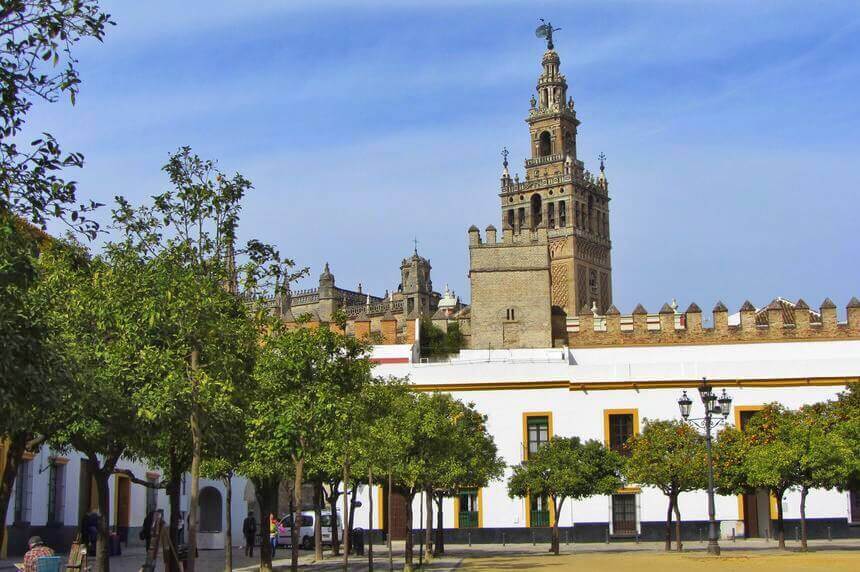 The bell tower was initially used of a huge mosque, which was finished in the XII century. Over time, the mosque collapsed and the well-preserved minaret was converted into a Catholic bell tower with a vane on top of it. La Giralda bell tower can be easily climbed to the very top by ascending gently sloping ramps. That is the reason why old muezzin didn't have to climb all the way up to chant out the call. He just rode a donkey that took him up. This is the best spot in Seville to catch some bird's-eye views. From the top, I caught a glimpse of the views I already enjoyed while strolling along the Guadalquivir River and near the Plaza de Toros. I love La Giralda's design. The Christianization of this magnificent bell tower is mostly at the top of it, however.
Where to Find: Avenida de la Constitución, 41004 Seville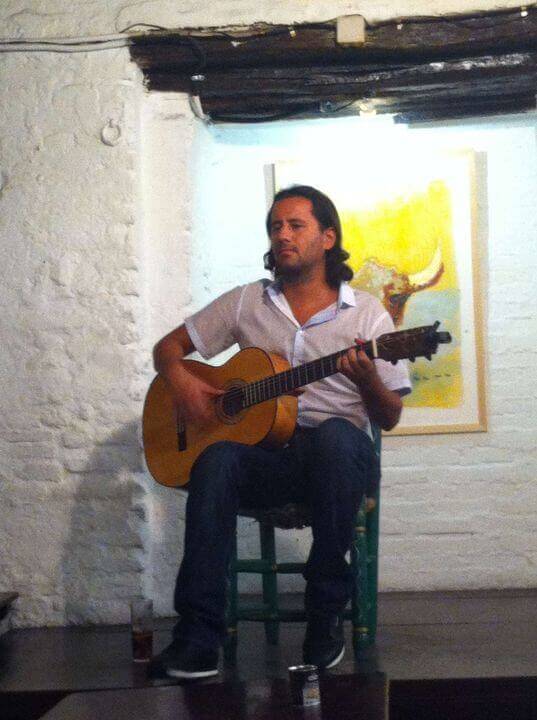 Visit Tablao Flamenco
No trip to Seville would be complete without seeing flamenco. This passionate dance is a mix of Moorish, Jewish, Gypsy and Spanish music. It originates from the south of Spain, where people are still arguing about the exact birthplace of flamenco. I don't exactly where it originates from, whether it is Jerez, Granada or Seville, I that skipping seeing it would be a mistake. With a lot of flamenco shows in Seville, Los Gallos is the one located in Santa Cruz neighborhood (and the most authentic I think). The entrance fee is higher than in most other tablao, but you can expect to see the grace of flamenco dance in just one institution. Make sure to have at least 2 hours to see the show until its end.
Where to Find: Plaza Santa Cruz, 11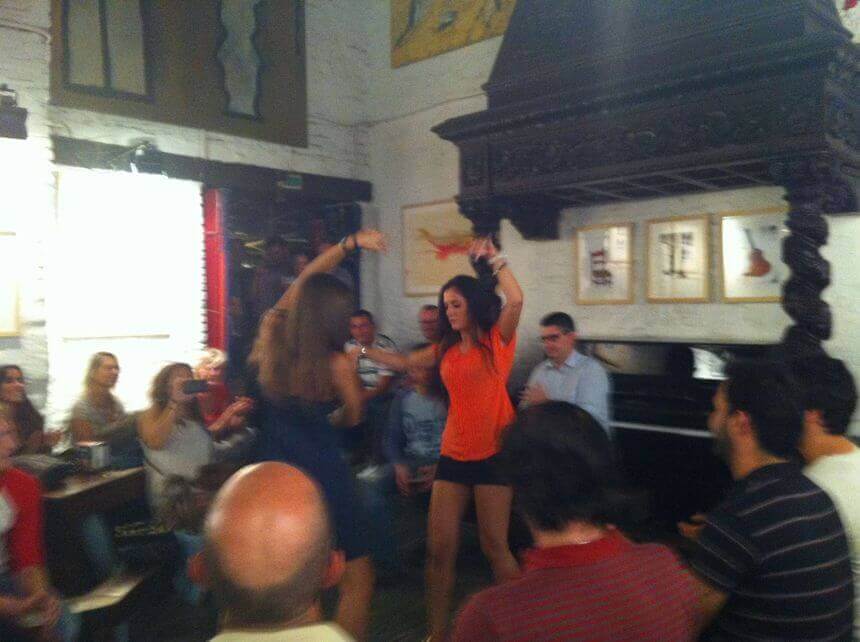 Eat Tapas
I love tapas. I can't say exactly when I first tried them, but since then I'm a big fan of eating and exploring tons of delicious dishes without feeling stuffed. Tapas are ideal when you want to have some fun with friends while drinking and socializing. Tapas are usually served in bars, restaurants, and homes between lunch and dinner to work up appetite. You can notice that after work people hit bars, experiencing a wide range of savory, sweet, and spicy tapas. Tapas aren't only delicious, they range from anything as simple as the rings of battered squid to much more complex foods such as Galician-style octopus.
With more than 3000 bars across Spain, some of them offer a great tapas experience for families. Some tapas are served on plates with various fillings: croutons with spicy chorizo sausage, sliced ham and cheese, the Spanish garlic tapas and, of course, stuffed olives.
Find Some Shade in María Luisa Park
I paid María Luisa Park a visit on a lovely late April day when roses were in bloom and air is filled with fragrant scents. This charming public park is the largest in Seville, so I spent several hours strolling its alleys and counting swans and ducks in ponds. María Luisa Park owes its current look to the Ibero-American exhibition of 1929 when it gained magnificent fountains, garden arbors, and lovely benches. The Park is a hidden gem in Seville.
I have discovered several statues of famous citizens that were born or are still living in Seville. Some of my local friends told me that the park is one of the best places in Seville to escape the summer heat. With a number of museums (like The Museum of Art and The Archaeological Museum) and the Plaza de España nearby I will definitely return there on my next trip to Seville.
Where to Find: Avenida de María Luisa, 41013 Seville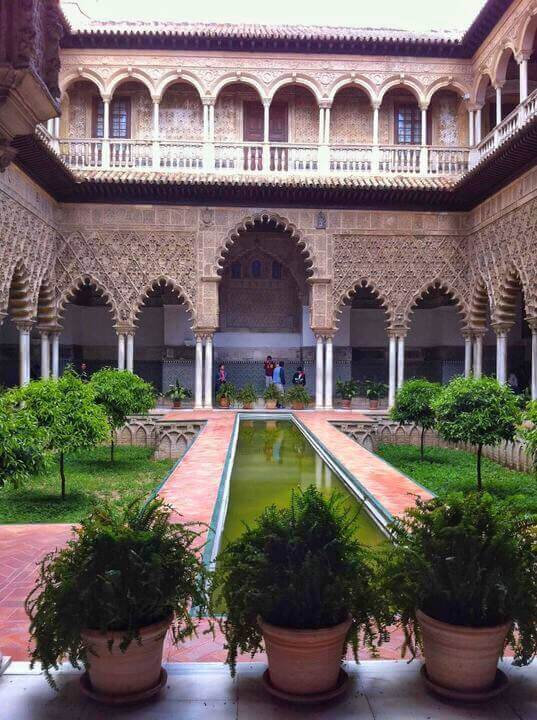 Enjoy the Architecture of the Real Alcázar de Seville
The Alcázar was high on my list of places to visit in Seville. And now, when this well-deserved item is ticked off my bucket list, I can't wait to visit it again. The Real Alcázar de Seville is still in use today, which makes it one of the oldest royal residences in Europe. This finest example of Mudejar architecture is must while in Seville, since every its room and patio show how Spain's culture has changed over the last millennium. Patio of the Dolls, Baños de Doña María de Padilla and Charles V's Apartments are not to be missed!
Aside from the palace, I especially enjoyed the extensive gardens with fragrant flowers, ponds, and pools. Depending on the time you visit, you can enjoy the flower blooming in spring or take awesome photos with a few tourists around during winter months. If you visit the Real Alcázar de Seville with kids don't miss the hedge maze! It a great fun! Going in summer means there might be swarms of people all around the place and very hot. The only tip here is to go as early as possible to avoid heat and crowds.
Much of the palace is now open to the public, so these patterns and hand-painted tiles can be easily accessed. As you enter the palace there is an option to take a guided tour, but since each room has information signs in English there is no need for paying extra fees. Make sure to have at least 3-5 hours for exploring every nook and cranny of the place and the garden if you want to take plenty of awesome photos. It took me 3 hours to see everything I wanted but obviously, I should have put extra time in.
Where to Find: Patio de Banderas, 41004 Seville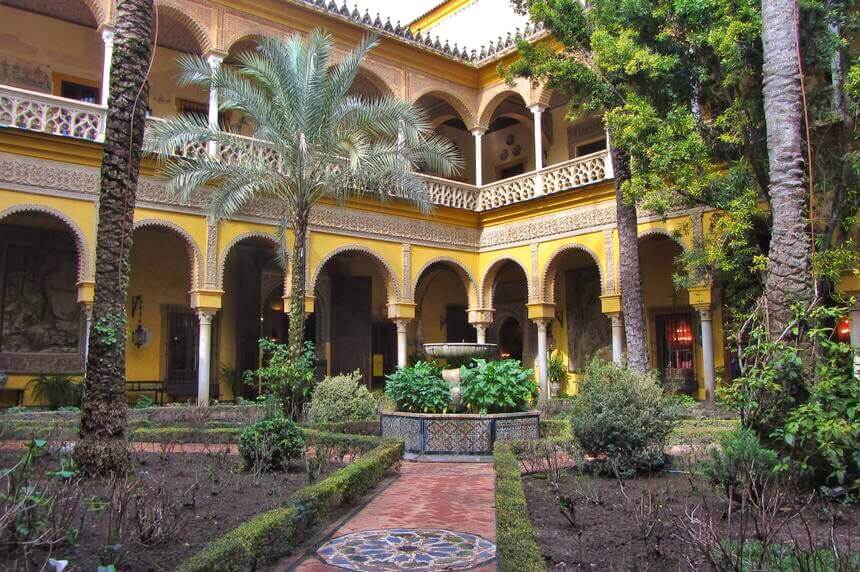 Try Cakes and Jam from Convents
I haven't heard much about Seville desserts before my second trip to this amazing city. As I was packing my backpack a friend of mine told me that I was lucky to have a chance to try Seville pastry. I was a bit surprised at his words but I kept silent. Now I know he was totally right.
Indeed, Seville pastry and desserts aren't that popular, but that doesn't mean Spaniards don't have a sweet tooth. From yemas and carrot cakes to homemade gelato, Spanish dessert menus are filled with incredible exuberance. In fact, desserts and pastry are a huge part of Spanish culture. Having said that, there is no way to avoid trying churros or yemas at least once.
Aside from shops and bars, that offer a wide variety of sweets, I also discovered that Seville has a number of convents where you can try pastry and cookies baked from secret recipes. Having learned that I had no option but to experience the process of buying the convent sweets. As I was staying in Santa Cruz neighborhood I googled that the closest convent was the convent of San Leandro. Buying cookies from cloistered nuns wasn't like buying it in your local pastry shop. It took me 15 minutes just to find the entrance! After I managed to get inside I walked up to the window, paid with 20 EUR bill and got a small box full of walnut-size cookies. Made from egg yolks and sugar, yemas were positively melted in my mouth, so I couldn't resist but to finish the box.
If you're looking for the same experience, you can also proceed with one of the seven convents in Seville. Santa Paula convent is the place where I have enjoyed a wide range of jam and marmalade. With around 20 different types of jam available for purchase, I found jasmine jam, rose petal jam and chestnut jam the most delicious.
Where to Find Santa Paula convent: Calle Sta. Paula, 11, 41003 Seville
Where to Find San Leandro convent: Plaza San Ildefonso, 1, 41003 Seville
Hit the Flea Market
So what is my interest in flea markets after all? As a historian, I love this kind of places. Flea markets are filled with history and very special ambience. It is a bit difficult to explain but it is something like touching the history with your own hands. I don't usually look for second-hand clothes or interior decoration at the flea markets, but prefer rare books, old photos, and various trinkets. Sometimes these come for a very low price.
Every flea market has its own spirit. Looking for a bargain in Seville can bring you to one of the several weekly flea markets, so you definitely should know when to go. Here are two of my favorite markets:
Head to Calle Feria street early on Thursday morning to get a glimpse of Mercadillo del Jueves. Flamenco dresses, painting and old cell phones are laid out on stalls and tables. Furniture and coins, pottery and books, I can spend an entire day searching for a great bargain at El Jueves!
The early bird gets the worm! If you wake up early on Sunday morning, be sure to visit El Charco de la Pava. The market is open from 8 am to 3 pm but don't expect too much from it. When I ventured there for the first time it reminded me of gypsy festivals. You can easily find fruits, second-hand clothes, spare parts here. Finding something rare can be a tough task, but there is no better place for obtaining cheap souvenirs for friends and family. You can find Bohemian glass, porcelain vintage dolls, and vintage style statues. Some of them made in China. Negotiating a price is a must here. Watch your bags to avoid problems with pickpockets. Quick tip: visit El Charco de la Pava as early as possible, since there is very little shade. Exploring the market after 10 am can be tiresome because of the heat.
Where to Find El Charco de la Pava: Av. Carlos III, 41092 Seville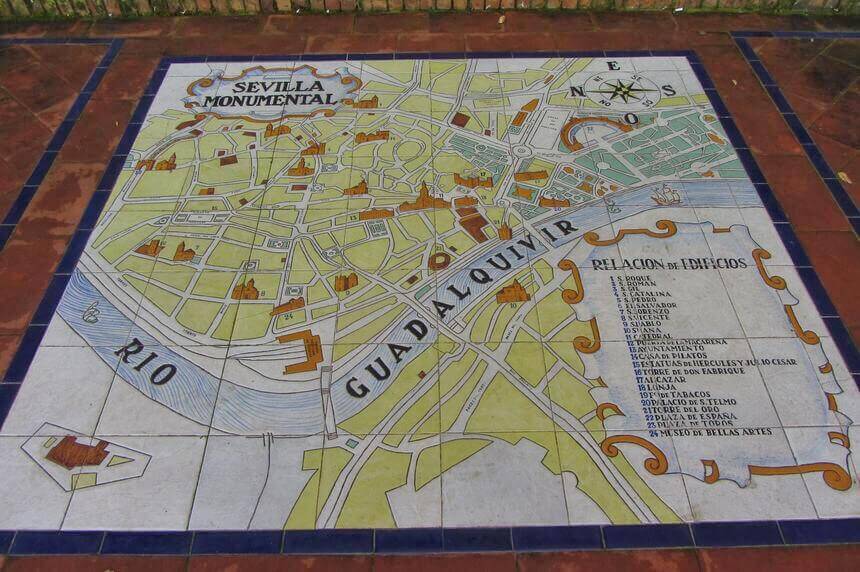 Get Lost in the Triana Neighborhood
Triana is a little bit chaotically built-up neighborhood that differs drastically from the quiet and relaxed Santa Cruz. A century ago this working-class neighborhood was home to flamenco dancers, sailors, and large gypsy community. Gypsy people usually lived in corrales or communal homes. While most of the corrales have undergone a reconstruction or was removed, several of them can still be found in Triana. However, this is not a gypsy neighborhood anymore.
I had enough time to visit the old Carthusian Monastery Santa Maria de las Cuevas. Built in the 15th century, it was transformed into ceramics factory but undergone a reconstruction in the early 90s to become an Andalusian Center for Contemporary Art. While there is an entrance fee, the inner yard is the place for occasional flamenco dances.
You can't visit Triana without seeing Puente de Triana or Triana Bridge. It connects Triana with the city center and it's one of Seville's most precious architectural gems. I took a stroll on the bridge at night and enjoyed a fascinating view of the Torre del Oro from it.
Pin It For Later