Russian Cuisine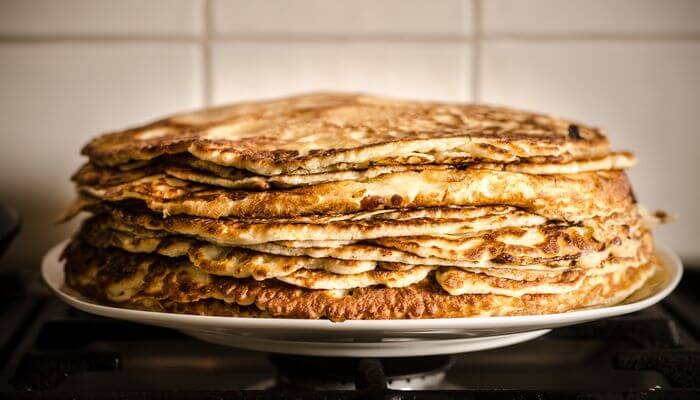 Russian cuisine represent food traditions of different people living in country. In that way meals that are being cooked in the region of White sea would appear completely different to the ones cooked in Caucasus or Pacific Ocean region. However, Russia is known worldwide for meals that are popular throughout the country and traditionally regared as russian meals. But not all of them might be considered so. During my trip to Russia I've noticed that it might be quite complicated task to find traditional food at affordable price in Moscow, while the region around it provides mostly cafes and sushi restaurants. If you expect good value for money than be ready to pay for that. Moscow is not cheap city though. Prices for traditional food vary from $5 USD in street vans to $150 USD in restaurants.
Russian Cooking Methods
In sense of cooking, traditional food is rarely used in it's raw form. The most common methods of cooking are stewing, roasting, simmering in pots (as it historically connected with the fact that food was cooked in Russian stoves). Fresh vegetables and mushrooms are commonly being vinegar-marinated, salted and soaked for future usage.
Soups
Soup is a compulsory dish of any traditional russian lunch. Nowadays, soups are being cooked from meat and cabbage to get most popular russian soup called "shchi". While another popular soup from beetroot called "borscht" is of Ukrainian origin. For soup cooking they usually start from getting meat, fish or mushroom broth. After it is done steamed vegetables added. For fish soup cooking generally use carrots, potatoes, onion and various roots. A bit less popular soup called "rassolnik" is made of cucumber brine with adding highly concentrated broth and cabbage. For the last decade all types of cream soups became really popular in Russia.
During summertime (rarely hot and prolonged) cold soups may take place as an introductory dish. Called "okroshka" this soup is made from finely chopped vegetables and pickled cabbage, slices of boiled meat poured with fermented beverage called "kvass". "Botvinya" soup is less popular than "okroshka" but is being cooked the quite similar way. To bring it all in one piece you might need beet leaves, young nettle sprouts, beetroot and surely that very "kvass" for seasoning.
Meat Dishes
Russia is a meat loving counrty. Vegetarian and vegan lifestyles are not popular there as vast majority of russians still consider meat as a sign of prosperity. Due to this fact there are bunch of traditional recipes for meat cooking.
Meat can be found in various soups, starting from meat broth to boiled meat, as main course (Beef Stroganoff, burgers, grilled meat, sausage and ham). Paying homage to tradition when it was convenient to bake meat in form of single large piece inside the stove, whole duck or turkey roast is still beloved meal.
To bake lamb or veal slice it usually being cut into smaller pieces. Alternative ways of cooking meat are boiling, frying and stewing. Grinding is used in order to fry burgers. As a side dish fried or boiled potatoes, steamed vegetables, pasta or rice can be cooked.
According to my friend's preferences beef, pork and chicken are the most popular type of meat in Russia. Rabbit meat and turkey are less popular. In non-central regions lamb, venison, elk, wild pig meat can be found as well as wild birds meat.
While on picnic some kind of barbecue is being cooked. To do it correctly large chunks of lamb or pork are being strung on skewers and bake over hot coals.
Fish Dishes
Fish meals are less popular in Russia due to historical and economic matters. Surprisingly, but having that enormous natural resources variety of fish in Russia reduced heavily in recent years. According to this fact modern russians may not find once widespread sturgeons and trout in shops. Majorly, fish meals can be fried, boiled, stewed or baked in dough. Some other methods are popular, like air drying, salting or stuffing.
Vegetables And Mushrooms
For thousands of years demand for vegetables varied. Several centuries ago turnip and cabbage were the most accessible vegetables in Russia. Meals made from these vegetables stewed, baked and stuffed. They were perfect components of any soup or porridge.
Beetroots are commonly used for making salads, soups or eaten both raw and boiled. Recipes little changed in last five hundred years. Potatoes are really popular vegetable in Russia. Unknown until the reign of Peter the Great it virtually replaced turnip as a side dish among ordinary russians. There are a lot of recipes to cook it, starting from boiling or frying to making potato soups and casseroles. Tomatoes became popular at the same time as potato. Hardly ever known until Eighteen centure it firstly consider as poisonous vegetable but now it has several dozens types distributed in Russia. Other popular vegetables like carrots, cucumbers, peppers, radishes, zucchini, eggplant and pumpkins are used for making salads, as side dishes or being canned for future usage.
Mushrooms are incredibly popular in Russia. Starting from middle of summer to the end of September in central regions you can notice dozen of cars parked on the roadsides while their owners hunt for mushrooms. What types are popular there? Well, mostly these are Penny Bun Mushrooms, Chanterelles, Honey fungus, Orange and Brown-cap boletus and many others. So due to passion for mushrooms there are many ways to cook them. Usually they can be stewed, fried with onions or potatoes, they can be used as a pie filling or be dried, pickled, salted. To my greatest surprise I was offered French julienne during my lunchtime in Moscow. As it turned out julienne is essential hot snack at any festive lunch or dinner.
Milk Products
If you find yourself in ordinary russian grocery store you would certainly find sour cream, fermented beverage originally came from Caucasus called "kefir" and cottage cheese that might be considered as young cheese. So while sour cream and kefir are used as salad or soup dressing, the cottage cheese can be attributed as main component for many meals. Mainly it is being used for dessert cooking such as cheesecakes, cheese quiches, fruit pancakes. Or it can be used as filling for pies.
Seasoned or boiled cheeses can be found everywhere in grocery shops but are inferior to Dutch, French or Swiss cheeses though. A small exception here is processed cheese, which has unique flavour I have never tried out except in Russia.
Bread And Cereal Products
Bread as well as meat meals are hold in high esteem in Russia. Starting from an early age most russians are tought that bread is something more than ordinary bun. Apparently, it is connected with a tradition of baking bread and eating it. The vast majority of recipes came from ancient times when bread was baked from rye flour as wheat flour was expensive. Wheat flour was something about festive food and commonly used for baking cakes and pies of variuos fillings.
Pancakes are beloved traditional meal in Russia. There are numerous ways to cook it using various flour types. While baking pancakes housewives may pick one of the following techniques: bake it with filling or prefer serving with honey, sour cream or caviar.
Various pies are still really popular meals. But due to modern trends very few housewives still cook this meal on their own in major cities. I believe that globalization has affected the traditional way of cooking as it much easier to go out in the restaurant or get semi-finished food in grocery shop.
Another traditional meal that has been affected by globalization are dumplings. Originally from Siberia this meal rarely being cooked manually nowadays. As in recent years Siberian natives keep dumplings in order to provide themselves with food during winter time, modern people prefer to have dumplings as semi-finished food that can be cooked in few mintues.
Perhaps no country in the world use as much cereal as Russia do. Buckwheat, rye, barley and millet are used as main component of porridges for breakfast or as side dish to main course for lunch or for dinner. Some resourceful people are able to cook casseroles and pies using these cereals as filling.
Desserts And Sweet Meals
About one hundred years ago wealthy people prefer to finish their meals with French desserts. Various types of jam, cookies and fruits were something of unattainable to poor farmers. In order to please themselves ordinary people used honey, berry or fruit beverages, baked pies stuffed with raspberries and apples.
Gingerbread was something well-known long before Christianity came to Russia. First mentioned recipes of gingerbread describe it as a dessert made from rye flour with berry juice or honey. But some time after various spices won people's hearts.