Plan a Trip to Yangon: 6 Tips to Do It Right
When I was planning a trip to Yangon I was looking for some other side of Southeast Asia. I knew that Myanmar was quite off-the-beaten track destination filled with charming colonial buildings and mysterious pagodas. If you fond of Buddhist attractions, you can expect to find plenty of them there. While visiting Yangon be sure to check Nga Htat Gyi Pagoda and Chaukhtatgyi Buddha Temple with the most detailed Buddha statues in Myanmar. Here are some info on how to plan a trip to Yangon: 6 Tips to Do It Right.

Yangon (formerly Rangoon) is the financial hub and by far the largest city in Myanmar (previously Burma). If you're to cut down on your expenses you can plan a daily budget of 35-50 USD. This budget will easily cover the cost of accommodation and transport (in my case it covered food expenses as well).
It is a city of over seven million people, resulting in considerable traffic problems at times. Cars, buses, and trucks clog roads that were built for bicycles and animals. Despite some new investment, the infrastructure of the city is struggling to keep pace with its development. In some of the downtown areas carts, motorcycles and street vending stalls park randomly across the pavements, causing pedestrians to have to walk on the road. In my opinion, it is not a place for small children, the elderly or disabled.
Plan a Trip to Yangon: 6 Tips to Do It Right
One of the first things you will notice when you arrive at the airport is the dress of many of the men. The lungi (a plain wrap-around type of sarong) is worn with a western shirt. It is apparently cool in the Burmese heat, as well comfortable. Many women smear their faces with a yellow or white powder called thanaka. This is made from wood bark and is popular for cosmetic as well as sun protection purposes. You certainly know you are in a new country immediately. There is a less pleasant idiosyncrasy of some Yangon folk though – that is the habit of chewing betel and spitting the juice on the ground!
How to Reach Yangon
Most overseas visitors planning a trip to Yangon will at arrive at Mingaladon International Airport, about 14 kilometers from the Downtown area.  There is an extensive rail system in Myanmar and it is possible to arrive by train from other cities. There are also long distance buses which operate between towns, but these are crowded and lack air conditioning.
Getting Around Yangon
Taxis in Yangon are plentiful, but they are often old and they are not metered. You need to negotiate a price for your destination before you board. Inevitably you will pay more than locals, but things are cheap in the country and the drivers have to make a living. Ask someone at your hotel to write down your destination and what might be a reasonable fare. Hardworking trishaw drivers operate in the Downtown areas and these are fun for short journeys, but remember how hard they are to pedal before you do too much haggling.
In Yangon, the driving is on the right of the road. It used to be on the left but the switch in 1970 (due to the whim of General Ne Win) has resulted in another Burmese idiosyncrasy. Because most vehicles have been historically imported from left side driving Japan, up to ninety percent of vehicles on the road have their steering wheels on the less safe side. That is, they drive on the right in right-hand drive vehicles! I do not think this helps the standard of driving in this very congested city.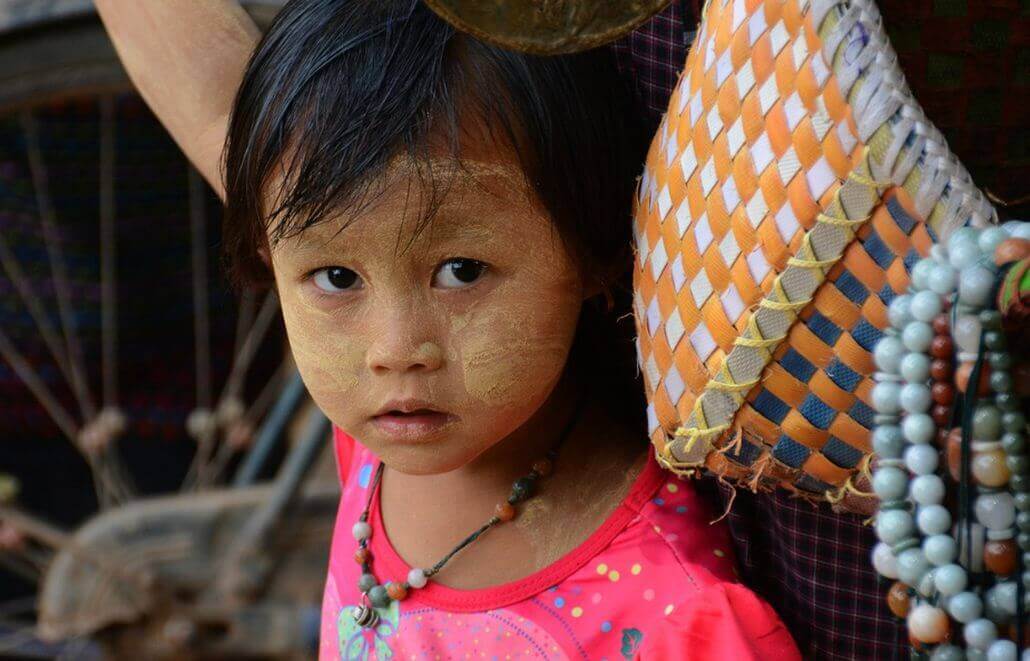 Language and Currency
The local language of Yangon is Burmese which uses its own script – not at all easy for a Westerner to decipher. English is taught as a second language in some schools but is not widely understood in the street – apart from hotels and some large stores. You will see some signs and names in English both on road names and on the railway. They are many remnants of British colonial days. The British ruled Burma from 1824 until 1948. If you are interested in those times, I recommend you read "Burmese Days" by George Orwell.
The Myanmar unit of currency is the kyat. Which comes in ten denominations ranging between 5 and 10000. At the time of writing 1000 kyat is worth US$0.74. It is not easy to get Myanmar currency overseas and I have always found it best to take US dollars to exchange. When buying in the shops, the locals will often refuse to take very old or torn notes.
Yangon weather. What to expect
Yangon has a tropical monsoon climate and it is warm to hot all the year round. The hottest month is April with an average temperature of 31 degrees Celsius.  December is more pleasant and averages 25 degrees. It is often very humid, and rain showers can be intense.
Top Places to Visit in Yangon
I found Myanmar to be one of the most devout of the Buddhist countries of South East Asia, and consequently, there is a wealth of interesting temples in the city. By far the largest, most prestigious and likely to be on every visitor's bucket list is the Shwedagon temple. This elaborate complex of temples, statues, and religious meeting houses is centrally located and its golden domed pagoda can be seen from many miles away. At certain points in the day, the sun glistens from its golden dome. The curious chanting of the monks also echoes hauntingly around the local area at sunset.
I was a little disappointed on entry to be hassled by children wanting to sell me a plastic bag in which to carry my shoes. I understand they are poor and need to make a few kyat but these were unnecessarily aggressive. You need to cover your legs and remove your shoes before entering the temple complex.
Around Yangon, you will see many Buddhist monks and nuns, some merely children. I watched a group of young nuns going from market stall to market stall chanting and holding out a begging bowl. Each stall keeper contributed.
The other 'must-do' in Yangon is to ride the Circular Railway. For a very low price, you can take the ancient train and ride for about two and a half hours, returning to your starting point at the Central Railway Station. It is an excellent way of observing the locals and also getting an idea of the vastness of the city. I was entranced, but also came away wondering why the authorities seemed to have no control over the amount of debris and litter randomly scattered alongside the line. The following day I was dismayed at the state of the Yangon River as I took a ferry across it.
Food
There are several up market restaurants in Downtown Yangon which cater for tourists and local expatriates, and many hotels have adequate restaurants. Street food and locally grown fruit are cheap and readily available. 'Myanmar Beer' is brewed in the city and it is very good. It is wise to drink only bottled water.
Yangon is an important city, in what is still a developing country. Only recently have tourists been visiting and in truth, I found some of the locals to be wary of Westerners. As the country has only recently begun to emerge from a military dictatorship, this is hardly surprising.
In Yangon, you will see things that you can see nowhere else, and this fact alone makes it an exciting destination.