London Travel Guide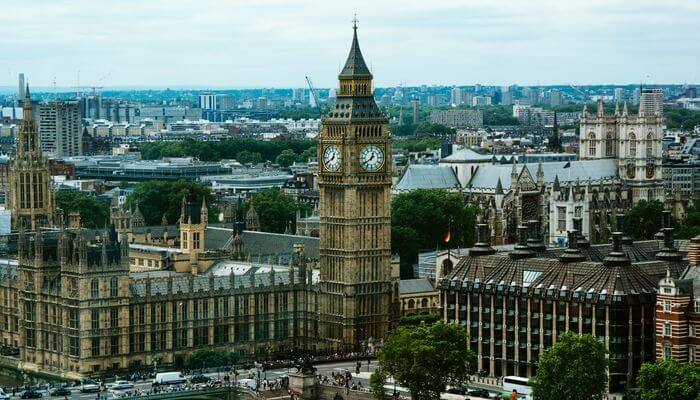 Despite the fact that London is nearly two thousand years old, the architecture of the city demonstrates little evidence of its venerable age. Virtually no ancient ruins, medieval streets or magnificent Renaissance palaces. There are few buildings date back to 17th century. You can feel the spirit of the history and national traits in the changing appearance of streets in London, stronger than in any other capital in the world. This makes the British capital a desired destination for many travelers. Most backpackers visit London to enjoy its numerous pubs and museums, the unique architecture of Buckingham Palace, ride the famous hackney carriages and red double-decker buses.
London is a huge city. It might take a lot of time seeing every worthwhile place, learning the secrets of London or visiting all the exhibitions. If you are short on time, it is worth to plan everything through carefully and to figure out the to-do-list in advance. One may wander around London for hours and days admiring its architecture and people watching. But this may put a strain on a wallet very quickly if you abandon the common sense. After all, London is one of the most expensive cities. Luckily, even in London, there are few things to do and stay on track with your budget.
Getting Around London

Public transport in London consists of buses, trams, subway and light railway (Docklands Light Railway). London underground, also known as The Tube is the oldest subway in the world. At the same time it is one of the cheapest ways to get around the city. Transportation of passengers in London is carried out by national railways, shipping companies on the Thames and the famous London cab taxi. Public transport network in London operates around the clock. With around fifty night bus services , some of them start their work at night when the Tube is closed (these bus routes usually duplicate subway lines).
Underground and DLR run from 5:30 a.m. on weekdays, from 7:00 a.m. to 12:00 a.m. or 0:30 a.m. on Saturdays and Sundays, depending on the station, and the day of the week. Buses and The Tube allow to drastically cut transportation expenses when traveling around the city. They are the cheapest forms of transport in London. Prices start at 2.90 GBP without the Oyster card and 1.50 GBP with pre-paid Oyster card. If you buy a single adult ticket in cash, be ready to pay 4.90 GBP. When you leave the Heathrow airport, underground stations could be found in Terminals 2 and 3 and one each at Terminal 4 and Terminal 5.
Accommodaion
Unfortunately, the prices for accommodation in London are growing from year to year. Generally, the closer to the city center, the higher the price. The number of guests and hotel star rating, as well as the set of options also affect the price. Average prices for budget hotels in central London start from 110 GBP per night and above, but price comparison usually allows to book a room at a discounted price. Price for hostel accommodation depends on the size of the room you choose. Rates vary from 10 GBP per night in a dorm room on the outskirts of the city to 15-45 GBP per night in central districts. Mind to check for a 17.5% VAT while booking, as some hotels offer their prices with hidden tax.
Breakfast is usually included in the room rate. Breakfast comes in two major variations: Continental breakfast and English breakfast. The first one is much cheaper, it includes cereal or muesli, milk, croissants, jam, fruit, cheese and ham, juice, coffee. English breakfast is much denser. It includes fried eggs with bacon, fried sausage, mashed potatoes, beans, and vegetables. Phone and minibar services cost too much and might add up very quickly.
Food
London is a cosmopolitan place with cosmopolitan cuisine. Since the colonial period the British have accustomed to the culinary delights of many other cultures. Such as Indian, Chinese, Caribbean and Middle East cuisines. Nowadays, London offers food for all tastes. There are Eastern European, Japanese and even Russian restaurants in London. However, you can find the good old traditional English meals virtually everywhere, the prices may vary. Roast beef, Yorkshire Pudding, fish and chips and shepherd's pie – these all are traditional English meals. The average cost of full course dinner at the restaurant may vary from 21 to 33 GBP per person. Asian family restaurants offer cheap meals starting from 5 GBP. A basic lunchtime menu with drink will set you back about 11 GBP. If you prefer to cook on your own, then be ready to pay 45-60 GBP per week for groceries.
TIPS FOR A 72 HOURS STAY IN LONDON
How to get to the center of London
There are six airports around London. Heathrow is one of the busiest London airports. The cheapest way to leave it is by using the Piccadilly line of The Tube. Another possible way is to board the Heathrow Express, which will take you to the Paddington station in 15 minutes (in this case you will have to pay 22 GBP for speed). If you still want to ride a train, consider Heathrow Connect that will cost you 10.20 GBP and get you to Paddington station in half an hour. National Express is one more budget option that will delight lovers of bus riding. By paying 6 GBP bus will deliver you to Victoria Coach Station in 35-40 minutes. Or take advantage of the Terravision company.
In order to save money on bus tickets, it might be wise to book a round trip ticket online. If you arrive to Heathrow airport at night, №9 bus route is something that helps you get to London. The cheapest way to get to the capital from Gatwick, Luton and Stansted airports is to use EasyBus. Prices fluctuate between 4-15 GBP. Terravision and National Express services will set you back in about the same price. Docklands Light Railway (DLR) will allow you to leave London City airport quite cheaply.
Once you reached London it is better to decide which travel options suit your needs the most. It makes sense to buy a day Travelcard in Zones 1-2 if you are planning to travel across the city a lot. It will pay off after the first ride. Pay As You Go system with Oyster card is a nice option if you are unsure where and how often you will be using public transport. You can't use an Oyster card on Heathrow Express, Heathrow Connect and National Express. Bus riding with the Oyster card will cost you cheaper than if you paid for it in cash.
A nice bonus awaits for couples. Travelcard owners can get 2FOR1 London discount if they buy their card from «National Rail». They can get two tickets for the price of one if print out vouchers here and reveal them with the Travelcard at the booth. Make sure your Travelcard is valid before you apply it.
Day 1: Introduction to London
Every traveler who visits London (especially for the first time), should definitely ride a famous red double-decker bus at least once. Sightseeing bus tour №12, which passes along the most interesting sights, will cost you 1,5 GBP when paying with an Oyster card. In order to visit all the attractions along the route and save money you can consider 3 day London pass. The London pass card is valid within the overall period indicated on the pass and the most convenient way to get is to book online. The longer ticket's period of validity is, the better price you get. Ticket holders are entitled to admission to museums, river cruise, London Zoo and many other places. London Pass is a nice way to save money for when you stay in city at least for three days and plan to visit most of the local attractions.
Good news for budget travelers as most of the museums in London are free. If you want to learn more about the history of the city then visit the Museum of London. Fond of ancient history? Go to the British Museum. Some of the exhibitions, however, might cost some money. Victoria and Albert Museum, Science Museum and Natural History Museum are also free, and some of my favorites. The Tate Modern exhibition is a place where you can attend free tours. Tours start several times a day at 11:00am, 12:00am, 2:00pm and 3:00pm.
If you ever wondered how the Alfred Hitchcock's former house looks like, find it on 153 Cromwell Road, Kensington.
Did you know that you can attend evening service accompanied by the choir singing inWestminster Abbey and explore it for free? Evening services at Westminster Abbey are held five days a week at 5pm and come with no admission fees or charges. In order to visit Westminster Abbey for free and listen to choral singing just say you are worshiping. The only disadvantage of such visit is that you will not be able to take photos and visit any other part of the abbey. Otherwise, it costs 20 GBP to visit or use your London Pass for free admission.
If you come to London with kids (or if you are passionate about aviation), there is nothing more exciting than visiting the Royal Air Force Museum. The museum is located in a 30-minute Tube ride from central London at the former Hendon airfield. Those who fond of aviation gets a unique chance to enjoy the view of more than a hundred aircraft types, starting from the biplanes of WWI to modern combat fighters. Even the oldest aircraft is in excellent condition and able to fly right away. At the time of opening, the museum's collection consisted of 36 aircraft, while by the end of 2010 there were more than 150 aircraft from around the world. Rare items such as WWII fighter-bombers Hawker Typhoon and Boulton Paul Defiant are the reasons why go there. Admission to all areas of the Museum is free.
After enjoying planes, some would really like to watch people. That is a good idea, so one of the best places to do that is West-End. Leicester Square boasts a wide variety and concentration of musicals and performances. Last minute tickets from the booth allow you to save significantly. It is easy to get there from Leicester Square, Piccadilly circus or Charing cross. Ticket sales are usually arranged in a couple of hours before the show. On average, prices start from 4-12 GBP per ticket.
Day 2: London Aerial Views
The London Eye is the most popular paid-for attraction for enjoying great views of London. Having a total height of 440 feet it creates rather annoying lines if you didn't book the ticket in advance. Consider online booking to avoid them. The cost of one ticket is 20 GBP, but you can get 2for1 by revealing your Travelcard and vouchers. The Ferris wheel is located near the Tube stations of Waterloo and Westminster. Head for Exit 1. From my point of view, the attraction is overpriced, so you can save the money for more pleasant sights.
In order to enjoy London's architectural masterpieces (as well as gorgeous views of the city) be sure to overcome almost 500 steps of the St. Paul's Cathedral. Climb to the Whispering gallery right under the Dome or higher to Stone and Golden Gallery to carry out an experiment. Whisper a word in one of its parts so it can easily be heard in another one. When buying tickets online it will cost you 16 GBP, otherwise be ready to pay 18 GBP when buying at the gate.
Budget travelers might argue that it's just a waste of money to pay such a large sum for beautiful views and they are right. As you don't have to pay money to enjoy the magnificent panorama of the city. You just have to know the right place. You can take awesome photos at the Ally Pally observation deck. Even at night you get superior snapshots from Waterloo Bridge. Be sure to climb to the top of the Parliament Hill to escape the hustle and bustle, and enjoy the spirit of this place. You can get there from Hampstead Tube station.
If you find yourself in the London on Sunday and looking, go to Brick Lane for a cheap meal. Wide variety of cheap food, outdoor market and unique spirit of the place are weighty reason to visit it. The market is open from 10am to 5pm, and is very popular with residents due to various trinkets and decent goods at affordable prices. Don't forget your camera, as Brick Lane is a cult place for London's graffiti artists.
Now it is time to go for a boat ride along the Thames river (free with London pass) to Greenwich and see the attractions near the prime meridian. First, you need to get to Westminster pier, which you can reach from the Tube station of the same name. Top free things to do here – hang out at the embankment, make photos of Cutty Sark, enjoy the Greenwich park, check out Greenwich Foot Tunnel.
Blues lovers should definitely visit the «Ain't Nothin But» bar in the evening. Free live music played nearly every day.
Day 3: Hanging Out With People
Make great photos and watch people you can at any of the London markets. For example, Portobello Market in Notting Hill combines several different markets in one. So there is no better place to enjoy local life. If you remember "Notting Hill" movie starring Hugh Grant and Julia Roberts, you will easily find guidebook shop located nearby according to the plot (the famed blue door, however, no longer exists, having been sold). Credit cards are mostly not welcome in the markets. Keep in mind that the street markets are best visited on weekends.
Borough Market is London's oldest food market and a popular attraction. The market operates every day except Sunday, on Mondays and Tuesdays not all stalls are open. From Wednesday to Saturday market works at full strength, but on Saturdays it is usually packed with crowd . Local farm production as well as international produce and dishes represented at Borough Market. In particular, I enjoyed the smoked venison sausages.
You can joyfully spend the entire day in the market, nibbling free samples, making awesome snapshots and meeting people. Vegetables, fruits, fresh seafood, all kinds of meat and fowl, even zebra steaks, alcoholic beverages, a variety of cheeses and dairy products, fresh pastries and desserts, fragrant spices, fresh cut flowers. All these products of the highest quality available in the Borough Market. In general, the market has left a very good impression. Exemplary cleanliness all around, the variety of products is much wider than in conventional supermarkets, while prices are sometimes even lower.
When you reach the Buckingham Palace you can enjoy the changing of the Guard. Every day from May until the end of July at 11:30am this show is available. The Palace can be visited from the inside only during summer months.
There is no way you can enjoy London without visiting Trafalgar Square. In some respects this square is a heart of the city. Nelson's Column and hundreds of pigeons come without a penny. In sense of architecture, the square is quite motley, nevertheless, a very harmonious. Here, you can find the London National Gallery, St. Martin's Church, Admiralty Arch and several buildings of foreign embassies. Despite that the buildings are different with their styles and serve their particular purposes, they perfectly complement each other, while the entire square remains in memory for a long time.
Every year since 1966 on the last weekend of August, the streets of Notting Hill, Kensington and Chelsea districts come to life and get filled with the sounds and smells of the largest Caribbean festival in Europe. Twenty miles of brightly colored costumes and masks, surrounded by more than 40 sound systems. Sounds of drums, hundreds of stalls with Caribbean food, more than 40 thousand volunteers and one million visitors. Carnival begins from Great Western Road Street and runs along Chepstow Road to Westbourne Grove and further to the Ladbroke Grove.
Nowadays, the Tower of London looks almost the same as when it was built. This popular sight is home to great museum, the armory and the treasures of the Crown. Formally, the Tower is a royal residence. Here, you can enjoy stories and myths about London and the fortress told by Beefeaters, admire the views of London, Tower Bridge, the Thames river and The Gherkin. Tickets will cost you 24.50 GBP, or 23.10 GBP if you buy tickets online.
Piccadilly Circus is probably the most noisy London square. It is constantly overcrowded, having an enormous road traffic. But when evening comes, the square looks more effectively, being transfigured by the advertising lights. The square is popular among couples and those who schedule an appointment. If people watch or making friends are your plans for tonight, consider Piccadilly as one of the possible options.