Things to do in London in Three Days
People are often asking me what to do in London. The list can seem endless. There's always something going on and the city is completely different every time I visit it. Whether you think London is Britain's most charming city or not, there's no denying the city's special place in the world today. One of the busiest (if not the busiest) cities in the world that is nearly two thousand years old. Even when you only have three days in London, there is a selection of go-to spots for a great weekend trip. Check the list of things to do in London in three days.
It is, without doubt, a city to be experienced. When I was looking for ways to spend my 72 hours in London, I wanted not just do the top-rated tourist attractions but also to explore and discover some of its hidden gems. London is a sprawling city, and it could keep you busy for weeks. Check my itinerary for 72 hours in London, and experience the best things this city has to offer.
Things To Do in London in Three days. 72 Hour London Itinerary.
Getting Around London: From the Airport
With six airports around London, Heathrow is one of the busiest. The cheapest way to reach the London Downtown is by using the Piccadilly line (just don't forget to get an Oyster Card). Another option is to ride a Heathrow Express, which will take you to the Paddington station in 15 minutes. There are also National Express Coaches or National Express that is a way to travel backpacker style. While they offer several long-distance routes across Great Britain, I've taken a ride from the Heathrow airport to Victoria Coach Station for £8.
Getting Around London
London Underground (the Tube) and buses are extremely effective and straightforward, especially if you're know how the public transportation works in a big city. London is divided into nine fare zones, with zones 1 & 2 being central London. You can always choose the way how to pay for transport. That includes so far: An individual ticket, a contactless card, an Oyster card, a travel card, or a visitor Oyster card along with a London Pass.






I know it can be quite confusing planning your trip when you're already at the airport. So I strongly recommend planning in advance to figure out where your closest stop and routes that can get you there.

Day 1: Introduction to London
Ride a Bus
When you have only three days for sightseeing in London, that may put some limits on what can be done. If you want to quickly catch some sights, then going on a "Hop on Hop Off Tour" can be your best bet. You can stay on it to see the whole city or hop off at the places you want a closer look at.
Yup, these tours are often pricey. If you're looking for a more budget and independent way of exploring London, then there are a number of bus routes that take in quite a few of the big landmarks along the way. Famous red double-decker buses (#11 in particular) are often much cheaper and allow to cover all famous landmarks quickly. For your three day trip, you can pick up a three day London Pass. It will get you free access to museums, river cruise, London Zoo and many other attractions.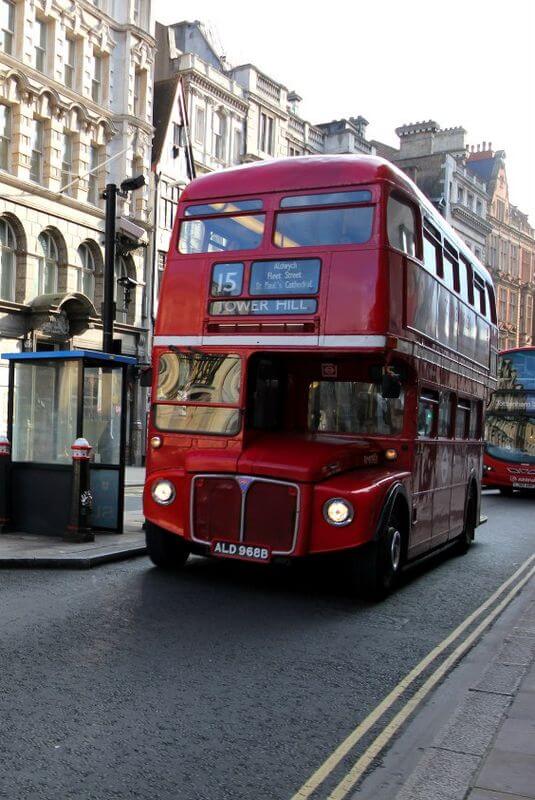 Hit London Museums
London's museums are among the world's best and they allow to enjoy their permanent collections free of charge. The biggest problem I have faced during my trip to London has to be the fact that I had to choose which museum I want to visit very carefully. There are more museums than you could actually do in one visit. The National Gallery, the British Museum, and the Science Museum are fantastic stops to include on your 72-hour London itinerary. While the entry is free, there will an entrance fee for exhibitions and tours.
If you visit London with kids (or if you are passionate about aviation), then you probably should not miss the Royal Air Force Museum at Colindale. Although not necessarily centrally located, it is just a 30-minute Tube ride from central London at the former Hendon airfield, RAF Museum features an impressive collection of British, American and German planes. With over 85 aircraft on site, it could take an entire day to see them all, so it is better to stick to a certain exhibition if you're short on time.
Westminster Abbey
Did you know that you can attend the Evening Prayer in the Westminster Abbey for free? While you won't be able to wander around the church, you will still get awe-inspiring views of the church on the way to your seat and during the service. Evening services at Westminster Abbey are held daily at 17:00 (5 p.m.). You can also check the schedule of services on the date you want to attend. Otherwise, it costs £20 to visit or use your London Pass for free admission.
Day 2: Top Spots for Aerial Views of London
The London Eye
If you're on a hunt for aerial views of the Old Smoke, chances are the London Eye is already on your list of things to do in London. This huge Ferris is one of the tallest buildings in the City and offers gorgeous 360-degree views of London's skyline from a bit different perspective high above the River Thames.
Situated on the south bank of the River Thames, the Ferris wheel runs in 30-minute cycles. The thing I love most is that they don't stuff the capsules full of people. There is a definite sense of space in capsules because each of them capsule fits up to 25 people. You can move around freely and see all the viewpoints without much trouble. A standard ticket for adults is quite pricey, so it is better to book it online in advance to save 10% and avoid lines on the day.
St Paul's Cathedral
I've seen many churches while traveling across Europe. And most of them were built in the Gothic or Neoclassicism architectural styles. It was my first cathedral to visit built with an opulent English baroque design. With three galleries of the Dome to explore, the Stone Gallery and the Golden Gallery offer some breathtaking views of London's landscape.
As you climb your way up to the top, the Whispering Gallery would the first stop. It runs around the interior of the dome, and it got its name from its amazing acoustics. A whisper on one side can clearly be heard by someone on the other side. This is a perfect place to get a closer look at Thornhill's artwork.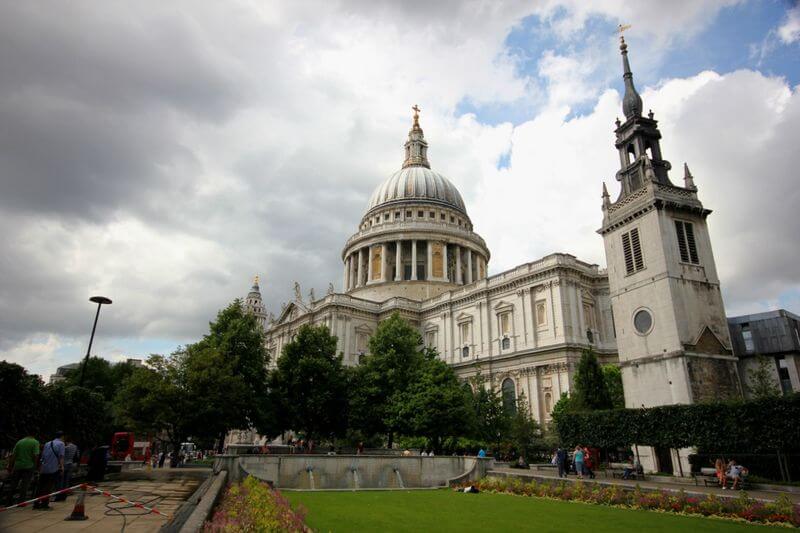 The Stone Gallery is 376 steps up and runs around the outside of the dome. You can take a break here taking awesome aerial photos of London before heading skywards once again.
Continue on to the highest vantage point at Golden Gallery for some of the best bird's-eye views of London. I would recommend checking the cathedral's website before you go because the topmost galleries are occasionally closed for scheduled maintenance and to tourists on Sundays.
Where To Find: St. Paul's Churchyard, London EC4M 8AD
The Shard
The first time I saw the Shard was in 2014 and I've been promising myself I'd climb the tallest building in London since then. The Shard is a multi-purpose skyscraper and home to an observation deck that sits at 800ft and provides a mind-blowing panoramic view across all of the City. During the long winter months the top this modern skyscraper is up in the clouds, so visiting in summer could provide awesome views.
The skyscraper is located near the London Bridge Station, between the Tower Bridge and the London Bridge, and opposite the Tower of London. There are plenty of events happening in the immediate area. You can use the Shard as a starting point for exploring the culturally and historically fascinating Shakespeare's Globe and the cosmopolitan Borough Market. If you put this skyscraper on your list of things to do in London, make sure to book your tickets in advance. Especially during busy periods such as school holidays.
Where To Find: 32 London Bridge St, London SE1 9SG, UK
Day 3: People Watching (And Eating Your Way Through London)
Have I ever told you how much I love to spend time people-watching? When I write a new blog post or do the project, I rarely have time to slow down and observe your surroundings. But when I'm out, I love asking myself some simple questions and wonder whether people around me are doing just the same. There are way too many places in London to go people watching, but spending time doing it can be really enjoyable and so gratifying.
A trip to London isn't complete without paying a visit to at least one food market. Put Camden, Hampstead, and Brixton on your 3-day London itinerary to try some of the city's global treats. I recently spent three days (too little time though) eating my way through the food hubs of London.
Portobello Road
Located at Portobello Road, Notting Hill (W11 2QB), the market is most famously known for its antiques. Portobello attracts every kind of seller imaginable. That being said, you can expect to find dozens of stalls and antique shops selling vintage clothes, toys, and vintage musical instruments. The market gets packed with Londoners and tourists alike on weekends.
You can find fruit and vegetable stalls taking up the space between Talbot Road and Elgin Crescent, along with several stalls selling bread, cakes, fish, and cheese. Stalls selling new goods, such as cheap socks, toys, and household goods occupy the pavement between Talbot Road and Westway.
You may recognize this place from the 1999 classic romantic comedy "Notting Hill". "The Travel Bookshop" – where Hugh Grant's and Julia Roberts' characters first ran into each other and started their love journey.
You're lucky to visit the neighborhood on the last summer weekend. Every year since 1966 on the last weekend of August, the streets of Notting Hill, Kensington and Chelsea neighborhoods fill with the sounds and smells of the Caribbean festival. Twenty miles of brightly colored costumes and masks, sounds of drums, hundreds of stalls with Caribbean food. The carnival takes place on the streets of London W10 and W11, usually along the Ladbroke Grove, Westbourne Grove, Westbourne Park and Kensal Road.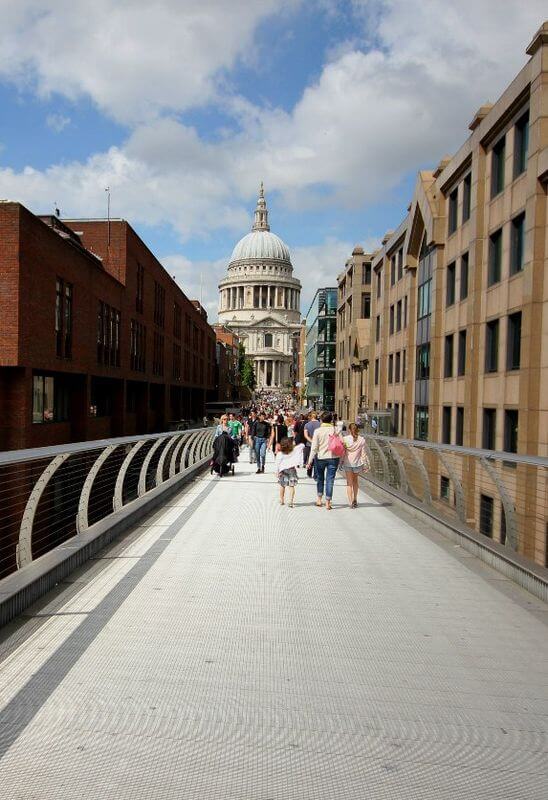 Globe Theater
I love theater. And I think anyone interested in philosophical themes and psychological portraits should pay a visit to the exact replica of the original Globe Theater. The original Globe Theatre was built in 1599 but was destroyed by accidental fire in 1613. The replica you can now see and visit in London has opened to the public in 1997 thanks to the efforts of Sam Wannamaker.
The Globe doesn't exclusively put on Shakespeare plays and offers two different types of tickets. You choose to sit or stand, but no matter what choice you make, you can expect the enchanting performance. Tickets are from £5 to £39.
Where To Find: 21 New Globe Walk, Bankside London SE1 9DT
Borough Market
Like any other capital city, London has loads of charming, extravagant, and magical places to visit. And this place is just one of them. When you want to taste some genuine flavor of English food, the Borough Market has got you covered. With more than 100 stalls selling fresh bread, cheeses, and meat, it dates back to the 11th century. It's one of the most renowned markets in London and it often makes me break the diets by going on an eating binge.






Located in Southwark, the market works at full strength from Wednesday to Saturday, with only one day off is Sunday. Food stalls here range from vegan and vegetarian options to traditional English foods (pork pies), Indian curries and fish & chips.
The Borough Market was one of the best things I've put on my 3-day London itinerary. You can spend an entire day here, nibbling free samples, making photos and watching people. It was my next stop after exploring the Southwark neighborhood because the market offers some great ready-to-eat food. The market has left a very positive impression on me. The entire place is very clean with a range of seasonal food and prices sometimes even lower than in supermarkets. I especially enjoyed the smoked venison sausages.

Hyde Park
When it comes to picking things to do in London, Hyde Park is something I normally don't skip visiting. Why? Because it is one of London's most charming Royal parks that offers relief to everyone feeling overwhelmed by sightseeing in London. I love this place since the atmosphere is so relaxing. With a number of events and concerts throughout a year, there are also walking and biking paths within less than five minutes from Queensway or Bayswater.
That concludes my list of things to do in London, Great Britain – Itinerary for 72 hours in London. Of course, there are plenty of places I didn't mention in this post because it's impossible to enjoy it all in just 72 hours. I hope this has helped you get a better idea and feel for this cosmopolitan city. Hopefully one day I'll be able to go back to experience even more things to do in London!