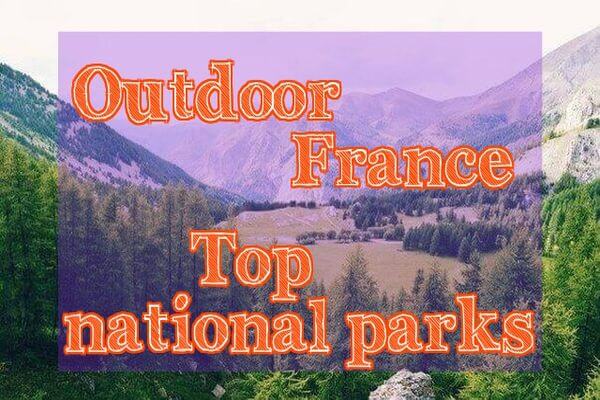 While I love exploring the urban life, my friends also know me as an avid hiker. Usually, when people think of France, I bet they are probably thinking of the Eiffel Tower, croissants, and the Louvre Museum. There's plenty more to France than that, though! Yes, I'm talking about France's lesser-known natural landscapes. France is blessed with 10 incredible national parks within its borders and international territories. As you venture into the French countryside you will soon discover that national parks offer plenty of opportunities for wildlife spotting, hiking, cycling and enjoying the country's biodiversity. Check my list of 12 stunning national parks in France.
1.  Mercantour National Park
Mercantour national park encompasses the south-east corner of France, approximately 425 square miles close to the border of Italy. It was created in 1979 in the area around Mount Gelas (Cime du Gelas) and Valley of Wonders (Vallee des Merveilles). Both are perfect destinations for walking, mountaineering and hiking.
With over 150 miles of signposted hiking trails, the Mercantour national park is home to thousands of petroglyphs (ancient rock carvings from the Bronze Age). Most of them depict animals, weapons and Bronze Age people. These cave paintings are just incredible and totally worth a visit at least once in a lifetime. There is also a Museum of Marvels in Tende.
Since 1987 Parks Alpi Marittime and Mercantour work together to protect nature, the landscapes, and the biological diversity of the region. One of their projects involves natural returning of wolves to the Southern Alps. While it already happened in 1992, and the wolves now live in the Parc Alpha. The park is absolutely beautiful. It offers an exciting opportunity to see the wolves, and it doesn't make you feel like you're visiting a zoo or safari park.
2.  Port-Cros National Park
Port Cros is a small island in an island group that is also known as the Îles d'Hyères. This splendid island has given a shelter to a national park, a marine park and both are pretty unique. While Port Cros may only be explored on foot, it involves a lot of walking.
I had fantastic two days on the island that smell like a mix of eucalyptus and pine needles. My first plan was to loop the island, but I ended up cutting Port Cros in two. Some of the paths I've hiked were really popular and brought me to Plage du Sud. This is one of the most popular and accessible beaches on Port Cros. So if you don't feel like rubbing elbows with tourist you may want to go swim anywhere else.
If you're into hiking, decent walking shoes is a must. As I was walking around Port Cros, I've noticed people swimming and sunbathing not only in designated spots but also in some secluded places. Remember that while swimming is allowed in the National Park, is it advisable to swim only in an areas where it is permitted to avoid fines. Oh, keep in mind that smoking is prohibited beyond the village. Port-Cros sits just south of the mainland and is quite easy to visit by ferry from Saint-Pierre Marina in Hyères'.
3.  Vanoise National Park
July 6, 1963, is the birthday of Vanoise national park. This essentially makes Vanoise the oldest national park in France. If you drive from Chamonix it only takes two hours to reach this national park. The Vanoise National Park stretches across much of the Tarentaise and Maurinenne valleys until it finally reaches the Italian border, where it continues as Gran Paradiso National Park.
You can find Vanoise in the Savoie department in the Rhone Alps region. The park is divided into two zones – the central one and the peripheral one. The central zone maintains a maximum protection for the largest population of Alpine Ibex in France, as well as for a vast landscape of flora and fauna. The peripheral zone is home to 28 picturesque mountain villages.
The area around Vanoise is filled with popular ski-resorts like Courchevel, Les Arcs and Val-d'Isère. While I haven't visited these, I do enjoyed a quick hike that took me to some incredible vistas and cascades. I'm not much of a skier, but the region and skiing is obviously very popular in the winter.
If you travel by car take the either A43 or D902 highways that go through the Maurienne valley. Alternatively, take N90 or D915 highways through Moutiers. If you prefer to travel by train you can reach the town of Modane and start your trip from there by riding a bus. The closest airports to Vanoise are Chambery, Grenoble Isere, Lyon-Satolas, and Geneve.
4.  Ecrins National Park
When friends ask me whether they should pay a visit to Ecrins National Park, I usually say, yes, you should. Since 1973 Ecrins National Park is a paradise not just for experienced walkers looking for a multi day hikes, but also for outdoor enthusiasts challenging their day walk.
The main reason to visit Ecrins is, of course, its amazing nature. With a staggering amount of lakes, narrow rocky valleys and glaciers between Gap, Briançon and Grenoble, Barre des Écrins is the second highest mountain in France after Mont Blanc. After gazing at the mountains, one may think he is in the Himalayan foothills than in the south of France.
Romanche, Guisane and Drac valleys surround the national park and provide excellent opportunities for trekking and exploring the local culture. In highlands, there are more than one hundred designated hiking trails ranging from relatively easy to strenuous.
Ecrins has a sprawling network of secluded and remote deep valleys and high mountains. This makes exploring this national park so thrilling and rewarding. In fact, I can't imagine a better place for escaping the crowds than Ecrins. While most of the observation points are only accessible on foot, reaching them may involve some strenuous workout. But they are well worth the effort. Don't miss the visitor centers in Le Bourg-d'Oisans or Domaine de Charance in Gap for the detailed information about the mountains.
5.  Queyras Regional Park
Queyras Regional Park (Parc naturel regional du Queyras) may not be the largest nature reserve in France, but it is definitely one of the country's most culturally rich regions. Queyras is the park to find a great variety of landscapes and natural environments. Located in the department of Hautes Alpes between Briancon and the Italian border, it is markedly different from the neighboring parks because of the unique mix of alpine nature and Mediterranean climate.
As you descend the mountains rocky wastelands, dense forests and green alpine meadows replace the vast thickets of evergreen shrubs. To visit Queyras means to explore this sprawling regional park on foot, on horseback or by bicycle. Herewith, the access to all parts of the park is completely free.
With a number of tiny picturesque villages like Aiguilles, Arvieux, Ceillac, Château Ville Vieille, and Molines en Queyras, creating a hiking trail becomes much easier here. Oh, and don't forget to try the regional specialties that include cheeses, honey, and génépi. Visiting Queyras is like stepping away from the tourist trail and exploring a true hidden gem.
6.  Pyrenees National Park
Pyrenees national park (Parc national des Pyrenees, est. 1967) stretches 65 miles along the border with Spain. It occupies nearly 285 sq miles (nearly half of the French Pyrenees) and forms massive conservation areas. The region is attractive not only for its unique natural environment and wildlife. It is easily accessible and has a great number of historical sites.
Dense beech and poplar forests, towering mountains and beautiful waterfalls are the main reason to visit Pyrenees national park. The French Pyrenees is home to most amazing natural monuments is the region. Mount Vignemale (10820 feet), the famous Cirque de Gavarnie, about 200 lakes and one of the highest waterfalls in Europe – the Gavarnie Falls. The particularly interesting place to visit here is the town of Lourdes that once was an important center of religious pilgrimage in Western Europe, not to mention numerous castles and mountain villages.
Before you go you will want to check for information on trails and routes in one of the visitor centers in Tarbes, Etsaut, Saint-Lary, Luz-Saint-Sauveur, Gavarnie, Cauterets or Arrens-Marsous. You can reach the park by using Tarbes-Lourdes-Pyrenees Airport or the Pau-Pyrenees Airport. If you travel by train you can consider taking a train from Bayonne to Toulouse or a bus going through Tarbes. Renting a car is a convenient way to explore attractive regions in northern Spain and see remote mountainous areas.
7.  Cevennes National Park
Parc national des Cevennes is located in the mountainous areas of the country's south. The Cevennes mountain range is one of the oldest in Europe. Therefore, this region is characterized by the most unusual environment, famous for a variety of relict life forms. At the same time, it is one of the oldest areas of human habitation. Thus, for protection purposes, the Cevennes national park was established in 1970 and covered the entire southern part of the Lozere department and the north-western part of the Gard department. According to the French environmental regulations, the park is divided into two parts. The central part is strictly protected, while the outer one with a bulk of historical settlements is open for travelers.
As you climb up the mountains, Mont Lozere alpine meadows are being replaced with peatlands and mountain wastelands. Steppes and meadows stretch along the western slopes. Rocky valleys of the southern slopes are rich in subtropical vegetation, lovely beech, chestnut and oak forests. 143000 acres form the largest forest area in the south of the country. 33 out of 400 endangered species in France can be observed in the park, not to mention more than a hundred species of rare plants. This turns out to be quite surprising given that nearly all slopes of the outside are used for livestock grazing.
Guesthouses, rural lodgings or B&B, fitted up with the help of the park offer nice conditions of stay with the inhabitants. Many rural inns, camping sites, and hotels are available in the peripheral zone. Its rugged mountains cloaked in chestnut trees and dotted with medieval hamlets that still offer some of the country's best goat cheeses. More than 240 miles of hiking and cycling trails and nearly 80 miles of water trails are laid out across the green valleys and gorges. That is the highest concentration of hiking trails in the country.
For beginning mountaineers, Mont Aigoual (5134 feet) and Pic de Finiels (5574 feet) are most suitable options. The main information center is located in the Florac castle. To visit local offices head to the towns of Le Pont de Montvert, Genolhac, Valleraugue and Le Vigan. You can easily reach the Cevennes national park via two major highways (Paris – Nimes, and Beziers – Clermont-Ferrand) stretching the park from the East and West respectively. The inner parts of the park are only available for off-road, horseback riding and hiking.
8.  Camargue regional reserve
It is one of the most famous nature parks in the country. It occupies the vast western part of the Rhone River delta. This region is unique for its salt and reed marshes, marine lagoons, hundreds of channels and sand islands. There is no way you can find similar relic prairies anywhere else on the mainland. Pink flamingos, egrets, and numerous waterfowl are still nesting in a total area of more than 930 sq miles. More than a hundred mammal species can be observed in a unique juniper forest and brackish water of the estuaries. The top reason to visit Camargue is its famous white horses because they won't be found anywhere else in Europe.
9.  Brenne Natural Park
This park is situated in a very heart of France, and probably the most important lake reserve in France. Despite the fact that French people consider the park as lacustrine wetlands, the area actually contains almost no natural lakes. Thus, almost all of the nearly 1400 ancient water bodies have long been adapted to economic needs. Linked by canals and channels they are, rather, ponds and reservoirs than lakes. However, vast wetlands between Creuse and Indre, as well as dense vegetation provide nice conditions for bird nesting.
The hilly Petit-Brenn region in the southern part isn't the official part of the park and is used for grazing. The local wooded areas with lots of hedgerows have become a refuge for thousands of living beings, coexisting with humans almost seamlessly. The main reason to visit Brenne is the bird seasonal migration that offers a chance to see more than 140 species. Brenne is a habitat for the largest population of European aquatic tortoise in France. Besides, the licensed hunting is permitted here, so the park is a most popular place for active sports with a really convenient location.
Numerous signposted hiking trails are laid out in the park. About one hundred trails can be used for short hiking, while only two trails are dedicated for a multi-day hike. Сyclists can use not only specialized trails for downhill but local roads as well due to low traffic in the region. There are several equestrian centers conducting tours, water sport and leisure center in Mezieres-en-Brenne. Architecture is another reason to visit Brenne natural park. Distinctive local architecture, famous for red sandstone houses and several castles, monasteries, and museums, attract travelers. You can reach the park by car from virtually anywhere in France by driving through Poitiers and Chateauroux. From the town of Chateauroux start several roads framing the whole territory of Brenne.
10.  Haut-Languedoc Regional Park
Between Toulouse and Montpellier, there is a Haut-Languedoc regional park. The park was established on October 22, 1973. Due to its vastness, the park has seven unique environmental zones. Haut-Languedoc is well-known for a wide array of bird species – around 247 species live here. All recent years park workers have been restoring and maintaining mouflon livestock that was once totally exterminated in these mountainous areas, but now brought here from Corsica. A wide range of climatic conditions and landscapes make this park a connecting link between the hot southern regions and cool northern lands. All types of animal and plant species that are typical for Western Europe, can be observed in this park.
Outdoor enthusiasts will find picturesque valleys and fairly low mountain ranges, forested mountains and lifeless stone placers of ancient volcanic fields, as well as numerous rivers and lakes. The main office of the park is located in the town of Saint-Pons-de-Thomieres. Several surrounding towns of Tar and Herault departments also have additional offices. In order to reach the Haut-Languedoc park by car drive from Toulouse through Revel (when going from the West). Or from Montpellier through Clermont-l'Herault (when going from the South).
To the East of Avignon lies the tiny Luberon mountain range. The half of its territory is under protection of the Regional Natural Park of the same name. This is an unusual natural reserve, featuring contrasting climatic conditions. The northern slopes of the ridge have a humid climate and it is relatively cold here during wintertime. The southern side has a warm Mediterranean climate and is covered by dense forests and pastures. Several picturesque towns and medieval castles are located in the neighborhood, making this region a very scenic and easily accessible. The best starting point for exploring the mountains is the town of Apt. In spite of having a large confectionery factory and a lovely market, some travelers just drive through the city, heading for the archaeological museum.
11.  Verdon regional park
This park lies on the southeast of France in the Alpes de Haute Provence department. The park has the second largest canyon in the world that serves as a channel for Verdon River. Having the size of half a mile deep and 15 miles in length, the canyon is very popular with travelers. With a bunch of options available you can drive around its rim, rent kayaks or hike. Or even try rock climbing on the limestone walls.
If you want to see the most impressive part, head to the towns of Castellane and Moustiers-Sainte-Marie. The river paved a picturesque gorge there and falls into the reservoir of St. Croix (Sainte-Croix-du-Verdon). Because of the fact that gorge slopes are of different inclination, the forest is of stunning beauty here. The rocky areas are popular with climbers. More than 1,500 trails are laid out with the elevation ranging from 65 to 1300 feet. Around a hundred hiking trails are available to enjoy astonishing views.
Due to proximity to the Côte d'Azur and the Luberon mountains, Verdon park is very popular with travelers. You can reach the park by using the road D952 from Castellana to Moustiers-Sainte-Marie when going from the north. Or use the road D71, through Aiguines.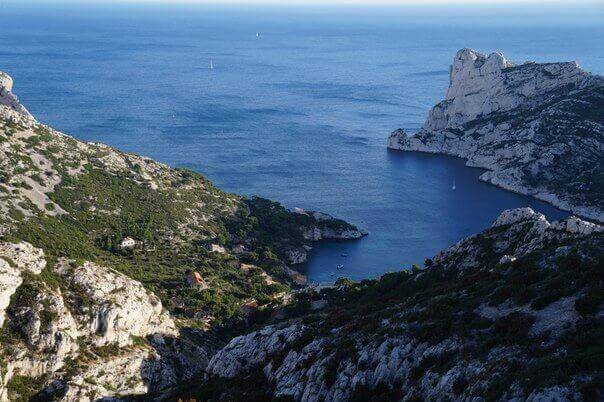 12.  Corse Regional Park
The Corse Regional Park covers about 40% of the total area on the island of Corsica in the Mediterranean Sea. This nature reserve includes the unique mountain areas, volcanic landscapes, dozens of lakes and majestic mountain peaks, usually snow-covered. The park is home to more than a hundred mammal and bird species and about 1,140 species of mountain plants. The abundance of pristine mountain areas, lakes and picturesque villages attracts outdoor enthusiasts and cultural tourism lovers. Any point on the island can be easily reached by car.
Among all other sights, you won't want to miss the Calanques reserve. Located three miles southwest of Porto a calanque is a geologic formation in the form of a deep valley with steep banks, partially filled sea – in other words, fjord. Such formations are also common for areas near Marseille and Bouches-du-Rhone department. The Corsican Calanques is something special with its beauty, however. Orange and pink cliffs that stretch along the coast, towering over the water to a height up to 1000 feet, forming a wonderful landscape, included on the UNESCO's World Heritage List.
These unusual formations had a mystical significance for centuries, and were associated with various demons and animals. It is not surprising that they have quite peculiar names, such as "dog's head", "Bear", "turtle" and even "One-eyed bishop." The easiest way to get to the park is a boat trip from Porto (summer tours depart daily and cost about 24 USD) or by using a mountain road leading from Porto to Cargese.