Crete Family Holidays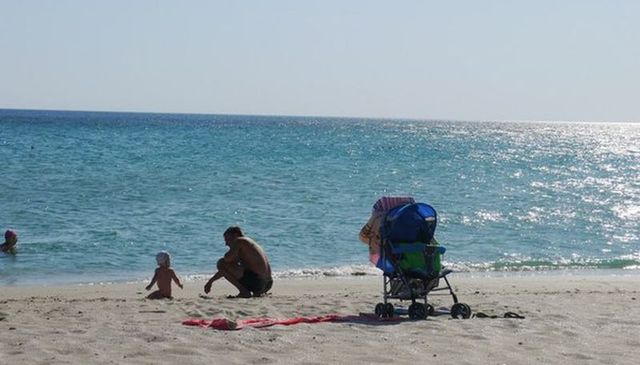 ---
The main difference from other Greek islands is local climate that is softer and more suitable for children as peak season lasts until November. The main activities for children there are water parks, beaches, swimming and wonderful national food.
HOW TO GET TO CRETE
During summertime a lot of German airlines carry out flights to Heraklion, including Condor, Easyjet, Ryanair. Numerous charters should be taken into account as Crete is a very popular holiday destination in summer. You may also consider Aegean Airlines. Their flights during low season may be discounted. There is one more airport on Crete near the town of Chania. So if you stay in the western part of Crete, look for flights to Chania. The most convenient way to travel throughout Crete for a family is to rent a car. There are a lot of companies offering rental, prices are affordable.
WHERE TO STAY IN CRETE
Crete surely is more suitable for noisy youth partying, but it is also possible to find nice family-friendly hotels with affordable prices, especially at the beginning of the season. During this time the sea is of stunning beauty, absence of flaming sun and the views are very diverse and picturesque.
Crete can be divided into two parts – the northern one and the southern one. Heraklion is situated in the middle of the northern coast. In general, northern part is more about parties and noisy companies. The southern part is more about quietness, with its modest inconspicuous hotels and wonderful beaches at Libyan Sea.
If you are comparing western and eastern parts of the northern coast, the western part is considered a noisy place for youth parties, east is more about calm and relaxing holidays.
The air is more humid in the western part, while the eastern part is known with its quiet bays and picturesque hills. Both sand and pebble beaches can be found there. More detailed information should be found in the description of the place that you have chosen to stay in. The majority of the beaches are in municipal property, but private areas can also be found. It is necessary to clarify that although Crete is located in the Mediterranean Sea, shores to the north bathed by the Aegean Sea, to the south by Libyan Sea.
HOTELS AND VILLAS IN CRETE
If you haven't booked a hotel or an apartment in advance, finding accommodation on arrival would not be a problem, especially if you rent a car at the airport. There are a lot of apartments for rent around so you can steer yourself any direction you choose and search for «room for rent» signs. But I wouldn't recommend that way of travelling in case kids are in the back seat of your car. It is better to book housing in advance.
THINGS TO DO IN CRETE
Starting your tour I recommend from visiting Heraklion. See famous frescoes in the palace of Knossos and walk along the seafront with Venetian lions on fortification walls. Perhaps the most interesting and informative tour for children is to visit the Lassithi Plateau and the cave of Zeus.
The cave is situated in the middle of the island, about halfway between Heraklion and Agios Nikolaos. Winding serpentine road leads you to the village and after it you proceed up to the mountains. Donkey service may help you get to the cave. A bit later you reach the entrance of the Dikteon Andron cave where, according to legend the supreme god of Olympus Zeus was born. It may be cool in the cave so be sure to have warm clothes for children. The cave descent is not very steep, so even the youngest children may attend this tour. There is a lake at the bottom of this mythical cave, so you can walk across the bridge and take photos of the stalactites.
While outside the cave, enjoy wonderful scent of mountain herbs. Continue your journey across the plateau of Lassithi then. There is a small museum dedicated to traditional Cretans crafts. While there you may inquire about the processing of aromatic herbs. Don't miss unusual museum of Homo Sapiens on the way to Lassithi, excellent photos can be made there. I shall mention another tour through the Samaria Gorge in the western part of the island. It's the largest canyon in Europe, its length is 18 kilometres. But due to this fact tour takes about eight hours among cliffs, it can hardly be recommended for family tour. Be sure to visit other Crete towns, each of it has its own unique feature. Foe example, Rethymno reminds of Venice as it was built during the period of Venetian rule on Crete. Agios Nikolaos would impress you with deep circular lake in the city centre. In the most southern European city of Ierapetra enjoy its stunning beaches and clean waters of the Libyan Sea, even more transparent and salty than the Aegean sea. Another option for activities is to attend a one-day-trip to Santorini island that is known for its unique iconic landscapes (white buildings, black volcanic sand). I don't mention any church or convent because of their large amount, visit the one most convenient for you.
There are a lot of places of entertainment for children in Crete. If you drive the highway to the east along Heraklion coast you may find Cretan Aquarium. See the details here. I would name a list of water parks that my friends recommend to me: