Best Time To Visit Germany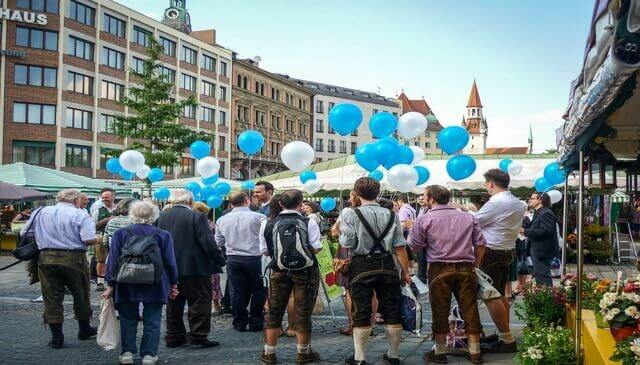 The time to visit Germany is really depends on your destination point. As the country is one of the biggest in Europe, its Northern coastal regions are quite different from the centre parts and mountainous South regions in sense of weather.
On the coast of North and Baltic seas weather might be unpredictable. While temperature is comfortable in general and fluctuates from 2°C during winter months to 27°C in summer, strong West and North-West winds usually provide heavy rains. Baltic sea water rarely warms above 22°C (in mid-August), besides its quality is quite poor for swimming due to active navigation in this region.
The best time to visit Northern Lands is April and May, when nature blooms and many music festivals are held. During the summer months you can enjoy picturesque coastal views and quite warm weather. But keep umbrella near by as rains are possible and stay informed on latest weather forecast in order not to be caught out in the rain. In addition, late spring and summer months are the periods of high prices in hotels and restaurants.
Period from April to September can be regarded as the best time for visiting central regions of Germany. At this time temperature can be as high as 28°C in capital city. In September it is much cooler, but not cold yet – around 20-22°C. From November to February weather is quite uncomfortable due to frequent wind and rain along with cloudy sky. In Saxony and northern Bavaria it's always a bit drier though. During Christmas holidays there might be no snow at all. Besides, winter months imply that all museums and palaces would reduce their operating hours for one hour. But this time gives an opportunity to save greatly. Budget traveller would discover a lot of places with low prices starting from hotels and restaurants to the winter sales.
If you are visiting Southern Lands that are near Alps you can enjoy prolonged peak season. Summer is usually warm here, no rains. Travellers visit this region not only for sights but to sunbathe and sometimes for swimming in rather cold mountain lakes. Peak season in Bavaria and Baden-Wurttemberg runs from mid-June to early September. Harvest time starts in September with its numerous village festivals and fairs. Temperature during these events usually pleases visitors with it's 24°C. October is more cooler month (18-20°C daytime, 10°C at night) well-known for the world-famous Oktoberfest in Munich and Ludwigsburg pumpkin festival (12 km North of Stuttgart). Prices at this time are pretty high, but not to be compared with the prices during peak season.
Winter time is a paradise for ski lovers in Bavaria. Apart from it you can visit Christmas events, picturesque hiking trails and winter fairs. Ski season starts here in December and lasts until early April on average. The temperature isn't really low at this time, from 3°C below zero to 2°C. Higher in mountains it fluctuates around 6-12°C below zero. Thaws are common here, but snow cannons usually improve the situation.