Australia Travel Guide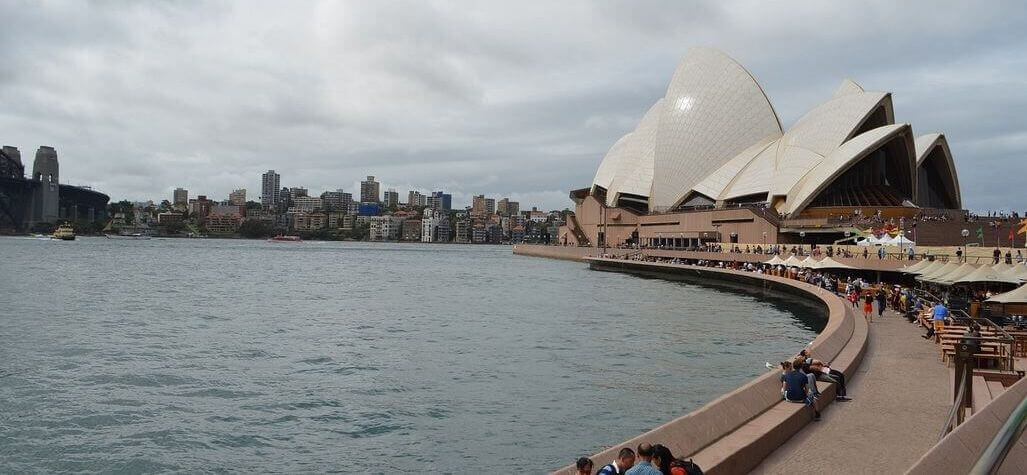 Australia is a place where the sun shines brightly and ever blue sky of extraordinary beauty attracts travelers from around the world. Australia amazes with animal diversity like white cockatoos that yell all over the neighborhood, bouncing kangaroos roaming around insanely beautiful beaches that cast doubt on whether you still on Earth. Another reason to see this land is people, happily smiling and never in a hurry.
In this travel guide, I have put together tips based on my personal experience on how to travel in Australia and make your trip as enjoyable as possible and at the same time visit all most interesting sites. While planning a trip on your own, it is hard to plan everything down to the last detail, especially when trying to settle the issue on the spot as some things might go wrong.
Sometimes, I had to give up some part of my plans as their implementation might have resulted in wasting tons of extra money. Even though Australia isn't a cheap destination, it is possible to reduce your expenses by following these tips, and by getting a clear image of what, where and how to do in Australia, especially if you go there for the first time.
Australian Customs and Quarantine
Australia has very strict customs. All kinds of food, plants, and animals should be declared. Check your cabin baggage before leaving the plane for apples, bananas, sandwiches, flowers, honey, etc. For quarantine violation one may be deported from the country or be fined. In case you carry medicines, you will have to submit it for inspection. Some other products of plant or animal origin also will have to be declared and be submitted for inspection. As far as I remember, drums made of leather and even leather shoes were mentioned as an example of declared goods.
Using Credit Cards In Australia
The most convenient way to solve money problem in Australia is to use both debit and credit cards. ATMs can be found in any village or city. However, while driving in the Australian Outback or visiting national parks you should have some cash. The typical limit of cash withdrawal at a time is 1000 AUD. While withdrawing cash in Australian ATMs you can still be charged twice. Once for the usage of the Australian ATM, the second time by your home bank. In order to avoid duplicate charges it is better to find out whether your bank has partners in Australia.
How To Rent a Car in Australia
Traveling by car is the best way to feel the spirit of this country. Australia is the only country in the world that occupies an entire continent, so there is no need to obtain a visa for reaching its distant corners. Tasmania and Kangaroo islands can be easily visited by car, just take a ferry. Australia is not a Europe, the distances here are the same as in Russia.
The roads are not always paved, and not always in perfect condition. Australia has left-hand traffic, while the steering wheel is located on the right-hand side of the car. The gasoline is not cheap, but not as expensive as in Europe. The price of one liter depends on the state and the place where the gas station is located. Australia has its most expensive gasoline in the Outback, where the single gas station may provide petrol for the entire district. The cheapest gasoline can be found in Queensland. On average, a liter of unleaded 93 RON fuel costs 1 USD.
When it comes to picking a car, your preferable option should depend on your route. If you are planning an off-road venture, then consider renting the SUV, otherwise it makes no sense to rent it. If you are accompanied by a mate, there is no reason to rent minivan. No one will pay attention to your vehicle brand. I was picking a car on the basis of fuel economy and rental costs. On average, fuel consumption is moderate on highways and in case of avoiding traffic congestion in major Australian cities. If you want to save more, prefer a manual gearbox (transmission) to automatic one.
Should you buy full coverage insurance?
Depends on your driving skills. During my trip to Australia, I didn't buy it, just several preferred options. If you want to save more money on car insurance, then you can proceed with the minimum limit of coverage. Some companies offer car rental with the price of insurance included. That should be checked twice before you rent a car.
In order to rent a car be ready to provide passport, valid driver's license, a credit card and reservation number. The vehicle is issued with a full tank of fuel and should be returned with the full tank, otherwise used fuel will be charged at the price of 2 USD per liter plus additional refueling service. The common situation is when the car is not being inspected after the drop off. I faced the closed office with the only option left, to throw the keys in a box next to the office. A great tip here is to book a car in advance, especially during holidays or peak season. As the most expensive and unprofitable options are left at this time.
Traffic Rules and Driving Etiquette
Australians drive on the left side of the road. Outside the built-up areas the speed is regulated by traffic signs. It is 68 mph (110 km/h) for Western Australia and the Northern Territory, and 62 mph (100 km/h) for the rest part of Australia. Within the most built-up areas the speed should not exceed 31 mph (50 km/h). Besides the cars with rooftop flashing lights and markings police are using conventional cars without any markings for speed control. Roads in Australia have numerous intersections and roundabouts. Once you are on a roundabout, you have priority over those coming in from your left.
Australia uses the priority to the right rule solely on four-way intersections where the roads all have equal priority, but not for T-intersections. Australia is a pedestrian loving country, so the drivers must give way to pedestrians, even if there is no marked pedestrian crossing. Use the horn only when you need to warn other drivers your vehicle is approaching or you need to warn animals to get off the road.
Bad news for those fond of drunk driving, you can drive a car with 0.05 percent of your blood alcohol or lower. Police officers might stop you for alcohol checks. When driving through the Central Australia most likely you will not meet police though. According to the tacit knowledge, it is customary to greet oncoming drivers by hand rising in the Outback.
Parking in major cities available along one or both sides of a road while the cost depends on the district and time. An average hourly parking rate in Sydney would set you back 3-4 USD. Usually, hotels do not have their own parking lots but provide discounts up to 50% for parking in areas nearby. Just clarify at the reception where the partner parking lot is located, in case you need one.
What To Expect From Outback
The Outback is a wilderness, with all the ensuing consequences. Even if you're riding along the paved road it might become a real trouble to deal with malfunctions on your own. There are no SOS call boxes except for your own cell phone, meanwhile passing or oncoming cars are as rare as hen's teeth. In addition, possible lack of water, heat and the average distance of 70 miles to the nearest town.
How to overcome difficulties while traveling through the Outback?
Limit your travels during the night and at dusk. As during this time, the heat subsides and kangaroos start to feed and seek water. They are of great danger for you and your car. In the case of car-kangaroo high-speed collision, it is impossible to predict an outcome as cooling radiator and windshield are most vulnerable.
I heard stories about dead kangaroos that were found within the passenger compartment after the collision. Kangaroos jump out onto the roads from the bush right in front of the approaching car, so having a speed greater than 55 mph the only option to avoid a collision would be to turn off the road. If you have to drive at night, turn on the high beam, do not exceed speed limits of 40 mph (64 km/h) and honk your horn periodically.
Be sure to have enough fuel in the tank to reach the next town. It is better to refuel more often rather than finding yourself in the middle of the Outback with your engine stalled and no air conditioning.
Always keep the water supply on board. According to my experience this is the most important thing. You should provide at least two liters per person and five liters for cooling radiator. There is never too much water in the Outback. You can consider buying cheap radiator water in plastic cans at the supermarket to use it in case of emergency.
It is also important to check your tires before you rent a car. Many roads that lead to the observation points in Australia are unsealed. Bald tires are something absolutely wrong in this case. During the initial inspection of the car, require bald tire replacement.
Usually, you don't have to worry about the technical condition of the rental car. However, if you are planning a prolonged trip, check the engine, gearbox, suspension, steering wheel, air conditioning in the first place.
If you feel tired there is no way you can stop at the roadside to sleep. In order to sleep, you can use rest areas along the road. At these sites, you can find free process water in tanks, outdoor fireplace and firewood supply (as temperature might drop below zero during winter). After you are done with cooking or warming, it is desirable to make up the stock.
Road trains or articulated trucks have three or more trailers, driving at a speed of 55-62 mph (90-100 km/h). Take this information into consideration when you are overtaking the truck.
Getting Around Australia

Flying is rather expensive means of transportation in Australia. This is mainly caused by the limited competition, especially when flying from coast to coast. The only time I was about to buy a ticket when I was really short of time. Flying across Australia can be affordable if there is a sale.
Local public transport usually costs 2-3 USD. A convenient way to travel across the country is via Greyhound. Passes start at 105 USD and reach up 2300 USD. You can also consider using buses of OzExperience that have passes starting at 380 USD. To save on accommodation and at the same time get a nice mean of transportation you can by renting Camper-van, prices start at 50 USD depending on the number of people and the rental period.
Adventures in the Northern Territory
During the rainy season in northern Australia, the sky lights up with thousands of lightning, it's like raining cats and dogs for days, small streams turn into torrents of muddy water, which carry fallen trees. Search for measuring poles along the roads during this time, which can help indicate the depth of the stream. But even if the depth allows you to overcome water obstacles, it is necessary to estimate the speed of the stream as it might simply wash off the car from the road. When traveling to the parks of the North, keep in mind the weather forecast, so as not to remain hostage to the weather. Leave yourself open to the chance of returning to the main road in case something goes wrong.
Accommodation In Australia
Prices for hostel accommodation start at 14 USD per night for a dorm room. A night in a budget hotel would set you back 55-70 USD. Australia, as well as the United States has a well-developed network of roadside motels. A wide variety of local motels and chained-brands such as Best Western, Comfort Inn can be found.
Prices for backpackers vary depending on the time and location from 20 to 70 USD per night. All rooms are air-conditioned, with a refrigerator and microwave oven. In some motels, bottled water and milk are available for free at the reception desk. Motel rooms usually have two bedrooms while one of which is equipped with a bunk bed for children.
The first thing to hear when you are at the reception desk is whether you booked a room. In fact, there are a lot of ways to do it in advance. Due to the lame internet connection in Australia use print sources like reference books or booklets at the gas stations. But if you were unable to book in advance, reception manager will provide you with information on available rooms with prices. Usually, it makes sense to see the room before you pay for it. If the room suits your needs try to haggle a bit (I always haggle if I see any chance for it).
You are lucky if there is a girl at the reception, compliment her and reveal your intentions to pay with cash. There's a better-than-average chance it will drop the price (especially haggling in the remote areas of the Outback). In most cases check-in time is 2:00 pm and check-out time is usually 11:00 am. After checking in the motel, search the neighborhood for supermarkets to get some food as motels usually provide self-cooking facilities.
Chained-brand motels are not so loyal to self-cooking and the only option they provide is their restaurant. Most reception desks of motels in the Northern Territory's small towns operate until 5pm. So if you are unable to be there on time the only option left is to sleep in the car, which generally is illegal on public roads (truck stops and caravan parks is an option). The way I did it was to plan an approx place of staying, book a room in a roadside motel and left for sightseeing (which took 60 miles sometimes).
Australia has a well-developed network of B&Bs. Usually, bed and breakfast accommodation is a farmhouse, ranch or a private land site with several buildings. B&Bs usually provide accommodation for least two families. For a reasonable price (about as much as a motel), you will get more exclusive accommodation. Breakfast is included in the room rate.
B&B is a convenient type of accommodation for those who wander across the country. Since there is no reception desk you don't have to worry about being late. In addition, B&B will allow you to avoid the feeling of your room being worn. The only disadvantage of B&B is the difficulty of finding in case you don't have a map. There are no signboards like motels have. And it is possible to miss one when driving too fast. But the things are changing, B&B network grows rapidly.
Another accommodation type is staying at the wineries and pubs. As Southern Australia, Victoria, NSW, and Western Australia are known for their grape and wine, wineries combine wine production with providing accommodation. Typically, wineries have a fine restaurant and a small hotel for 2-4 families. They also arrange wine tours and tasting, so the hotel helps out a lot to avoid drink driving. Accommodation prices start at 115 USD per night.
Pub accommodation is usually less comfortable than wineries. But much cheaper option as well. Due to this fact, squeaky floor, antique furniture and night noise in the hallway should not bother you much. As good old times with visitors shooting at the ceiling are long gone, upper rooms are quite safe to stay in. Pub accommodation is a popular option with Australian and British travelers so best rooms should be booked in advance. Prices start at 42-60 USD per night.
Campsites in Australia are a great option for young people and families. Camper-van or motorhome (as well as a tent) can be parked at a campsite for 12-30 USD per day for a spot. This is one of the cheapest accommodation types in Australia. I used it during my trip from Darwin to Alice Springs. While at the campsite you can use power outlet, tap water connector for caravan supplying, public showers and WC. Everything is neat and tidy. For those tired of their caravan trailers are available for rent. For 80-200 USD you will get a fully equipped trailer with a shower, toilet, kitchen and a place to sleep.
In some places, it is hard to find other accommodation. It primarily applies to the national parks in the Northern Territory and in the Central parts. A caravan park is a nice option for independent travelers and those who are to enjoy Australia's spectacular natural environment.
Food In Australia
Australia is a land of multiculturalism, pretty much the same as the United States. Asian presence and influence are more noticeable here. Especially in large cities. In general, food in Australia is not cheap, but sometimes there might occur an acute problem to eat something decent outside the main tourist routes. Especially between 2 and 6pm when the lunch is over, while the dinner is yet to come. In order to deal with this trouble visit Grab and go places or the supermarket. Hot dogs, salads, pita or doner kebab will give a kick to your stomach for as low as 9 USD.
Groceries like chicken, ham, salads, pasta or semi-finished food can be purchased in a supermarket to cook your meals for 75-90 USD per week. Restaurant meals are pretty expensive, prices start at 20 USD. In large cities the problem of expensive food is being solved by ethnic restaurants, while I faced another trouble of making my booking in advance. It doesn't matter if the restaurant hall is half-empty, if you didn't book it in advance you'll have to wait for 15 minutes at the bar.
Restaurant Etiquette In Australia
Tipping is not required or expected in most situations. You can tip if the meal and the service have been outstanding. But staff won't be disappointed if you keep the change. Some restaurants in Australia do not have a license to sell alcohol. Therefore, you can go there with alcohol you bought at the bottle shop nearby and yet be served by placing your bottle in the ice bucket. There are a lot of Chinese, Thai, Japanese, Korean, Vietnamese, Indonesian restaurants in major cities. Generally, Asians are trying to settle in major cities, while they are rare visitors in the middle of the country. Due to this fact the food is somewhat simpler in the Outback.
The most affordable food can be found at the food courts. Some serve chickens, others prefer seafood, the third dedicate themselves to vegan meals. The food is of good quality, but as in any place like this having no outstanding values. In my opinion, it is better (and cheaper) to buy food in the supermarket and cook it in the hostel. On average, food expenses in Australia are lower than in Europe or the US, but higher than in Asia.
Buying Alcohol in Australia
Alcohol is only sold in licensed stores: bottle shops. Prices are affordable. An average whiskey would run you about 11-15 USD, a six-pack of beer is 11-13 USD, prices for a decent wine start at 12-19 USD. As Australia is one of the top ten wine producing countries, about 20% of all shelves are taken with wine. Today, Australia's wines have cult status.
I really enjoyed a wonderful white Chardonnay, chilled in ice that nicely quenches thirst. In order to enjoy wine tasting you can consider visiting wineries. SA, NSW, QLD – these regions have numerous wineries that provide a wide range of prices. Australian beer is a second favorite beverage after wine. Having high quality it mostly beloved by Asians and young people. Each state produces its own beer. Pubs always serve a great beer with prices for pint start at 6-10 USD, glass of home wine would set you back 5-7 USD.
Australia National Parks
Australia has more than 500 national parks. Some of them are really worth visiting, such as Uluru and Kakadu, Nambung, Port Campbell and Karlu Karlu. Average entrance fees are 6-11 USD per day or 25 USD for a three-day pass. All attractions in Australia are marked in guidebooks, brochures and on the traffic signs.
Possible Troubles in Australia
Australian bush flies have always been the bane of Australian residents. Widely spread in the Outback and central parts, sometimes winds blow them in from central Australia to the Southern regions. These flies won't bite you or something, but will strongly irritate. They cover your body, food, and everything around you as soon as you leave your car or get out of the house. Australian residents have become accustomed to these flies by just brushing them away from the face, but they kept me irritated all way long, especially when climbing an observation point or having an open air lunch. Hat with mosquito netting as well as fly spray generally helps a lot. Another way of dealing with flies is to prefer light colored clothing to dark one. As dark colored clothing usually attracts flies.
I read a lot of scary stories about venomous spiders and other creatures before my trip. Frankly, I saw the snake just once on Kangaroo Island, but it quickly slithered away from me into the bush. In many places, you can find signs warning of snake bites. Note that snakes detect soil vibrations made by people walking and crawl away before you run into them.
Internet and Mobile Connection
During my stay in OZ I didn't obtain any local SIM card. I preferred my usual Vodafone and free Wi-Fi. When I needed to make a call to Germany or the US I used the Shout Phonecard (there are a lot of IP cards can be found in Australia, but this one just fit my needs). Network coverage is fine in major cities and along the roads, while in the Outback territories are without any coverage. Cell phone calls are really expensive in Australia as well as internet that is extremely slow (comparison with the neighboring Asian countries). Free Wi-Fi in libraries and McDonalds might improve the situation. In hotels they might offer you modem connection. In major tourist areas public Internet is available via Internet cafes services. Outside of popular routes you won't find any of these. Only modem connection.
Tips for Safe Traveling In Australia
When visiting the beach, pay attention to the warning signs. Note that even a dead blue bottle might be dangerous. Sting consequences may result in severe pain, subsequent scarring and even death (particularly in the sea due to heart failure). When bathing in Australian lakes and gorges, mind not only the possible crocodile attack, but the signs warning of sunk tree trunks and boulders. Try to avoid wearing slippers while walking in the bush. When swimming in the ocean, do not swim far from the shore, as there are strong currents along the coast which may take a person into the ocean. Australian sun is harsh and dangerous without proper protection. Remember to Slip on a shirt, Slop on the 30+ sunscreen and Slap on a hat.